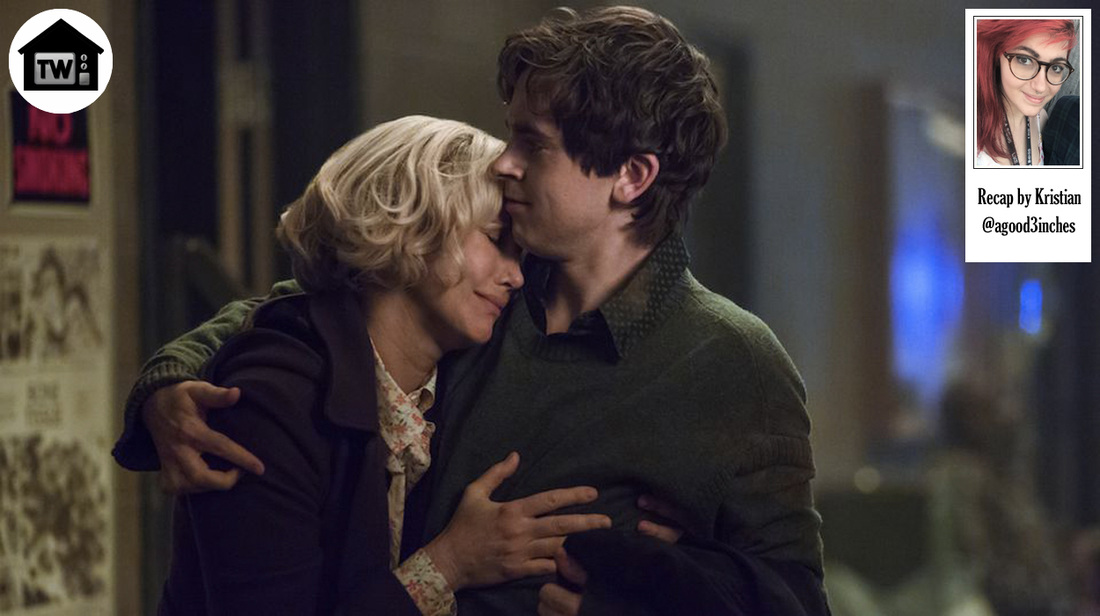 Welcome back to Bates Motel, a show full of ridiculously attractive people, and then, well, there's Freddie Highmore.
We start off with a corpse that used to be Bob Paris, being left on a boat by Sheriff Romero, who then proceeds to sink the ship and paddle away sneakily. Meanwhile, Norman's hot brother Dylan and hot mother Norma are looking everywhere for him, though he seems content wandering around in fields covered in blood and talking to himself. What a catch. An old man punches him in the face and brings him to a psychiatric ward. That's literally what happens.

Dylan and Emma are in Portland, Emma awaiting her lung transplant, while Norma goes off to rescue her itty bitty baby boy. Unfortunately, Norman's under 48-hour observation so Norma's not allowed to see him. She goes into full-overbearing-mom mode and tries to intimidate her way in, and then cry her way in, but is ultimately unsuccessful.

The hospital administrator questions Norma's parenting skills when she admits that, despite Norman's frequent blackouts and mental instability, she's never brought him to a doctor. Mother of the year, over here.

Dylan accidentally meets Emma's mom who, surprise surprise, is also hot. Will (Emma's dad) and the hot momma get into a squabble and he basically forces her out of the hospital. Emma makes it through the surgery, which makes me very happy because she is a lovely person and by far my favorite character.

Appalled that anyone would question her very sensible parenting methods, Norma runs to Romero and asks him to use his Sheriff-y influence to get Norman out of the hospital. Romero basically tells her to chill, so Norma appeals to Pineview Institution, which is basically a fancy country club for the mentally unstable, to diagnose and admit him.

Norman, strapped down in the hospital, is having vivid flashbacks of his weird childhood bond with his mother, interspersed with visions of her murdering half the town. You know, normal teenager thoughts. For some reason, the hospital still decides to discharge him.

Emma's mom checks into Room 5 at the Bates Motel (hey, that's the name of the show!) and tries to bond with Norma. Norma, as usual, is kind of a dick, and they end up having quite the argument.

Later that night, Norman is getting a romantic haircut from his mom, complete with lots of kisses and music. You know, normal mother-son things. Norman kills the mood by admitting he had dreams of his mom killing Bradley, but he and Norma still end up falling asleep in each other's arms anyway.

Norma goes to ask the hunky Sheriff to marry her for insurance reasons, leaving Norman locked in his room. Norma … you just need to chill. Please. For one episode, stop with your crazy.

Norman breaks his way out, and then goes "full mom," dressing himself in Norma's robe and strangling Emma's mother to death. A little bit of an overreaction to being locked in a room if you ask me, but to each their own.

Next Time: Norma continues to propose to random acquaintances. Norman, realizing his mother has no fashion sense, thoughtfully goes shopping for a new wardrobe.