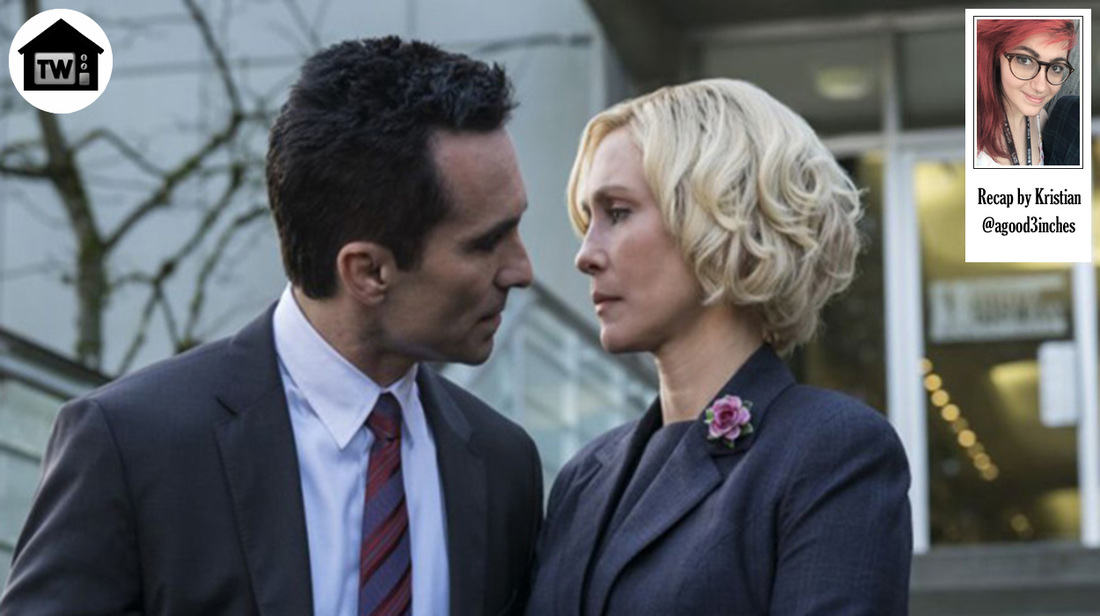 Romero's got a wife, Norma's got a husband, Dylan's got to get himself out of the weed biz, and Norman's got a new pal and chicken pot pies in the high-class loony bin. Just another day on Bates Motel!
We start off this episode with Romero, looking snazzy in a suit, showing up at the courthouse to marry Norma. Although Norma was the one that proposed, she seems to have forgotten that a big part of marriage is living together and strongly objects to Romero moving in. He moves in anyway, and then takes Norma out to dinner, where the alcohol flows freely and the sexual tension is high. We learn that Norma's an awkward drunk and Romero is actually a pretty gallant dude.

Dylan has decided to give up the weed business to impress his girlfriend. It works; he leaves her swooning. Despite his decision, he still gets pissed when his employee preemptively quits.

Meanwhile, Norman eats his own gross little cafeteria dinner in Pineview. He stares angrily at a turkey pot pie, which he says reminds him of his mother. A vivacious young man named Julian befriends him, excited to have someone his own age in the institute. Considering Norman's fascination with pot pies, I'm not sure why Julian is so intent on being his friend, but I guess beggars can't be choosers. A friendly nurse invites him to do yoga, to which he replies "I'd rather stick hot pins in my eyes." What a cheeky kid.

Romero's now ex-lover isn't too happy to hear that he got married. Romero doesn't care, and continues moving all his stuff to Norma's, including his stash of cash. Dylan is actually pretty pleased to hear Norma and Romero are married, and tries to convince Norma that Romero is super into her. Norma refuses to believe this, since, ya know, most marriages are formed by mutual indifference rather than attraction.

Norman has a pretty revealing session with Dr. Edwards, who sees that he's got his work cut out for him. Despite Norman's obvious mental instability and anger toward his mother, Dr. Edwards still thinks it's a good idea to let Norma in to see him. Norman is clearly displeased and basically kicks Mama Bear out. She heads home to cry on Romero's shoulder, and then they make out a ton. Back at the Institute, Norman tells Dr. Edwards that he thinks his mother is an insane murderer. What a well-adjusted family!

Next time: Dylan the weed dealer continues to be the one respectable member of the Bates family.
​