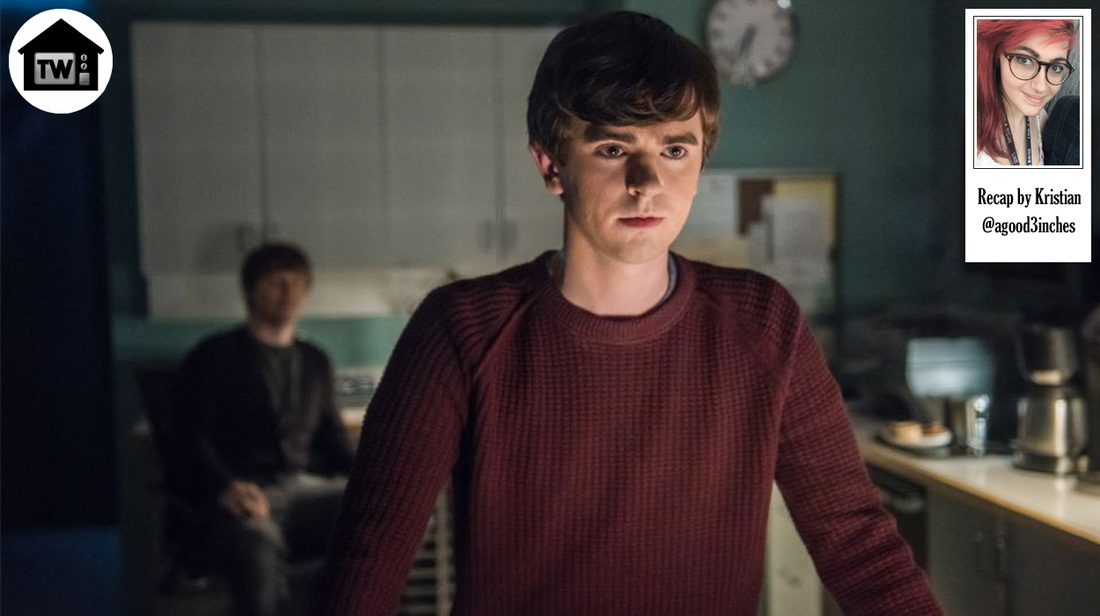 So, remember how Norman is a whiny little complainer? That seems to be the theme of this episode. He's kind of a dick to everyone that works at the institute, avoids taking his medication and makes sneaky against-the-rules phone calls to Dylan. Overall, he needs a serious attitude adjustment.
However, he has made friends with that kid Julian, who seems to stick around even though Norman's a dick to him too. Julian and Norman break out together, which makes me question Pineview's security methods. Julian starts acting super intense and angry and, well, unbalanced, and we start to see WHY he was in a mental institute in the first place. Breaking out with him probably wasn't one of Norman's best ideas. To be fair, he does take Norman to a strip club and gives him a huge wad of cash, so that kind of cancels out his whole crazy.

After the "big bang" between Romero and Norma, Norma rejects her husband's kisses but makes him breakfast and affectionately refers to him as "big guy." I sense that someone's getting friendzoned. Romero doesn't seem to get the message and suggests they get a joint bank account and frolic at the winter festival together.

The festival is pretty exciting though – everyone has these light-up umbrellas that really steal the show. Norma reiterates that she's not there for Romero, just for the funnel cake. Rebecca (Romero's crooked banker and ex-booty call) introduces herself to Norma and then proceeds to get drunk. Norma and Romero return to their house, aka Make-Out Point, only to realize that someone has broken in.

Back at the strip club, Norman's on the brink of getting laid when he snaps into mommy-mode. What happens next is a very sexually confusing sequence of Norman making out with the exotic dancer intercut with his mother, who also happens to be smooching said dancer.

Norman is torn away from boobs and a lap dance by an altercation between Julian and one of the bouncers. Julian gets beat up pretty bad, and Dr. Edwards shows up to bring both of them back to Pineview. Norman starts crying, and (finally) realizes that the doctor is trying to help him. Because, you know, usually doctors don't care about helping?

Again, not an episode with many Dylan and Emma sightings. But we do learn that they've decided to move to Seattle. I love them together, but they've been dating for a month tops so they might be jumping the gun a tiiiiiiiiny bit?

Next Time: Julian and Norman finally become the power couple I've always dreamed they would be.

​