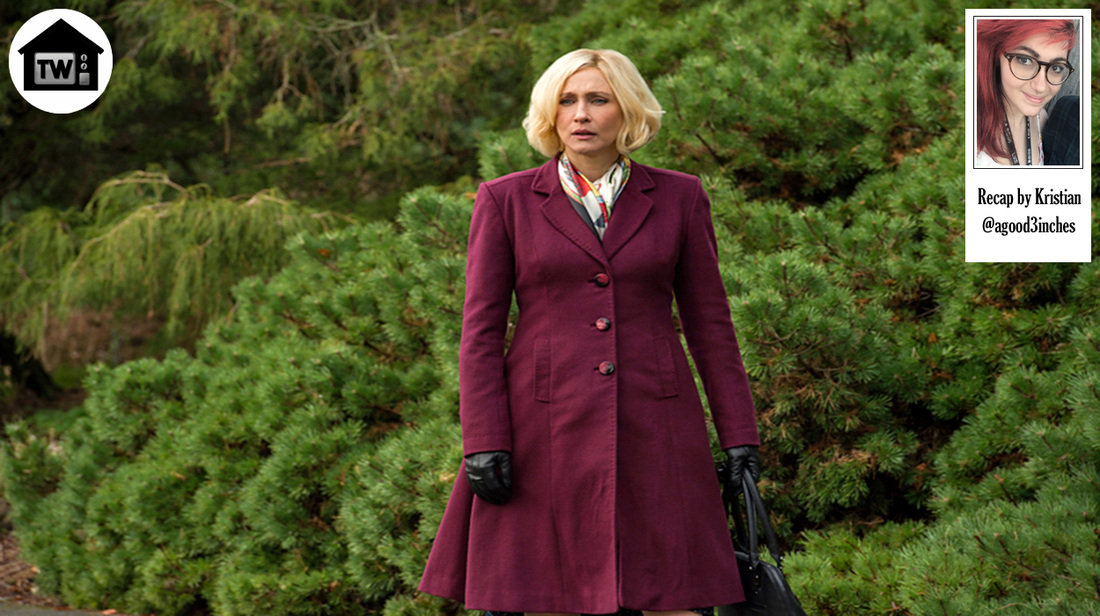 MANY DAYS LATER — here, finally, is a recap of that last episode of Bates Motel. Sorry for the delay. Although TV usually takes priority, I had a couple of things no one was willing to cover for me (final projects, exams, life-changing decisions, etc.).
Norma asks some store cashier to fix her window, to which the cashier replies — "I'm not that kind of window guy." I, apparently, am extremely ignorant of the world of window-makers, as I wasn't aware that there were different types. Meanwhile, there's a creepy bearded guy eavesdropping in the next aisle.

Norman describes his relationship with his mother to his doctor as a "typical mother-son relationship," despite accusing her of murder in the last episode. The doctor, surprisingly, doesn't seem too fazed. Norman reunites with his pal Julian, who appears sedated and depressed and doesn't really want to talk. Probably too many harsh memories from the strip club.

Emma finally goes home. Wooooh. Norman calls her up and tells her voicemail that he loves her. Ohhhhhhh shiiiiiiit Norman doesn't even know she's hooking up with Dylan. DRAMA. Dylan heads off to a job interview in Seattle, and creepy eavesdropping guy from the store shows up at Norma's, offering to help out with her window. Despite the fact that his name is "Chick" and he looks like the cousin of a yeti, he actually has the speaking voice of a handsome angel. He is also an inspired artist. I start to warm up to him, but then I remember that he's CHICK Chick — you know, the one that had the falling out with Caleb and the strange affection for Dylan? — so now I can no longer trust him, despite his angelic voice.

Norma visits Norman and they go for a romantic walk, arm-in-arm — you know, "typical mother-son" things. Norman raves about the wonderful visit to Doctor Edwards, who informs him that it was a hallucination. Norman is in denial, insisting that his mother was there "holding him" — again, typical mother-son things. After getting extremely upset, Norman snaps into "mother mode" and attempts to seduce Dr. Edwards, who at first seems very oblivious. After a few moments of weird sexual tension, Dr. Edwards realizes that Norman has switched into his mother's personality, and tries addressing her to get to the bottom of his issues.

Emma shows Dylan the scar from her lung transplant, which actually looks pretty badass. Of course Dylan just haaaaaas to turn it into a competition and show off his scars too. They actually aren't that badass, so he makes up a story about a shark attack to look cooler.

Romero runs into his ex-booty-call Rebecca, who still seems to be pretty salty about him getting married. He doesn't mention this to Norma, who just raves on and on about how she and Chick are BFFs now. Romero and Norma make out.

Chick shows up, she offers him coffee, and he ends up spilling the beans about his altercation with Caleb. I sense some sort of collaborative revenge scheme in the making.

Next time: Norma leaves Romero for a lifetime of adventure and romance with Chick, the aspiring stained-glass artist. They raise 15 dogs together and live happily ever after.
​