WHIG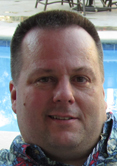 Forget about the love he has for his wife. Forget about Bo and Teddy, the two rescue dogs he hangs out with every day. Forget the fact that he has run
Derby City Social Media
, a social media management company, since 2010. Yes, forget all of those details, because above all,
Chris "Whig" Whigham
is a magnificent televisionaholic. They say the average person watches 5 hours of TV a day. Amateurs! Whig accomplishes that before most of you wake up! For Television Woodshed, he'll be dazzling you with
special features
, such as Top 11 Lists.
---
Check out Whig's recaps: