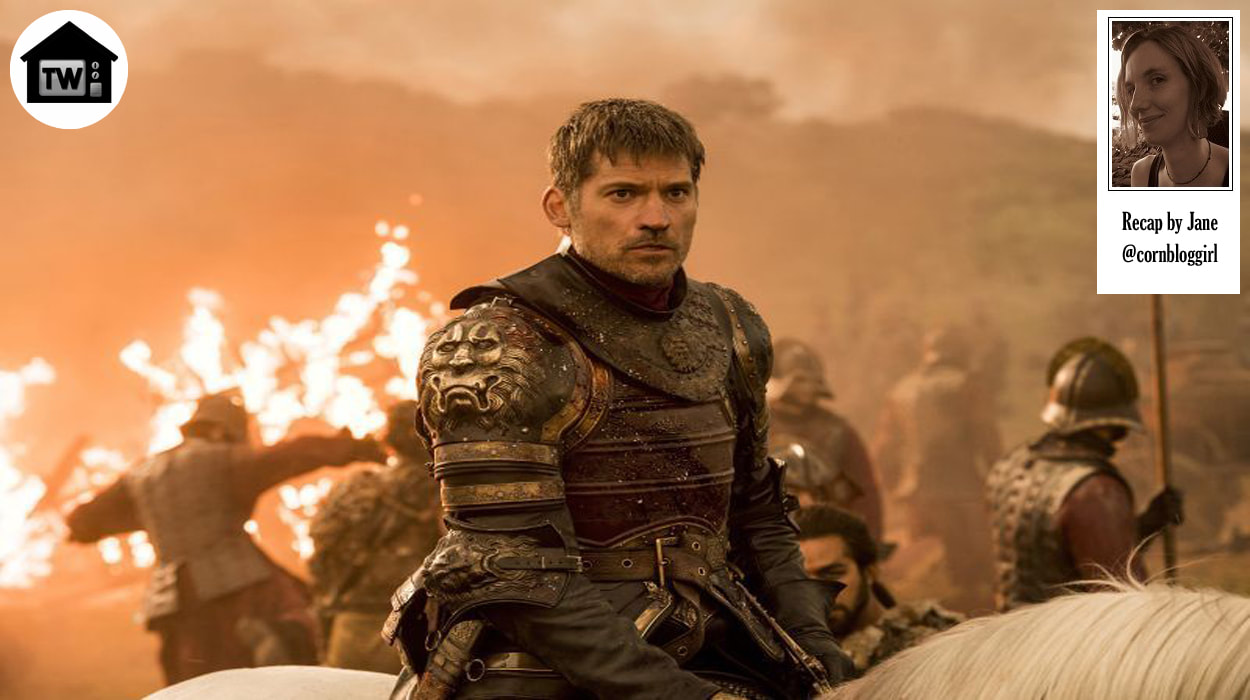 So I'm not sure what all these spinoff shows are gonna be after GoT is over, but my latest vote is for a mini-series about Jaime and Bronn on some sort of Oregon Trail-esque quest where they ride horses and throw shade on Dickon Tarly all day long.

We kick off right here, with Team Lannister packing up all the Tyrell gold. Jaime reluctantly tosses Bronn a big bag of it as payment. He's getting pretty decent at pitching south paw, but this does nothing to improve his mood. Pretty much everything they get from the Tyrells has to go right to paying off the Iron Bank of Braavos.

Cersei and the Iron Banker are still sucking up to each other. First they count all their gold ingots together before they're arrived, and then they do a dance across the floor map to decide what to spend money on next.

This scene seems to pick up right where the last Cersei/Banker scene left off, and if the gold is en route right then as she says, the later implication is that the Dothraki got all the way across Westeros in about six hours, and didn't even need to stop to feed their horses before massacring the Lannister army. I know I keep promising to stop calling this stuff out, but it just keeps getting worse!

Anyway, back at Winterfell, Littlefinger gives Bran back the dagger that the assassin used to try to kill him back in Season 1, cuz apparently he's been hanging onto it this whole time. He gets all excited to drop one of his classic Littlefinger knowledge bombs, but Bran takes the words out of his mouth, proving that he knows everything, and Littlefinger looks scared for maybe the first time ever. Being one step ahead of people is his one asset in the game of thrones. That shit isn't gonna work on Bran "I'm the three-eyed raven now" Stark.

Then Meera comes in and is like, "That thing you're sitting in looks pretty cool." Bran's like, "It's called a wheelchair. You've probably never heard of them. It's made from locally sourced wood."

Meera's like, "Well are you gonna wheel yourself around, or do people still have to push you?" Bran doesn't answer. He's gone back to his game of Candy Crush.

"Look," says Meera. "I've already gone on Yelp and given this whole trip a one-star review. I'm gonna go home now cuz … this sucks."

"Whatevs," says Bran, not looking up.

Then Arya shows up to the gates of Winterfell. When the guards don't believe who she is, she name-drops Ser Rodrik and Maester Llewin, and they're like, "We don't remember those guys. Did they die in Season One? Give me a second to do a Google image search and see if that rings a bell." While they're distracted, Arya sneaks off to the crypts, because of course, where Sansa knows to look for her, because of course.

Notorious BFFs Maisie Williams and Sophie Turner were either acting really well or in a fight that day, because this scene is awkward as shit. They comment on how the statue of Ned doesn't look like him, because everyone who knew what he looked like is dead. Then Arya alludes to her death list and pretends it's a joke with her trademark psycho laugh.

Sansa takes Arya to see Bran, who has remembered how to go through the physical motions of hugging, but is still a dick. He gives Arya the Valyrian steel dagger, because daggers are too mainstream for him.

Bran also knows about the list of names, which totally creeps out the girls, until Sansa, who has learned to roll with a lot, is like, "Who else is on your list? Anybody I know? There's tons of people I want to kill. Let's team up."

Then we cut over to Dragonstone, where Missandei is moping that it's not sundress weather anymore, and on top of that, her boyfriend hasn't called. Dany asks for the scoop on her makeout sesh, and for just a second it looks like they might have a conversation that's not about slavery or war, until Jon Snow shows up like, "Excuse me, but could I interrupt and be a huge bummer?"

He takes her into a cave of dragon glass to show her some ancient Children of the Forest paintings depicting just how real a threat the White Walkers are. This is extremely convenient and unlikely, but it works on Dany, who's like, "Fine. I'll fight your ice zombies if you freakin' bend the knee already." And Jon's like, "Hey girl, should I tell you what happened the last time I bent the knee in a cave?"

JON! SHE'S YOUR AUNT! RUN AWAY!

Back on the beach, Varys has an ingenious robe design that doubles as a muff. He and Tyrion deliver the good news/bad news situation up in Casterly Rock. Dany threatens to just take Drogon and barbecue everybody until Jon is like, "Could we not with the burning? It's a song of ice and fire, remember?"

We cut back to Winterfell for a quick minute, where Podrick and Brienne are still hanging around for some reason, although the Good Ship #TarthBane has sailed for Eastwatch-by-the-Sea and taken my heart with it. Brienne and Arya have a pretty bitchin' fight. Brienne asks Arya who taught her those moves and she says "no one." Bran's Stark's sister all the way.

By the time we get back to Dragonstone, Theon Greyjoy has shown up, where he and Jon have a weird moment where they can't even remember whether they're supposed to be mad at each other on account of how much shit has gone down. The Ironborn ask about Dany, and Jon answers cryptically that she's out. Did she ignore his advice and go burn Cersei to the ground, or what?

Oh, nope. She's in The Reach, burnin' up Jaime's army. Presumably in some sort of compromise where it's okay to burn people alive as long as they're not civilians?

The Dothraki don't wear armor or have any formal training but they're roughly a billion times better at fighting, somehow, than Team Lannister. Plus they have a dragon. Bronn votes for running away, but Jaime says they have to stay and fight, because honor or whatever.

Jaime, Bronn, and the Tarlys somehow stay out of the line danger basically without trying, on account of being the main characters, until Bronn goes to find Dr. Qyburnstein's latest invention, the Giant Crossbow. Apparently they brought one with them just in case? Gotta say, that was good planning.

After a totally unnecessary and graphic horse leg amputation, Bronn gets the big contraption thing going. (They didn't have, like, artillery guys or whatever, whose job it was to do this right away when Jaime started yelling "spears and shields?") He gets off a pretty good shot that injures Drogon. Not enough to kill him, just enough for him to want to destroy the crossbow with his tail like a cat knocking a knick-knack off a mantle. He's then just about to burn Jaime right in the face, when Bronn tackles him and they both fall into a very large body of water that totally wasn't there before. The episode ends abruptly after a scant 45 minutes, leaving us with questions like "How well can you swim with a golden hand?" and "What is up with Davos' awkward attempts to be friends with Missandei?"

Boob Count: 0. Are we going to have an extra-sexy episode next week to make up for it? Maybe some Euron on Cersei action? Yuck.

Conspicuously absent: Melissandre, Flashback Young Ned Stark, The Night King, Tormund GingerBeard, The Wheelbarrow Bran showed up at Winterfell in, Jaime's right hand, Gendry

Next Time! Dany makes Team Lannister an offer they literally can't refuse. Varys worries that she's taking it too far. And Jon somehow makes the trip back to Winterfell inside of a week.