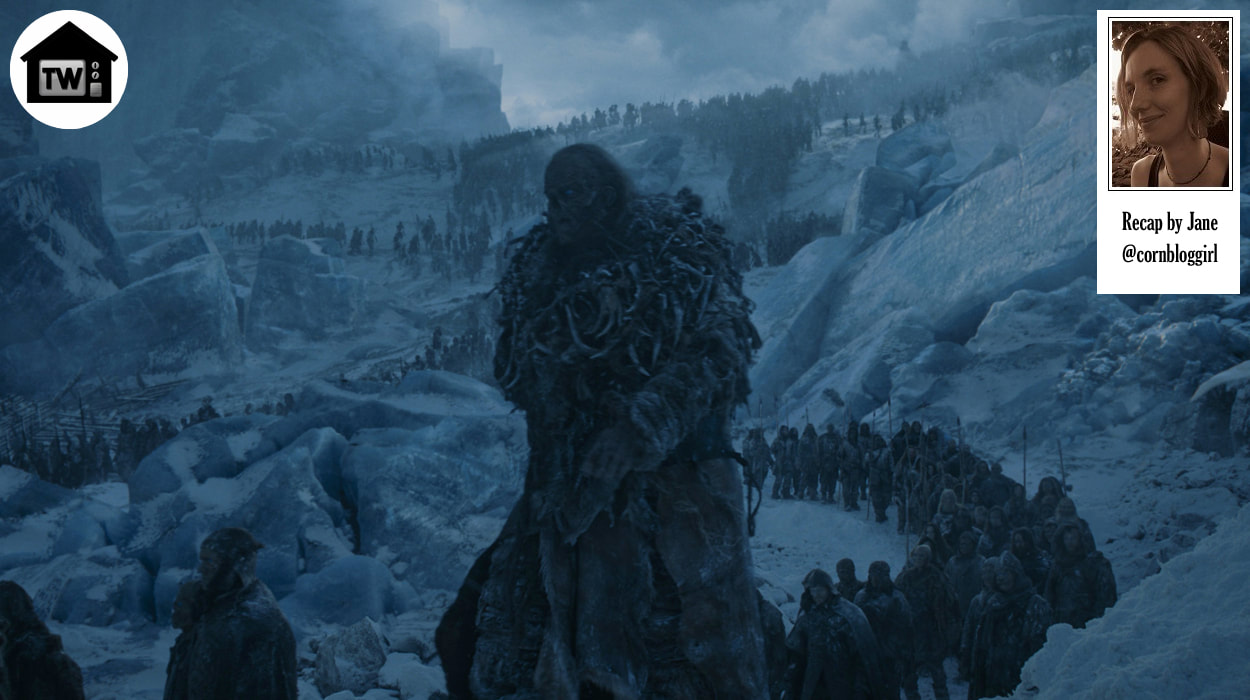 With an episode title like "The Dragon and the Wolf," I suppose, deep down, I knew what I was getting. And you better believe that Dany knew what she was getting deep down, if you know what I mean. It's not something I wanted to see, but the Targaryen family motto has always been "If you can't keep it in your pants, keep it in the family," so . . . what the hell(s)?

The episode starts at King's Landing, where everyone is getting ready for the big show-down between Team Dragon and Team Lion. How did the Unsullied get there? I thought they were being trapped by the Iron Born over at Casterly Rock.

All the major players eventually show up: Tyrion, Varys, Jorah, Davos . . . Dany's late, though. Classic power play. Just make everybody wait around making small talk and working on your schedule. Badass, Dany.

What's also a pretty badass display of power and manipulation is that, while we the audience members are sitting here in an awkward silence along with the characters, we really can't help but notice that the Clegane Boys are in each other's presence since the beginning of Season One. Also, this scene is taking place in a round stadium . . . almost in the shape of, if you will, a bowl. Well played, you hype tease of a writers' room, you. The Hound gives the Mountain a speech about how he's gonna murder him so hard one of these days, and you can actually hear the GIFs being created as it happens.

Dany finally shows up, riding Drogon, of course. Rhaegal is there too. "I AM ALSO A SCARY DRAGON!" he screams. "Will an important character please ride me soon so that I don't have to die to be interesting?"

Once all that is dispensed with, they're finally about to start the stupid meeting, when Uncle Pirate starts to taunt Theon about the whole capturing Yara thing. Theon whines about how that's no fair, and Tyrion takes the situation back in hand by pointing out that if everyone brought up all the beef they have with everyone else, the episode would be over before we got to the cool parts.

So Team Dragon asks Cersei if she wouldn't mind just hitting pause on the war for a little while until they can deal with the zombie threat. She says no, obvs, and so The Hound, who apparently drew the short straw on the ship ride over, goes and gets their show-and-tell item. The wight doesn't do anything at first, and The Hound stares at it like it's a new pet whose box he forgot to put air holes in, before finally kicking the box over, which prompts it to go nuts and almost eat Cersei's face right off.

The Hound puts on a show, cutting the zombie up in little pieces that continue to move around. Everyone is appropriately terrified, with the exception of Qyburn, who looks like he's already mentally writing his grant to go North of the Wall and study more reanimation shit.

Uncle Pirate asks if they can swim, and when Jon says no, he runs off to wait out the zombie apocalypse on his island. Not the worst idea, really.

With him gone, Cersei decides that she'll accept the truce, but only if the North will agree to stay neutral once she and Dany are ready to go to war against each other. Dany and Tyrion look at Jon like, "Come on, man. We practiced this."

"My dad was transparent with Cersei, and that turned out fine," says Jon. "In fact, that dude never told a lie in his life. Not to me, not to my stepmom . . ."

"Shut up," says Tyrion. "You've already ruined everything. You can stop talking."

Cersei says No Deal if the North won't play along. Dany mumbles "You know nothing, Jon Snow," under her breath, while Tyrion goes to talk to his sister one on one.

"Oh hey, Jaime. I didn't see you there," says Brienne, turning red as a beet.

"Sup?" he asks, daring her to break eye contact.

"So, um, the zombie is apocalypse, is like, crazy, right?"

"Whatevs."

"OK well, um, I guess I'll see you later."

Tyrion and Cersei somehow find a room that holds enough wine for both of them, and try to bond over their shared love of a good Dornish red, although it's difficult because she apparently now blames him for killing both of her parents and all of her children. She's about to have the Mountain kill Tyrion, but wusses out at the last minute. It must be the pregnancy. You know how sentimental women can get when their hormones are out of whack.

While Tyrion's gone, Jon and Dany pick random stuff up off the ground just so they can pass it back and forth as an excuse to have their hands touch. Dany tries the classic lean-against-a-doorway move next, and Jon almost goes in for the kiss but then they start talking again about how she can't have children, for some reason. Jon thinks you can't trust witches and she should give it a try. Dany decides against telling him about all the unprotected sex she had with Daario. They're just starting to lean in and tilt their noses away when Cersei comes back out and announces that she's going to go one step further and actually help Team Dragon with the Zombie War. For some reason, everyone believes this and then leaves. What happened to taking hostages to make sure people keep their word?

On the ride home, Jon remembers that he totally hasn't checked in at home in a while, and they're probably all sitting around a cold dinner getting really angry. He sends a raven announcing that the short-lived Kingdom of the North is once again under someone else's rule.

Sansa, fully understanding the limitations of all her family members by this point, is only lightly annoyed. Littlefinger obviously takes the opportunity to throw more chaos all over everything, talking shit about Jon, talking shit about Arya, really just throwing it all around to see what sticks. Apparently, he still thinks he's dealing with Season One Sansa. Did he not get the symbolism of the costume change?

Team Dragon makes it back to Dragonstone in exactly the time it took Sans and Littlefinger to have that conversation. Theon asks Jon how he can be so good all the time and Jon's like, "I'm actually kind of a douche; I'm just way better than you."

Theon then makes yet another attempt at a character-redeeming moment. This time he tries to talk the Iron Born into going back and saving Yara. One of them tries to kick him in the balls for not having this idea sooner, since they just got here and now they have to go all the way back to King's Landing. The joke is on that guy though, because Theon doesn't have balls so it doesn't hurt very much. This is what amounts to a win for Theon Greyjoy. He is just the biggest bummer.

Back up at Winterfell, no one has had any reason to gather in the Great Hall and yell for a few weeks, so Sansa and Bran invite everyone over and have Arya brought over like she's gonna get in trouble, but at the last minute, she actually accuses Littlefinger of, basically, everything Littlefinger has ever done. It was a Stark Sister fakeout! Arya runs up and slits his throat. This is so going on Sophie and Maisie's BFF blog.

Between the girls, they were able to piece together most of Littlefinger's shit, but they needed Bran to learn some of the Season One stuff in a vision quest. If this were an episode of Law and Order we'd have to spend the next twenty minutes convincing the judge to admit the evidence. Medieval justice was so much more efficient.

Back down in King's Landing, there's trouble in paradise for Jaime and Cersei, when she tells him that she obviously never actually meant to send their armies north, and bought a bunch of sell-swords with her new Iron Bank loan, and oh yeah the whole Uncle Pirate thing was just for show and he's totally still on their side and they're totally still engaged. Sucks for Jaime.

We check in with Sam Tarly, who has made it all the way to Winterfell but Baby Sam hasn't aged a day. Checks out. He and Bran remind each other that they met before a few seasons ago, and Bran randomly drops the knowledge bomb that Jon is a Targaryen, which prompts Sam to remember that throwaway from a couple weeks ago about Rhaegar annulling his marriage and gettin' with Lyanna Stark. "You're welcome," mutters Gilly from the shadows.

"Can you fact-check that in your infinite memory database?" asks Sam, who's acclimated real quick to this whole Dr. Branhattan thing.

Bran hits Ctrl + F and does a search for "Rhaegar marriage" and sure enough, there he is, looking exactly like his horrible brother Viserys.

At this point we cut back to Dragonstone, where Jon walks right up to Dany's bedroom door all, "Hey, girl. Wanna have a snowball fight?"

For the cheap seats in the back who still don't fully understand the implications of R +L = J, we get some good old-fashioned sexposition where Sam and Bran explain to each other that Jon actually has the best claim to the Iron Throne over B-roll footage of Jon and Dany banging. If you're one of those insufferable people who were shipping these two even though they're related, please note that because of all the historical Targaryen incest, these two actually share almost as much DNA as siblings. It's true. Someone on the internet made a chart. So it has to be.

Before the season closes out, we made a quick stop over at Eastwatch, where the zombie army has finally made it within sight of the Wall. The Night King has learned to ride the zombie dragon, and taught it to breathe . . . is it cold fire? Is it ice fire? Is it dry ice? Is it just regular old blue fire? And if so, what happens if the Night King gets it on him?

Whatever it is, it's great at melting the shit out of the Wall. I hope going all the way up there to bring Cersei a zombie for Show and Tell was worth it.

BOOB COUNT: Emilia Clarke has renegotiated her contract and doesn't do nudity any more. What will that do to the ratings?

CONSPICUOUSLY ABSENT: Gendry! Where did you go?! Who was supposed to be watching him? Can we keep him on a leash or something? Also Emilia Clarke's boobs.

That's it for a while, guys. Tune in sometime next year for the exciting conclusion. If you need me in the meantime, you can find me continuously hitting refresh on George R. R. Martin's Amazon page hoping The Winds of Winter will come out.

​