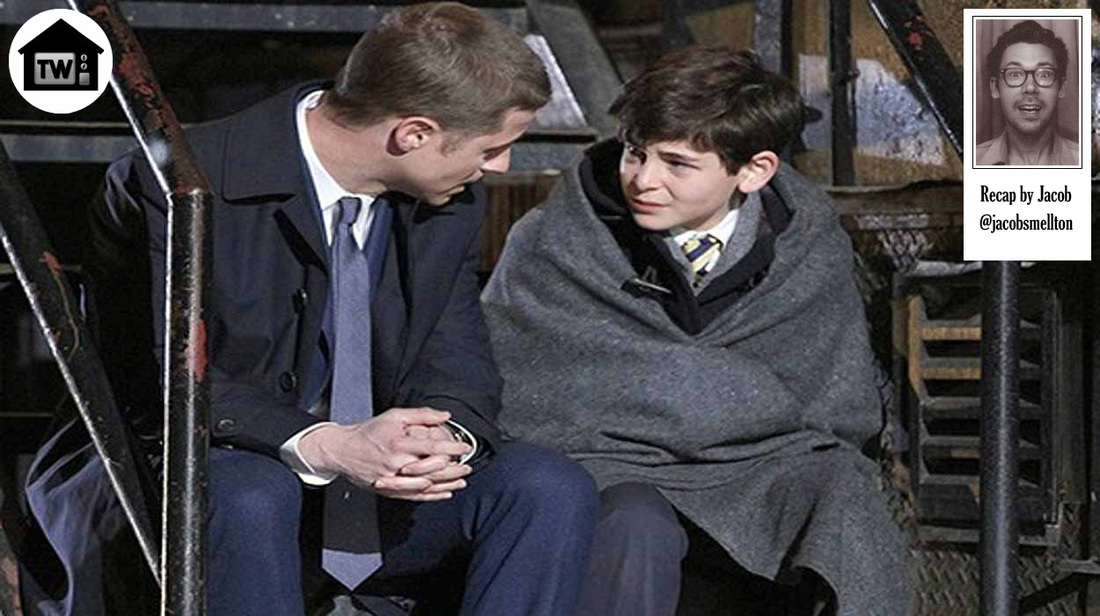 Gotham is a police procedural about men who do bad things to preserve what little good is left in their city. And it's an origin story for a comic book character. So in the first episode you meet Cat Woman, The Riddler, The Penguin, and Poison Ivy (also probably The Joker). So you know, it's all goooood.
The series begins with a cat woman of sorts, although I suppose she's more of acat girl racing across the rooftops of our fair city. She descends into Gotham's Chinatown District and proceeds to steal a carton of milk and a wallet. Then she actually pours milk into a tin foil saucer for a cat. Oh boy, we're in for it, aren't we? Just then the family Wayne decides to take a stroll down a dark alley. If I know anything about the Batman franchise, I foresee this lovely group of people walking safely home before we smash cut to credits.

Oh no! I'm wrong! A masked man (probably The Joker) robs the family at gunpoint and kills Bruce's mom and dad before deciding to spare the young boy's life and send him down a path of weightlifting and black latex. Also, that was definitely The Joker.

As Bruce Wayne mourns and a young Cat … lady(?) silently watches, our favorite tall glass of milk, Jim Gordon, disarms an unruly criminal by using his noggin instead of shooting him with all the bullets (as was suggested by his partner).

Back in the Theater District (that's right, they have a Chinatown and a Theater District) we're reintroduced to the Batman origin story. Detective Bullock (Gordon's partner) doesn't want to be involved with the case because then he'll have to solve it and that seems like a lot of trouble, but Gordon forges a fast friendship with our teenage Batman. They bond over dead dads and how it was a total bummer that Southland didn't work out. We find out that the Wayne's killer had shiny shoes, a fact that I hope you enjoy because you'll be hearing about it for, presumably, the rest of the season. Then like an angel straight from Valhalla, Alfred Pennyworth descends upon the filth of the city to take Bruce back to Wayne Manor and probably do a million push-ups.

Bullock and the captain argue in the police station about how Gordon is a goody two shoes war hero and that he wants to be in Gotham because it's "where the action is" and then Bullock tells him that Gotham "is not a city for nice guys." The two continue to His Girl Friday it up until they run straight into a montage. Chinatown, Theater District, montage, this show has it all.

After the painfully out-of-place montage, complete with flood light swinging over a perp's head in an interrogation room, we meet the first of our two characters that could be the new Doctor Who. Edward Nygma, obvious crazy person, is very excited about the kind of bullet that was used to kill the Waynes. However the clue is glossed over when the detectives (and presumably the audience) immediately tire of his shtick.

The Detectives are off to see Fish Mooney, a character that (as far as I know) doesn't exist in the DC universe. The demure #ladyboss employs Oswald Cobblepot, the second Doctor Who in this rogue's gallery of skinny guys in tight suits. We're introduced to Mooney while she's tearing ass on a subordinate, proving that she's no one to trifle with (as if I would, with fierce hair like that). While Mooney discusses the Wayne murders/eye-fucks the Detectives, Cobblepot acts like a maniac and Mooney's goons refer to him as a penguin. I don't get it. I understand that he's the penguin and that he's wearing black and white, but that's genuinely the extent of his penguin-like qualities. Those goons are the worst.

After witnessing a brutal assault by the Penguin/Cobblepot/whatever, Gordon decides to unwind at his girlfriend's mansion-sized loft and fill her in on how the show's been going. It's been a tough episode for the detective, so they bone ~ TV-14 style.

Gordon leaves the sweet embrace of his boning to meet Bullock about a tip and they go to bust "Mario Pepper," the character with the worst name ever. He lives in a greenhouse-style loft (Gothamites love them some lofts) and, like any innocent man, immediately takes off running and shooting as soon as the detectives ask him if they can look around his incredibly large poor person's house. What follows is a race through Gotham's budget. The chase scene does its best to answer the question, "I wonder how much this show cost?" Well, you asked, and the show answers –

Fire escapes. We're all over it.
Sweatshop? You better believe it.
Busy kitchen? We got it.
Multiple stairwells? Oooooh yeeeeaah.

Bullock shooting Mr. Pepper in the shoulder compassionately ends what was almost a Benny Hill sketch. It turns out that Pepper had Mrs. Wayne's pearls hiding in a bag of nondescript drugs, so case closed on that whole Wayne family murder thing. And here's where an already exposition-heavy show gets more … expositiony?

Pete Wentz gives up a big duh of a plot point about Pepper being framed and wears goofy sunglasses and then we're off to the most populated cemetery in the world for the Wayne funeral where we see that young Bruce Wayne and Jim Gordon are already tight buddies. Bruce has a pretty good handshake and is definitely going to be President or God King.

After the funeral, Barbara and Montoya, the semi-hot FBI agent flailing around in this sea of characters, have a short conversation where they have some kind of beginning of a plot arc. There are hints about something in both of their pasts (lesbian tryst, killed the president, ruined Aunt Bea's soufflé, etc.) but we don't spend a lot of time with them because this show is about (bat)men not (regular)women.

Now that Gordon knows that Pepper wasn't the perpetrator of the Wayne case, he feels extra bad that he helped kill Poison Ivy's dad (by the way, he was Poison Ivy's dad). According to Detective Gordon, if a police officer accidentally kills someone they're immediately fired. Maybe you should watch the news, Jim, I think you're going to be a-OK.

Gordon goes by himself to confront Mooney, but as you know she is a #ladyboss and has her goons drag Gordon to Dexter's murder space over on the Showtime lot. Things don't looks so good for our hero, but then Bullock turns on all of his sass in order save Gordon, and in doing so also gets kidnapped in the murder space. Fish, having deduced that it was Wentz who snitched, does the only thing she can do and bludgeons him with a broken chair until he passes out.

Back in the murder space, a full-blown Pulp Fiction-style gimp shows up, but before he can get all leather daddy on Detectives Gordon and Bullock, Carmine Falcone shows up to save the day. Yay organized crime? In the rainiest abandoned factory ever, Falcone and Gordon have a heart-to-heart about how organized crime needs the police and we're not so different, you and I – that sort of thing. I'll bet good money that within 12 episodes, Falcone says something to the effect of, "I should have let Mooney's men punch your dumb face off." If he says that verbatim, you all owe me a Coke.

Another heart-to-heart, this time at Gotham's famed shipyard, where Bullock insists that Gordon kill Cobblepot in order to prove his loyalty to Falcone/the Gotham PD. It's kind of late to be making a point, but whatever, we're all here. Before Detective Gordon can kill Cobblepot, the young penguin waxes revelatory about rivers of blood and some other creepy stuff as he's led to the docks. Gordon fake kills Pete Wentz and allows him to swim away (like a penguin!) while still getting to look like a stone cold killer cop. Or just a regular cop, I guess.

Gordon then goes to Wayne Manor where he sees Master Bruce working on his Batman homework and they have a HEART-TO-HEART about who killed his parents and then baby Bruce throws a fit when it's revealed that it wasn't Pepper. Gordon hands over his badge because Bruce Wayne is the chief of police? I'm actually not sure. The show ends with Cobblepot crawling out of the sea and killing a fisherman for a sandwich. Who hasn't been famished after a swim like that?

Next week! A wet Oswald Cobblepot hitches a ride with some frat boys, Donal Logue probably says "homes" a few more times, and I actually kill someone for a sandwich. Same bat time, same bat channel.
​