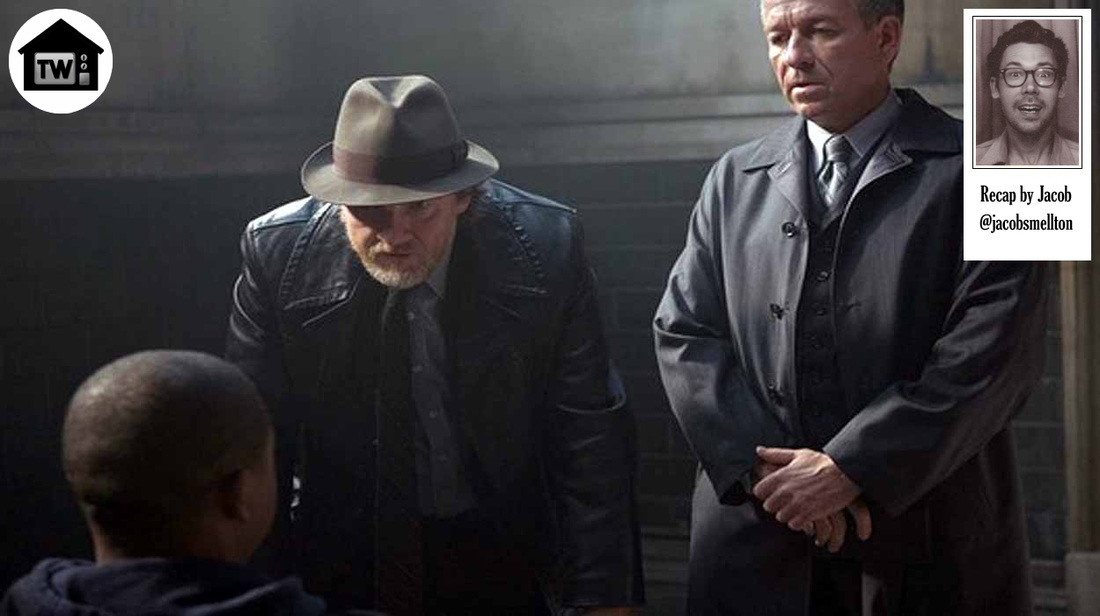 Whether the Gotham writers have a Dr. Wells ability to see into the future or they just got lucky, this week's episode is exactly what the world needed. Not only do we get to see eeeeeeeveryone rag on Gordon for 43 minutes, but also we get the badass Alfred/Bullock team-up that we didn't even know we wanted.
Yeeeeeikes it's only Tuesday and it's already been a rough week in the real world. Have you looked at the news today? It's like, no thanks, I think I'll skip all the papers (this is a very succinct summation of how everyone feels right now!). Even if the world weren't an awful place this week, it's Thanksgiving and we're all either dealing with family or travel and it's just a big mess. Wake me up when September ends, etc., etc.

The episode opens with a femme fatale killing a gardener and then getting an assistant that looks like Will Forte to help her spread his blood on her face. I like sexy femme fatales as much as the next guy, but I could do without all the spidery mannerisms that most of them seem to employ. I don't know any female assassins in real life (unless my ex-wife counts) but I doubt they all act like they're seconds away from failing the Voight-Kampff test. ANYWAY, the sexy assassin appears at the front door of Wayne Manor and tricks Alfred for maybe a minute before his British Super Military training kicks into gear and the fists start flying. It's a pretty good fight scene for a show with no budget. Selena tries to save Master Bruce, who acts like a baby before following her into most certain danger.

After being shot in the arm, Alfred takes a break from being a complete badass to discuss the year Liam Neeson spent shadowing him for his role in Taken and also swearing revenge on anyone that harms a hair on Master Bruce's head. Gordon thinks that Selena was targeted because she knows who killed the Waynes. A-DOY Gordon! No one is happy with the detective and he is equally referred to as a "plank," "putz," and a "clown." The main theory is that Lovecraft put out the hit on Selena and now everything has gone to heck. Alfred and Bullock head to the city to bust some skulls while Gordon tracks Lovecraft to a secret apartment.

In a series of unbelievable moments, Master Bruce tries to use a pay phone, Selena ditches Master Bruce by scampering up a fire escape and Master Bruce full-on Matrix jumps across building to earn Selena's respect. She then takes him to an underground runaway party called "The Flea." All the cool runaways live there, particularly Ivy Pepper, the incredibly spooky orphaned daughter of Mario Pepper.

After interrogating a street kid, Alfred and Bullock check out Fish's club where they question Butch, and surprisingly, he's kind of a jerk. Alfred goes full cockney gangster and starts questioning Butch's manhood before throwing him to the ground and almost slitting his throat before Fish appears from thin air to chew a bit of scenery.

In a scene straight out of every trans-Atlantic romantic comedy, Alfred uses his English accent to confuse Fish and get her to help find the goods. You ladies and your love of accents.

At The Flea, Selena dresses Master Bruce in school shooter garb while listening to a fake Sex Pistols-sounding thing when Ivy shows up and discreetly voices her distaste with young Master Bruce. She mentions the possibility that it's his fault that her father was murdered. But it's cool! We're all orphan billionaires here! Oh wait …

Gordon finds Lovecraft, who is also hiding from the sexy assassin. She shows up right on time to begin another pretty good fight for a show with a low budget (PGFFASWALB). The femme fatale chokes out Gordon with her legs because she is a very sexy lady before killing Lovecraft with Gordon's gun. Believe it or not, this doesn't go over well with Gordon.

Selena pays a visit to her fence, which I guess is slang for "guy that she sells stolen stuff to." I'm not sure how the criminal underworld arrived at that particular bit of slang, but I like it. It keeps the word count low. As one might guess, the grown man who deals in merchandise stolen by teenage girls is sort of a creep and he locks Selena and Master Bruce in a warehouse full of scrap iron.

All of the storylines converge when the sexy assassin shows up at the factory and gives chase to the kids. Alfred and Bullock roll in guns blazing (or as guns blazing as you can be on a show with such a small budget). Bruce sort of fends off the femme fatale by throwing scrap iron at her, but unfortunately she's impervious to scrap metal. Master Bruce is cool under pressure and the femme fatale sexy ladies herself out of the building. Alfred and Master Bruce reconnect and everything is a-OK, except for the whole secret killers murdering Lovecraft with Gordon's gun thing. But don't worry about it, because The Mayor has that covered.

He tells the media that Lovecraft committed suicide under duress from Gordon's questioning and busts the detective down to security guard at Arkham Asylum. The End. JKJK We have weeks to go before the entire country is like, "Uuuuuuuh we get it. Why can't we just have a show about Batman?"

NEXT TIME! Gordon adjusts to wearing a uniform instead of his usual Madman suit from JC Penny. Cobblepot (hopefully) gets more than one scene of throwaway dialogue. Bullock's new partner turns out to be even more square than Gordon and is mysteriously drowned in the men's restroom.
​