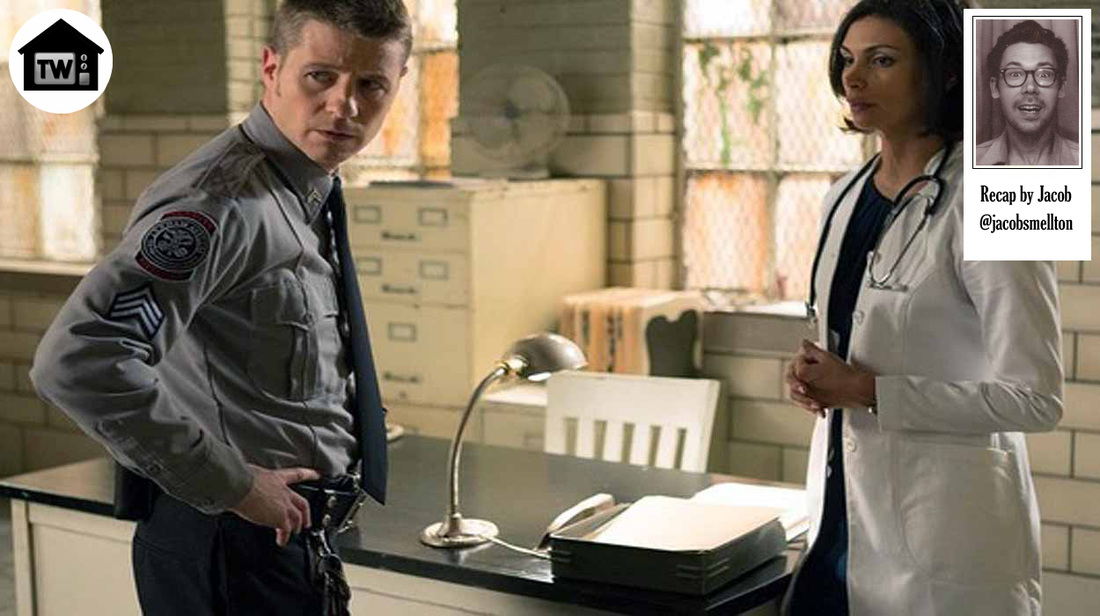 It's a new year. A time for reflection, new jobs, new diets, and a new episode ofGotham! Have you missed me, TV Babies? 'Cause I've missed you. I didn't want to bring this up yet, but we need to talk about Gotham. The first half of the season had its ups and down, but if the first episode back is any indication, we're going to have a big mess on our hands.
The show always felt like it was being written via Oblique Strategies, but now it's more so. Everything in "Rogues' Gallery" felt like it happened because someone popped their head into the writing room and said, "What if Gordon has the map of Arkham tattooed on his inner thigh?" And no one said no. I'm getting ahead of myself. What happened on Gotham this week?

The episode begins in Arkham Asylum, where the inmates are staging The Tempest. For anyone not in the know, the plot of The Tempest is basically this: Prospero, the rightful Duke of Something or other, plots to bring his usurping brother and the King of Naples to island and by way of trickery restore his daughter, Miranda, to her rightful place in the hierarchy. There's also a lot of magic but ANYWAY MY STUPID POINT IS – Gotham, after 10 mediocre episodes, is comparing itself to Shakespeare. Gordon is Prospero, on the island of Arkham who seeks to return himself and Barbara/Miranda (swapping out the daughter/lover roles – yuck) to their former glory by outwitting the mob and complicit mayor. Am I finished? Did I solve Gotham? Geez Louise, we shouldn't be doing homework for this dumb show.

I don't want to spend the entire recap talking about this, but I watched the scene for a third (!) time now and the inmates on stage are playing the roles that they play throughout the episode. Give me a break. Give. Me. A. Break.

During the play, an inmate named Frogman attacks the inmate playing Ariel (Ariel is essentially Prospero's magical slave after Prospero rescued him from a tree – this information will drive you CRAZY later in the episode) and Gordon breaks up the fight. Arkham's Director of Fun, Gerry Lang, hangs Gordon out to dry for allowing the outburst to occur. The woman directing the play, Nurse Dorothy, claims responsibility but Lang is hell bent on admonishing Gordon. It was kind of her fault for choosing to perform the original version rather than Julie Taymor's adaptation.

Afterwards, the sexy Doctor Leslie Thompkins (Firefly's Inara) is brought over to the boy's camp to check on Ariel and recaps the first half of the season for anyone just tuning in. Apparently every civil servant in Gotham knows what's happening to Gordon and while they respect his choice, no one wants to help him out lest they feel the wrath of the mayor.

Out on the streets (in an alley to be exact) Selena Kyle hears the coughing of a young waif, and it's ... Ivy (ugh) and she's not doing well. She has the black lung, and Selena (having recently gleaned a conscience from Master Bruce) moves Ivy to safety. She brings the young Ivy into Gordon's vacant apartment; the girl loves irony as much as she loves breaking and entering.

On the wharf, The Penguin is trying to extort some fishermen. He says their rates are going up and they say no way. The GCPD show up and arrest The Penguin. I think the audience was supposed to be thrown into a frenzy when Cobblepot was arrested, but he's acting like a jerk. A night in the slammer should do him some good!

Gordon checks on Frogman and he's acting suspicious/like a dead person. Doctor Thompkins is called back and she discovers that Frogman was the victim of rudimentary electroshock therapy. It looks like someone got a little nutty with their home lobotomy kit.

Gordon wants to investigate the electroshock thing, and Lang reminds Gordon that detecting isn't his job anymore. Boy, he's a real a-hole (if you know what I mean). Lang doesn't want to call the GCPD about the batshit-crazy electroshock thing that just happened because of … reasons?

Doctor Thompkins and Gordon team up to do some detective work and discover who's been electroshocking the inmates. Gordon singles out the creepiest looking guard to get some information. The guard admits that he lost in keys in the fight at the beginning of the episode and that anyone could have stolen them. Well that's just great.

While all of this is happening, Fish is plotting to take over the mob hierarchy by taking down Falcone. A gangster that we've never met, and that no one has ever talked about, insists that he has seniority over Fish. Whatever.

Gordon, with the help of Nurse Dorothy, interviews a patient named James Gruber (no relation) about whether or not he stole the missing keys. Gruber is a "grade-A sociopath" and a grade-C Hannibal Lecter, who doesn't care about the Frogman thing and just wants to be left alone to be evil.

After Gruber (no relation) is taken back to his cell, we're treated to a fantastic montage of Gordon interviewing inmates that really should have been set to Dolly Parton's "9 to 5."

Fish is worried that her henchman Butch is going to turn on her to work with that mob boss that we've never met. Whatever.

In Arkham, the inmate that played Ariel is shown being strapped down and given the ol' electroshock. Later, Gordon finds him smashing his face into a fence and talking like Matthew McConaughey in True Detective. "See them sourly wring his mill, all right all right all right …"

Doc Thompkins notes that whoever is doing the shocky shocky thing probably doesn't know what they're doing. Gordon thinks it's someone on staff, despite Lang believing that it's an inmate. They flirt over an electrified inmate and Gordon begins an investigation, despite Lang's protest.

Meanwhile Barbara is still in her lesbian love affair with Detective Montoya. She's high as a kite but she still misses Gordon. DAMN THESE WISHY-WASHY LESBIANS!

Bullock saunters into Arkham to do some funky detecting and #TEAMBORDON IS BACK BABY!!! Bullock works his dirty detective mojo on Director of Fun Lang and takes him downtown for a chat while Gordon starts to dig around in the basement.

Butch meets up with Jimmy (the mob boss that we've never heard of until now) to chat about the old days before Jimmy offers Butch his own club/other amenities if he'll "take care" of Fish. Butch is torn between the reoccurring cast member that he works for and the special guest star that he's known since childhood. Maybe this is the episode where Butch snaps and kills Fish. Maybe all of those billboards by my apartment with Jada Pinkett Smith's mug peering down upon me as I trek to the coffee shop were a red herring.

Meanwhile, The Penguin is still in a holding cell where no one will let him make a phone call. WOMP WOMP WOOOOMP.

During questioning, Lang explains electroshock therapy to Bullock, who calls him out for hiding "something." Lang says that while he doesn't know anything about the electroshock killer, there is another secret and he won't tell Bullock and implores him NOT TO DIG INTO ARKHAM. You guys, do you think something weird might be happening in Arkham?

As Gordon goes through the Arkham blueprints, Nurse Dorothy brings him tea and acts weird when he asks to go to the basement. As Bullock begins to pull answers out of Lang, we're led to the basement by Nurse Dorothy, and it's revealed that the nurse isn't a nurse, SHE'S AN INMATE WHO DRESSES LIKE A NURSE! Shouldn't Gordon have known that Arkham had an inmate that acted like she was on staff? That should be Day One information. "Fill out your forms, here's your guard costume, and oh yeah, we've got a crazy person in here who thinks she's a nurse. Also, we let her be a nurse."

You'd think that Gordon would have gone to her first, or maybe the staff would have taken away her nurse outfit. But no, they let her keep on keepin' on. Was Lang's big secret that he's awful at his job?

"Don't tell anyone this, but I'm terrible at what I do." – Director of Fun at Arkham Asylum, Doctor James Lang.

"Nurse" Dorothy pulls the switch that's kept in every maximum security prison that opens all the doors and lets out all the inmates. As ALL THE INMATES (except for Gruber [no relation]) chase Gordon and Doctor Thompkins through the asylum, they trample "Nurse" Dorothy, who tripped over all that deus ex machina that was laying on the floor.

Barbara awakes from her pill-and-lesbian-love-induced stupor and calls Gordon. Ivy answers the phone and does her best to piss of Barbs, but it's likely that Barbara is flying high on Ambien and won't remember the phone call (or the six ice cream sundaes that she makes for her DVD player) in the morning.

#TEAMBORDON presents the evidence about Spooky Nurse to the commissioner and they have a drink to celebrate. Everyone commends Gordon on being a great detective and he goes back to work at the Asylum.

Penguin is still stuck in a cell and Maroni shows up to make a big deal about how Penguin is full of hubris and how he shouldn't raise taxes on fishermen because they're good guys and blah blah blah. Then he just tells some guy to let Penguin out of his cell and that works. He doesn't have to do any paperwork, pay bail, or even say please. What a jerk.

A CSI guy that isn't Nygma or Barry Allen interrupts the Gordon love fest and tells everyone that Nurse Spooky was another victim of the electroshock guy – it turns out that Gruber (no relation) was the real electroshock guy, OH NO/DUUUUUH. Doctor Lang returns to Arkham at the worst time possible and he gets pistol whipped in the mouth for all his hard work. Lang escapes and leaves a note for Gordon about how he's been working really hard to be an electroshock guy and now that he is he's really happy about it. I'm sure that's the last we'll hear from Gruber (no relation).

Butch makes his decision about Fish and shoots Jimmy in the head. Whatever.

NEXT TIME! Gotham takes on RENT! Fish's empire is challenged by an all-new mob boss that we've never met! And Gordon cleans up after those DAMN KIDS that crashed in his apartment.
​