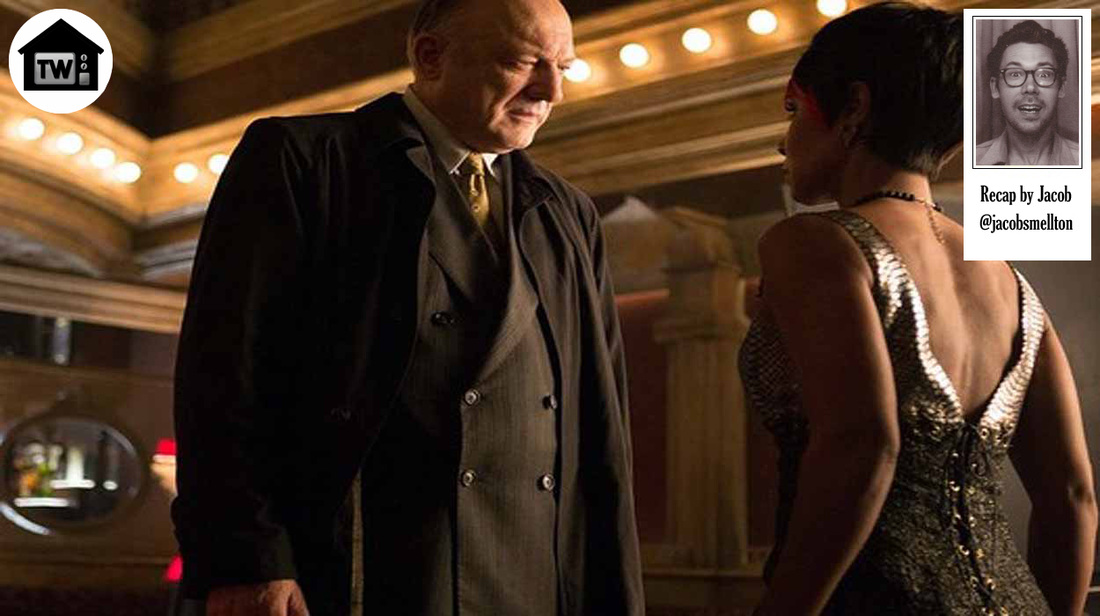 Welcome back to Gotham for the third time! If you're feeling foggy on what happened last time in Gotham, it doesn't matter. Seriously. Does. Not Matter. Gordon was a security guard at Arkham for a hot second, but he's not anymore because of reasons. And thank God because he looked awful in that uniform. I hope you're wearing your galoshes; it's time to hear "what the little bird told him." Was that too Midnight Society of me?
A newspaper American Beautys its way through the Gotham streets as Jack Gruber (not related) and accomplice inconspicuously sneak through the city's underbelly. Wait, I'm sorry. That's wrong. Jack Gruber (not related) stomps through the city carrying a giant box hooked up a million wires while a Johnny Cash song booms behind them. His first stop is to an electronics supply store (because duh) where he electrocutes someone who tries to open the door for him. Chivalry is officially dead.

At GCPD, the detectives are going over notes about Gruber (not related) on an OVERHEAD PROJECTOR! I didn't know that Gotham took place in my old elementary school. Do you think if I squint hard enough I can find my old seat? Gordon shows up at police HQ and everyone is like, "WHA WHA WHAAAAAAAAT?"

Gordon is still a security guard but he dresses like a hotshot detective, so something isn't right. They need him to go back to Arkham before the commissioner shows up and ummm … does whatever. Decommissions the Gotham Police Department? Luckily, the commish is Hannah's dad (from Girls) and he's always the cool parent. Remember the episode where he gave Hannah a couple hundred to get by? He has an earring? Duh, he's cool.

Jack Gruber (not related), now in the "secret lair" section of the electronics store, monologues about how thanks to his time in Arkham he can "now see things for what they are. The world is full of broken machines …" Yada yada yada. Standard bad guy stuff. He says all of this while turning on machines and strapping the electronics store guy up to some electrodes. He'll probably be fine.

During a meeting with the commissioner (who really does not like Gordon), Gordon makes it very clear that he knows what Gruber (not related) is doing next, and that he's the only person on the force who can save the day. Hannah's dad gives Gordon and Bullock 24 hours to catch Gruber (not related). On the way out of the department, Gordon reveals to Bullock that he has no plan and that he lied to the commish. Bullock essentially looks into the camera and says, "We'll be right back" as the Saved by the Bell intro whips into frame.

In a flashback, an ugly baby listens to Mio Babino Caro (possibly the most fake Italian-sounding thing other than the P'Zone) while sitting on Liza's (from the future) knee during a wake then the ugly baby turns into Falcone. I'm explaining this poorly. Anyway, a young mob guy begs Falcone for mercy, insisting that they're family, but he's still murdered execution style. This Falcone fellow sure is ruthless. Falcone and Liza (not his mom) take a rainy walk around the fancy pants section of Gotham and he tells her about how hard he's worked for the life he has, to which she responds, "Look at all the stuff you have." It's what every man wants to hear.

He leaves to do some work and she says that she's "making something special for dinner." Then Fish, who's finally making her move on Falcone, kidnaps Liza. Fish calls Falcone and uses one of those Scream voice changers to threaten the aging mob boss.

Back at GCPD we learn that Gruber (not related) is actually Jack Batinski. He had his name changed so he could be sent to Arkham. Okay! That makes sense! He was a bank robber who was caught by accident and then used his connections to get his name changed so he could be transferred and then escape via the whole electricity/Shakespeare thing. It almost seems too easy.

After dropping that information off with #TEAMBORDON, Eddie Nygma rushes away to give that sexy file clerk a cupcake with a live bullet sticking out of it. It's a riddle. Sweet release? Beautiful women are dangerous things? Sugar will literally kill you? Whatever it means, it's very creepy! Maybe you should stick to a "ur a QT" text message next time, Nygma.

#TEAMBORDON chases down a lead to an electronics shop where they find a body that's been "fried like a donut." Besides the donut body, they find the guy who owns the electronics store and he's writing "I WILL NOT BETRAY MY FRIENDS" on the wall. Lesson learned!

Meanwhile at GCPD, Doc Thompson shows up so Gordon can make goo-goo eyes at her while Nygma reminds the guys to wear insulated galoshes while they chase down an electricity guy. You know what they say about a pair of galoshes in the first act…

It turns out that one of the women in Doc Thompson's wing at Arkham is a pagan sorceress (like I needed to tell you that) and that she has a side business making dolls that look like people and then cursing them for the other inmates. Fairly standard prison business stuff. Doc Thompson presents Gordon with a doll named "Mr. M" that's the spitting image of Don Maroni. And by spitting image of Maroni, I mean that it's a bald doll.

Speaking of Maroni, he's busy entertaining his mooks, including the Penguin, at a traditional mob-owned Italian restaurant. You know the type, completely empty, lots of doilies. Outside, Gruber (not related) is doing some electricity stuff. Penguin gets a call from Falcone who needs his help with the whole Liza situation. Before leaving, he soliloquies about how he's finally going to get Fish. On his way out he's knocked to the floor by an electronic blast. A man stumbles into the restaurant carrying a bomb type thing and blows everyone up with electricity.

Gordon tells Maroni that Gruber (not related) is the guy that did this and that he also knows that this is because they were partners in a series of bank heists. He offers Maroni protective custody for helping him catch Gruber (not related). Gordon's come a long way since his stagnant, "I'll never work for the mob/I don't need anyone to watch my back" mumbo-jumbo in the first episode.

Penguin wakes up from his electrified stupor and gives up that he has urgent business with Falcone. UH OH! I literally said uh oh out loud and made my girlfriend's dogs upset while watching this scene. Maroni agrees to the set up and off everyone goes to the GCPD! Penguin sleeps like an angel on top of some files, while Maroni orders a double espresso. Maroni, you don't have to be such a cliché. Falcone probably would have asked for a Diet Coke and an order of chili fries.

Barbara, still reeling from that nasty phone call with Ivy, goes to see her parents at some fancy pants mansion straight out of Gilmore Girls. Her parents are essentially a drier version of Emily and Richard (RIP). She invites herself to stay for the weekend and tells her parents that everything is fine with her relationship with Gordon. Never mind her lesbian sex fest with Montoya. Guess what, Barbara: WE KNOW EVERYTHING. WE IS THE AUDIENCE!

Maroni is being held as bait at GCPD and the cops LOVE HIM! He's got all sorts of stories about pulling out mooks' teeth and killing guys execution style. Penguin wakes up from his electro-stupor desk and Maroni reveals that he knows about Penguin's urgent business with Falcone. RU ROH SHAGGY.

Speaking of Falcone, he waits alone with a single flower in the dark as Fish calls to offer her help with Eliza. He already knew that she was going to pull some amateur hour garbage like this. Fish asks him to leave Gotham forever; if he does that he can take her with him. He agrees and tells Fish that she was always his favorite of the mob bosses that spent their entire careers trying to murder him in his sleep.

Butch wants to celebrate Falcone's demise, but Fish monologues about how she's offering him an easy way out. The word "respect" is uttered over one hundred times in the next two minutes. Falcone thinks over his choice when that hairless creep Victor asks to start killin' folks, but Falcone says no. Falcone wonders aloud if his time is over; he wants to live in the country with Liza and take it easy while listening to arias with names like "I Wanta Mya Lasagna" and "Oha Howa The Spaghettia Swims ina tha Moonalighta." Sorry, everyone.

Nygma spooks the sexy archivist and tells her what his riddle meant – a beautiful woman is a dangerous thing. I still think it should have been "sugar is bad for you." Gotham really missed an opportunity to teach the kids a lesson about the horrors of tooth decay and diabetes-related amputation.

The sexy archivist is sort of flattered and sort of creeped out when Bullock Junior shoos Nygma away. Nygma asks if they hear a weird booming sound but he's shooed away yet again by the no-necked Bullock imposter. As he leaves, he hears the sexy archivist tell Bullock Junior that she thinks Nygma is a big ol' weirdo.

Penguin begs Maroni to let him leave the station and Maroni finally cuts him loose. But before Penguin can leave, Gruber (no relation) turns on his super electromagnetic thing and fries everyone in the GCPD who isn't wearing protective footwear. Penguin 0, Electronic Pulse Bombs 2.

Gruber (no relation) enters the station with his bald weirdo (where are all these bald weirdoes coming from? Is there a farm on the outskirts of Gotham that we don't know about?) and Gordon surprises him with a gun that gets pulled from his hand with a super magnet or something? At this point I've given up trying to find logic inGotham. If Gruber (no relation) can control electricity, then I guess that means he can also control all magnets and metal. WHATEVER GOTHAM!

Gruber (no relation) makes a salient point about no one in Gotham deserving Gordon's respect or admiration and Gruber (no relation) insists that Gordon doesn't actually care about the law, he actually just hates to lose. As Gruber (no relation) powers up his robot guts for another electro bomb thing, Gordon throws a cup of water onto Gruber's suit, rendering him powerless.

Really? Seriously? That was it? Part of me finds the anti-climactic battle with Gruber to be kind of funny, and it's exactly the kind of ending that Ben Edlund (The Tick/Venture Bros) would write. But another part of me, the part that had to watch this episode multiple times and type upwards of 2,000 words about it, thinks that was a massive cop out and if the writers wanted to spend more time on the Falcone/Fish story, then that should have been its own episode. I don't care for this kind of nonsense one bit.

Gordon gets his badge back and tells the commissioner that the next time someone tries to take his badge he's going to make him or her eat it. Well, okay. That's that, I suppose. #TEAMBORDON is finally reunited and they ride off into the sunset to solve mysteries week after week.

Hours after his presence was requested, Penguin fiiiiiinally makes it to Falcone's place and apologizes for being late. "The day I've had … I won't even tell you." It's the only great part of the episode. I really hope next week is a bit Penguin heavier. Penguin tells Falcone that Liza was a plant that looks just like his mother, Falcone punches him and tells him to prove it. Penguin can't prove it but he's NEVER BEEN WRONG. Fish calls Falcone and arranges a meeting with him at her place in one hour.

Falcone goes to see Fish, and she tells him to sign over his business and to leave town. "You think papers make a don?" It's very Godfather II. Falcone has to see Liza or it's no deal.

Falcone holds Liza's hand and asks her how long she's known Fish, and he spills the beans about how much he loves his mother. Bad guys sure do love their mothers on this show. There's nothing wrong with moms, but these guys think moms are the best things since sliced bread.

Falcone's bad ass leather-clad gang enters the room and put guns on everyone. He doesn't seem like he would have a BDSM-themed gang, but whatever floats your boat. Falcone apologizes to Eliza for getting caught up in this whole thing and then he chokes her to death in front of everyone. YOWZA! Now that's some serious bad guy stuff. He instructs his crew to lock up Fish and Butch somewhere secret and then he monologues about how he feels alive for the first time in a long time. Penguin shows up to be smarmy for a second and pose for a few animated gifs.

Back at GCPD, Doc Thompkins finds Gordon in the men's shower to get her sorceress's doll back and they have a cute chat where they forget that they're like 40 years old and have probably talked to a sexy member of the opposite sex before. As she turns to leave, Gordon plants a big ol' smooch on the doctor before a contest winner enters the shower to tell Gordon that there's been a big shootout at Fish's place.

WOW. I didn't think that watching television could feel so much like having your teeth pulled, but Gothamproved me wrong. Maybe now that the show has been granted a second season, the writers will back off a little and let the stories breathe rather than jamming as much mumbo-jumbo as they can into an episode. Or maybe I'm wrong, maybe they feel vindicated and the episode are just going to turn into supercuts of the worst characters saying the dumbest things possible.

NEXT TIME! #TEAMBORDON finally gets that beer, but the bar is haunted. Fish is stuck in a Saw-esque torture chamber and her only means of escape is to not chew the scenery – sorry Fish. Nygma proposes to the sexy archivist with a rusty switchblade. Oh Nygma, you kook.

​