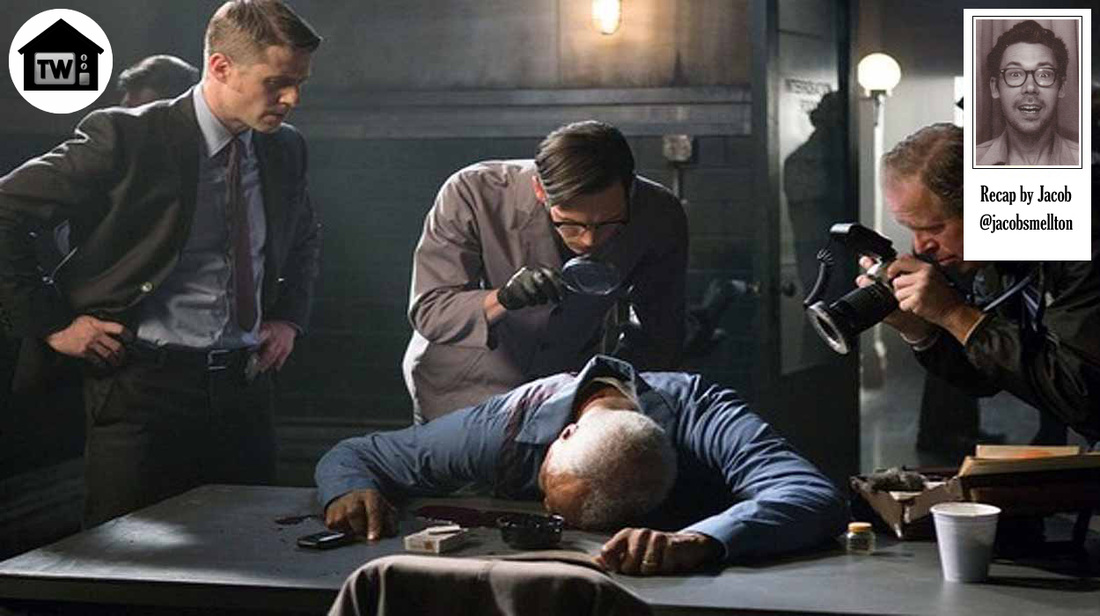 Can someone explain to me what happened in this week's episode ofGotham? I know that it's technically my job to tell you what happened, but I'm at a loss for words. "Welcome Back, Jim Gordon" made me long for the days of overwrought Shakespeare references and one percenter fight clubs.
The episode begins in an underground parking lot, retrofitted to be a room from the Saw maze at Universal Studio's Halloween Nights. Fish is wheeled into the room and placed on a reclining dentist's chair cum torture table. Her transporters inform Fish that "Bob" will be "taking care of her." Sadly we get no Jason Statham cameo.

The GCPD can't find Fish. There's been a big shootout and she's missing (but you knew that). Gordon tries to comfort Bullock because he knows there's something between the two of them, but Bullock puts on his big boy face and says that she can handle herself. If this is Bullock when his girlfriend goes missing, I'd hate to see him watch one of those Sarah McLachlan ASPCA commercials.

And besides, there's a new case of the week to solve. Apparently it's not a big deal because, as Bullock puts it, "the vic's a douche." Well that settles that then. Everyone take a long lunch!

At the crime scene, Bullock introduces Gordon to Detective Flass, a character whom I assumed to be "Young Bullock," "Bullock Junior," and "Bullock 2" in previous recaps. So this "Detective Flass" works the narcotics beat, and Flass and Bullock do not like each other. Either it's because of the way last year's GCPD kickball tournament ended (technically it was a tie, but supposedly Narcotics paid off the refs so they could win all of those juicy Outback Steakhouse gift cards), or Flass is dirty and Bullock doesn't like it.

The victim, Pinky from the Uptown Assassins, has been found impaled on a hook. Gordon inspects the body and finds something hidden in Pinky's shoe. It's blue tabs of ... something. Drugs, probably. The night janitor, Leon, has some information and he's more than willing to share it with the detectives. In fact, he's downright jazzed about going down to the station to speak with a sketch artist. Unfortunately, Leon is exactly the kind of character whose willingness to help authority is rewarded with the worst kind of dividend.

Leon willingly goes down to the precinct, and while on the phone with his wife in a secluded detainment room, he's murdered by a shadowy figure. Whether or not this was written as an allegory about the dangers of the lower class aiding the ruling party, or if the writer just wanted to write in a heavy "snitches get stitches" subtext, it feels lazy and vaguely racist. The first time I watched the scene where Leon reluctantly offers his assistance to Gordon, something felt off. Anytime a black character shuffles in from the shadows and kicks his feet up and speaks with a faux John Coffey inflection, the show/movie/integrated marketing/whatever not only suffers from a lack of imagination, it also smacks the viewer in the face with tokenism and makes everyone feel gross and horrible about themselves.

ANYWAY, so I was talking about a show based on a comic book where a guy wears a spandex bat suit, right?

In Leon's death room (feel free to start naming your metal core bands now), Nygma does some junior CSI work and deduces that the person who killed Leon, also killed Pinky – and he used the same weapon, an ice pick. If Gordon can find the ice pick, he'll find the murderer. Unfortunately, the GCPD is ruling Leon's murder a suicide, and that doesn't sit will with Gordon. He thinks that the culprit of the murders is a cop, but before he can launch his investigation, the Lieutenant makes sure to tell him that he's on thin ice/it's going to be his badge/his ass is on the line. I'm beginning to think that this episode wasn't actually written, but is actually the ghost of a thousand shredded police procedural scripts.

Back at Bob's, Fish and her new torture buddy are getting along swimmingly. I guess Bob is a doctor that tortures people in his off time, or he's a torture guy that pretends he's a doctor. Either way, he's pretty witty for a torture guy. He and Fish have a back-and-forth about how much he's going to hurt her and how much she's going to hurt him when he's done hurting her. Riveting stuff.

Meanwhile, Butch is being driven to his own private Saw maze, but before he can get dropped off, he surprises his transporters (still no Jason Statham cameo) with his brute strength. I'm not sure why they were surprised, he's a big guy. They should have brought the Stath. Butch escapes his binds and goes off in search of Fish.

Master Bruce is being driven around by Alfred because he wants to find Selena and bring her back to his manor. Take my advice, Bruce, women aren't just going to "come back to your manor." Not only does it sound fake, but it's super duper creepy – especially when you have an old English guy driving you around and referring to you as "Master." He bumps into Ivy while continuing his search on foot and gives her $20 to tell Selena hello for him. If you ask me, she should have asked for fifty.

At Bob's, the Director of Photography gets to flex his muscles when he opens on Fish being suffocated. The shot of Mooney holding her breath in a plastic bag as all the oxygen is squeezed from her lungs is a perfect visual metaphor for Gotham. Bob pulls off the bag and threatens to cut off her hand or something before grabbing a hammer and taking aim at her knee. Before he can strike, Butch appears from nowhere and beats Bob to a pulp before carrying Fish to safety in a scene that's very Frankenstein's monster.

Gordon starts his investigation in the only way he knows how, WITH A KICK-ASS INVESTIGATION MONTAGE! The cops don't want to talk to Gordon and Bullock doesn't want to help, but with some smart detective work (i.e., tricking dumb guys into giving up seemingly unimportant information) Gordon starts to dredge up all sorts of GCPD secrets. Gordon tricks a dum-dum guard into telling him that Detective Delaware, another narcotics detective, tore the page from the log that said who was in Leon's interview room.

Gordon goes after Delaware and almost gets mowed down by the escaping detective in the process. Gordon gets Delaware out of the car and cuffs him before sifting through his bitchin' classic Malibu where he finds a bunch of those blue tabs that Pinky had in his shoe. He brings Delaware (who kind of looks like a sleazier Jarvis Cocker) into the GCPD and locks him up in front of everyone. Jim Gordon certainly knows how to make a splash.

Gordon presents his evidence against Delaware (the blue tab thingies) and Flass says that evidence is actually from an undercover investigation currently in progress. The Leon case is being turned over to IA and Gordon is FURIOUS! He goes so far to say that IA is just two fat old guys in the basement. Well I never …

Nygma, somehow a super genius and still unable to get the hint, brings the sexy archivist, Ms. Kringle, a homemade card. This time without any creepy riddles, or so he says. If it's poetry I'm going to puke. (By the way, it's definitely poetry – Jacob from ten minutes in the future.)

Fish and Butch are now hiding out in a motel somewhere in the '70s. Or maybe they're crashing at the Mad Menset. Butch wants to beat feet out of Gotham, but Fish wants to kill Penguin before she leaves. Speaking of every Hot Topic employee's biggest crush, Penguin is showing off Fish's club to his mother. I guess it's his now. Is that how mob stuff works? If you help get rid of a scheming don you get to keep their club and worry about how much liquor to order and deal with sound guys? Count me out.

#TEAMBORDON decide to talk about the Leon investigation over coffee and Bullock tells Gordon that a few years ago Flass (that is the worst name, by the way) and his people started busting drug dealers, taking over their stash houses and going into business for themselves. Gordon gives a predictably over-the-top reaction and Bullock wants him to forget about it. Instead of forgetting about it, Gordon wants to know where the stash houses are so he can get his Boy Scout on. Bullock reluctantly acquiesces, as he does in every episode.

The boys go to a stash house that looks more like the warehouse of a feed store and they find Delaware, who's doing his whole drug dealer thing. #TEAMBORDON gets the beat down before being presented by Delaware with a warrant signed by the Commissioner. Not only does Hannah's dad love wearing an earring, he also loOoOooOOoOoOoOoves drugs. Forget it Jim, it's Gothamtown.

In Ms. Kringle's office, Detective Flass and his cronies read Nygma's card out loud. Nygma skulks in and they begin to make fun of him for being a "perv" and a "creep." The only thing the card contained was some flowery, ABAB poetry, nothing creepy about that. Maybe it lacks imagination, but it's definitely not creepy. Nygma leaves the archives and goes off to work on his green spandex question mark costume.

Gordon goes to see Penguin at Fish's club where the world's saddest birthday party is taking place. Gordon asks if Penguin knows Flass, and if he can get some information for him. Penguin promises to take care of the matter because they're such good friends. Jim, what have you gotten yourself into?

Victor, the bald-headed creepy mercenary guy, goes to check on Fish and finds Bob bleeding on the floor before he shoots him in the head. Bob, we hardly knew ye.

Penguin gets white girl wasted by himself in Fish's club. And as he's having a pretend party, Fish and Butch walk in and act vaguely menacing.

Master Bruce is playing chess by himself when Selena shows up to make fun of him and give him pre-teen boners. He brags about his Swiss chalet (real smooth bro) and she wants to know what's up. Why has Master Bruce been driving around in a town car look for her? Master Bruce says that he got her a present. A snow globe from Switzerland. He asks her to stay with him at the manor so they can "help each other out." Yuck. She gives him the Harry and the Hendersons treatment, saying that she never actually saw the face of the man who killed her parents. That she was lying so she wouldn't have to go back to juvie. She gives the snow globe back and leaves Master Bruce to lick his wounds.

Penguin's goon finds Delaware and gets the answers that Gordon needs by making Delaware watch as the goon drowns his wife in their bath tub. I don't think that's what Gordon signed off on, but results are results.

Back at da club, Fish is making Penguin kiss her shoe while she beats him with her baseball bat. He admits to her that he was working for Falcone the entire time he was working for her and Maroni. Before she can kill Penguin, Victor and his BDSM goons show up, guns blazing. Butch and Fish take off through a back part of the bar and Victor shoots Butch in the leg. Fish escapes through a window, leaving Butch to fend for himself. Victor asks his BDSM team if they should kill Butch or take him "home to play with." Yuck.

In his sad little office, Nygma is doing some CSI work on his pad thai (what a kook!) when Ms. Kringle comes by to apologize to him. He starts to ask her out and she shuts him down immediately and leaves him alone with his Thai food. If you ask me, that doesn't sound like too bad of an afternoon.

Gordon is doing some paperwork when Penguin's heavy drops off a bunch of evidence on his desk. It's the ice pick and a tape of Delaware's confession. It may be ill gotten, but it's exactly what he needed.

Master Bruce cries in front of a fire and the broken snow globe, heart broken by his first hood rat. Alfred gives the boy some tough love and has him sweep up the snow globe as his tears mix with whatever they use in snow globes to make it snow. Master Bruce vows to find another lead in the murder and yada yada yada.

Gordon presents the murder evidence to Flass, who doesn't even care. Gordon goes full Boy Scout on the guy and starts talking about "the badge" and "honor" and it's a very slow clap moment. Flass keeps saying "he's protected" (whatever that means) and the Lieutenant steps up to arrest him her own damn self. You go, girl.

Bullock misses these fireworks because he's driving Fish to the Port of Gotham where she's leaving town, but probably coming back to kill Penguin. She asks him to find Butch and if he's alive to help him out. He's going to need it if he's being "played with" by those BDSM goons. They make out once more before she gets on a boat, I guess. I don't know what else you would do at the port.

The secret relationship between Fish and Bullock would have had more pathos if it weren't so, well, secret. We technically knew that they had something going on, but we didn't see anything of the relationship beyond the first episode. Think of how much more interesting the Fish storyline could have been if Bullock actually had to face the consequences of aiding and abetting a known criminal. Or if he had to arrest her. Instead we're just given crumbs of what could have been.

Gordon leaves the precinct after locking up Flass and is confronted by Delaware in one of the many alleys of Gotham. Delaware wants to know if they're even and he begs Gordon to keep his wife and kids out of this mess. Gordon, realizing what he's done, looks kind of upset, but he also looks like a man who just realized that he locked his keys in his car.

What could have been two interesting episodes, one about corruption on the Gotham police force (which, admittedly, most of the episodes are about), and another about Fish's unlawful imprisonment and escape, were jammed together to make one milquetoast episode full of stale regurgitations of by-the-book, television procedural story beats. Gotham works best when it focuses on one character, but unfortunately it tries to be everything to everyone and dilutes itself to the detriment of the viewer.

NEXT TIME! Next week is the beginning of a two-part episode where we'll meet Dr. Crane. Played by the Warlock himself, Julian Sands. Also, Detective Gordon finds his keys. They were in his coat pocket the entire time.

​