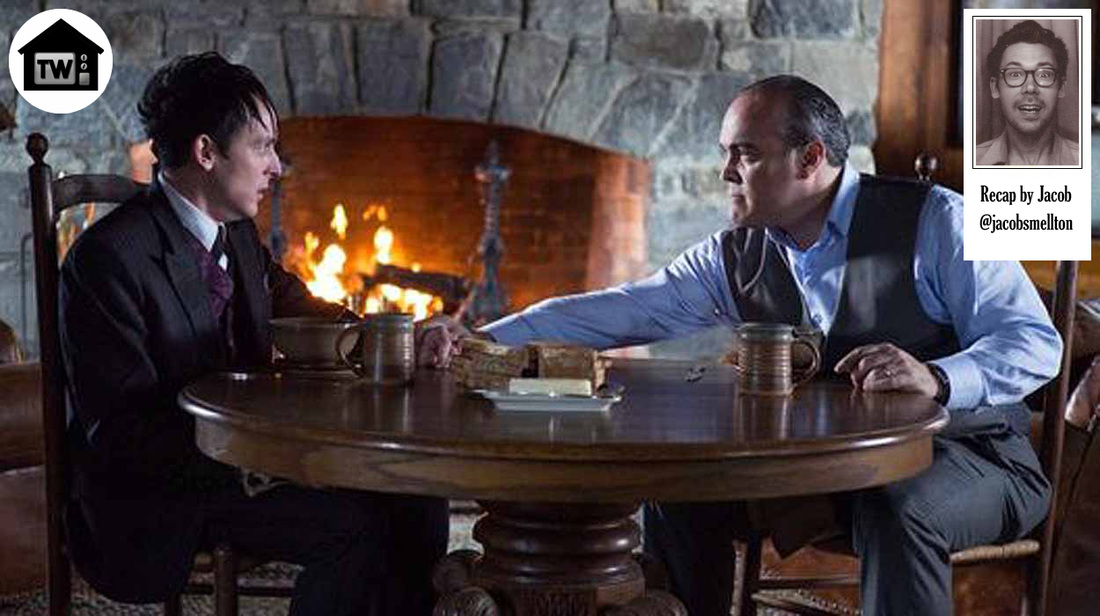 If anything definitive about Gotham, and "The Fearsome Dr. Crane" in particular, it's that the show is definitely getting darker. Literally. I think the color grader leaned on the "dark gray" button a bit too much in this episode. Also there's a guy in a giant pig mask in the middle of the episode, and that's pretty spooky.
Unfortunately, this episode suffers from being the first part of a two-part story. So not only are we stuck in the wait-and-see position, but the series' usual "throw it against the wall and see what sticks" attitude has been turned up to 11 in this episode: Guy in a pig mask! Gordon is bad at dating! Bullock is great at dating! Cobblepot and Maroni alone in a cabin! Fish fights with a pirate! It wouldn't be a recap of Gotham if I weren't already gagging.

It's a new … night? Or maybe a new day? It's an unspecific time in Gotham (and it's very very blue) andWarlock's Julian Sands dangles a man over the side of a building before putting a noose around his neck. The noosed man understandably freaks out as Warlock cuts him free and allows him to fall over the side and stay suspended in mid-air (held via rope, not Warlock magic as I was hoping).

After the supposed downfall of Mooney in the last episode, Maroni takes Penguin out for a celebration dinner. I so do not understand Maroni. One minute, he's the angriest boy in school and thinks that Penguin is screwing him over. Then, the first time Penguin sort of accomplishes something, it's all Champagne and "We couldn't have done it without you"s. Maroni needs to be on medication.

A call comes for Maroni on the world's last rotary phone, and it's Fish; she's calling from the world's last pay phone (maybe this old phone subplot is something the Gotham writers can explore in Season 2) and she wants Maroni to know that Penguin has been for Falcone since day one. Cobblepot gets to shine in this scene as a man who thinks he has it made. He drinks Champagne, and berates a server for giving him smudged cutlery. It seems that Cobblepot will suffer the same fate as Joe Pesci in Goodfellas.

Maroni tells Penguin that he has to go upstate and see a guy about a thing and invites Penguin, who goes along with him instead of running and screaming the other way.

The GCPD is on the scene of that whole chair hanging thing, and Nygma seems to have found a weird hole in the body of the victim. Out of nowhere, the Lieutenant jumps down Nygma's throat for wanting to examine the body, and the medical examiner complains about Nygma overstepping his boundaries or something like that. I know that Nygma is a super weirdo that's probably riding the Aspergers spectrum on a surf board, but wouldn't you want a guy like that going above and beyond his duties?

There's a brief mention of Flass's supporters within the GCPD and how they don't like Bullock. This is not brought up again in the episode.

Gordon stops by Barbara's to drop off his keys and notices that the apartment has been turned into a teenage frat house. Blankets are on the couch, there's cereal everywhere, and someone's either been doing whippets or there's a delicious new cereal technique that I haven't discovered. He catches Selena hiding behind a wall like she's Dustin Hoffman and they talk about Gordon's breakup.

Sure Gordon, there's a teenage girl who was recently chased down by assassins living in your ex-girlfriend's apartment, make this whole thing about you. Gordon offers to help her find a place to stay and Selena, charming as ever, says no thanks before revealing that she was lying about the Wayne murders before leaping from the building like some kind of cat woman.

Since one teen just burned him, Gordon decides to make a day of it and goes to see Master Bruce. The boy king is already aware that Selena was lying about seeing the murderer and he releases Gordon from his promise before deciding to do his own detective work. Then there's an exchange between TWO ADULTS about whether or not a child can actually pursue the case of his parents' murderer. The TWO ADULTS seem to think that there's nothing they can do but let the CHILD investigate a murder. It worked for the Hardy Boys, so I guess it can work for Master Bruce.

Maroni and Penguin arrive at the cabin from Misery and set up shop. Maroni loves to get away from the hustle and bustle of the city life and take in the "fresh air, oatmeal, good friends" of the world just outside civilization. In another life, "Fresh Air, Oatmeal, and Good Friends" could have been Maroni and Penguin's cafe. I can see their faces lit up in neon when I close my eyes. Unfortunately, Maroni has no plans to open an odd couple cafe, he wants to get to the bottom of this whole Penguin/Falcone thing. Maroni questions Cobblepot about a few of his inconsistencies within the last few weeks and makes a few vague threats as Penguin starts to realize that not only is there no guy, but there was never even a thing.

Out of every couple on Gotham (a show that seems to believe that its characters don't work when not paired in tandem), Penguin and Maroni are arguably the two that we've spent the most time with (Gordon and Bullock being the other couple, but seeing as how Gordon is ZERO FUN, I'm focusing on Maroni and Penguin). If this episode does one thing right, it's giving these characters room to breathe and putting them in an environment where they're forced to confront their conflict.

We haven't seen a lot of Penguin since the second half of the season began (unless you count those Robin Lord Taylor Ford commercials that play during every episode of Gotham) and it's great to see him run the gamut of emotions. From thinking he has the upper hand over Maroni, to realizing he's trapped, and later, when he goes crazy-go-nuts and tries to kill Maroni with his own gun. If every episode of Gotham focused on a couple of characters rather than jamming in 10 story lines in 45 minutes, the show would be the water cooler procedural that it longs to be.

At the GCPD, Bullock decides to do some detective work and meets with the victim from the beginning of the episode's sponsor, Scottie Mullen, who reveals that they were in the same phobia support group. She and Bullock trade barbs about the group, and it seems that Bullock has met his match. Bullock, breaking probably at least one law, asks Mullen to have dinner after her meeting.

Gordon pops up to tell Bullock that a chair company somewhere in Gotham that's long been shut down manufactured the chair that the victim was sitting in when he was murdered. Bullock wants to investigate their warehouse; Gordon is shocked but complies.

In what may be the best scene on television in 2015, a tightly wound man (according to IMDB) leaves his apartment with a briefcase and runs head-on into Julian Sands menacingly cradling an adorable baby pig. The man tries to run, but Julian Sands and the ADORABLE BABY PIG give chase and the man is zapped in the neck and thrown in the back of a van.

Nygma goes digging around the victim from the beginning of the episode when the Lieutenant, flanked by the medical examiner, stops Nygma and suspends him. The entire Nygma subplot of this episode feels like an afterthought of an afterthought. After he's suspended, he returns the stub of a pencil to his high school crush, Ms. Kringle, and then breaks into the medical examiner's locker and fills it full of dead body parts.

I know that Nygma is going to be The Riddler at some point, and that the writers have to show that he's hyper intelligent and devious. But is pulling off what is essentially a Revenge of the Nerds-style prank all that cunning? We've seen one of the protagonists of this show kill a guy in cold blood; how is this worse? Now that I've spent more time thinking about Nygma's impetus than the Gotham writing staff, I'm going to have to take a break and try this new whipped cream and cereal recipe that I've heard so much about.

#TEAMBORDON investigate the chair warehouse (or chairhouse, if you will) and try to bro down and talk about dating when they hear a man screaming. Damn, I was really hoping that Bullock would instruct Gordon in the ABCs. They find the tightly wound man tied to a chair surrounded by full-grown pigs and a man wearing a giant pig mask. Without so much as a quip about smelling bacon, the two detectives dispense with the man in the pig mask and we're whisked away to commercial to hear Robin Lord Taylor tell us about how "You'd have to be crazier than the Penguin to buy anything but a Ford."

Fish is somewhere on a mutha fuckin' boat (timely reference). Seriously, we establish that she's on a boat and if she wants she can see Gotham from her window. That was a scene that was written, filmed, and then edited into the episode.

It turns out (because duh, of course it does) the tightly wound man who #TEAMBORDON saved in the warehouse was in the same phobia group as the first vic, and even though the pig mask guy didn't have any ID on him, Bullock is pretty sure that the case is solve. Huzzah! Now he can go on a date with the pretty Irish woman he met who's more than likely deathly afraid of antipasto, or appetizers, or something as equally ridiculous as adorable farm yard animals.

The Lieutenant agrees, but Gordon thinks that there's more to the case. At this point you'd think the other detectives in the GCPD would defer to Gordon's logic. He's as square as a bathroom tile, but he's usually right about all this crime garbage they have to deal with.

Meanwhile, at the cabin from Misery, Penguin and Maroni are locked in an intense game of "Truth or Truth" where it's slowly revealed (slowly for Gotham, that is) that Maroni knows that Penguin sold him out and that he's going to get rid of him. Penguin reveals that he took Maroni's gun and that he'd figured most of this stuff out already, eliminating the need to continue "Truth or Truth" – which is a total drag because I wanted to see Penguin and Maroni kiss. When Penguin trains his gun on Maroni, the mob boss reveals that the gun is loaded with blanks. Penguin fires all six rounds at point blank range and nothing happens.

That's not how blanks work, by the way. Don't play with guns, kids.

Gordon finally takes Doc Thompson out on a date and instead of being the very intelligent and confident detective that he usually is, he acts like a clueless dork who won a date with Miss America and brings up the pig face case. I guess we're supposed to think this is cute, but as someone who's been on the business end of more than a handful of bad dates, Gordon could not have gotten off to a worse start. He says that he brought up the case as an excuse to see her, but when he gets a call about the tightly wound man, he takes off and leaves sexy Doc Thompson all alone with a manila folder full of crime scene photos. What's a girl gotta do to meet a normal man in Gotham?

The scene at the phobia meeting gives Bullock a few minutes to breathe and lets Logue fire off one his patented non-quips like "I'm a cop, the only thing I'm scared of is decaf coffee." Bullock offers to discuss his fear with the group if it'll help him get closer to the redhead, and she's thrilled that a man who's so out of touch with his feelings is pursuing her. Ladies of Gotham, I weep for you.

As Bullock pours himself a cup of coffee before the meeting, he runs smack dab into Julian Sands, who comments that he's a regular at this group. In the nicest church rec center ever, Bullock reveals that he's afraid of dying alone on the job. He wants to live a long life but doesn't think it's possible as long as he's a GCPD detective. Next, Dr. Crane, under the guise of "Todd," speaks up to say that he's afraid of failure and he's afraid that he's going to pass the failure onto his son. "Todd" begins to cry and leaves the group and Ms. Mullen (Bullock's gal) chases after him.

If you'd believe it, Maroni didn't cotton to the idea of Cobblepot trying to shoot him in the face with his own gun. He decides that the only way to deal with Penguin is to put him in a car, and then crush the car. Sounds fun! Penguin begs Maroni for his life, but he doesn't want to hear it.

While being crushed, the ever-resourceful Penguin calls Maroni from inside the car to say something about Indian Hill, the property that Falcone happily took off of Maroni's hands. At this point he doesn't care, so Penguin calls the number of the wrecking company that's crushing him and tells the man running the crushing machine that if he doesn't stop right now, Falcone will come down on him hard. The crusher is stopped and Maroni is less than pleased. That Penguin sure is slippery bird.

At the meeting, everyone notes that "Todd" and the girl have been gone for quite some time. Bullock leaves the meeting just in time to see a van speeding away with his gal inside. It turns out that Ms. Mullen's phobia is swimming pools, so Dr. Crane has her gagged and bound on the edge of a pool.

He explains something about a terror scale and our glands and blah blah blah, okay, whatever. Before he can throw her in the pool, his son arrives and says that the parking meter ran out and that he needs change. What the fuck was the point of that scene other than to show the audience that there are two Cranes and that one of them is going to be the Scarecrow? Ugh. It's the son, by the way, you don't have to hold our hands all the way through your stupid show. As with every episode of Gotham so far, the end of the show devolves into a sloppy mess of mild action and a shitload of exposition.

Dr. Crane throws Mullins in the pool, Bullock saves her while Gordon chases the Doctor into the pool's boiler room (do all pools have boiler rooms?), and as this is part one of a two-part episode, the Doctor escapes. Duh.

The next morning, Penguin is discovered sleeping under a bed of leaves by some black gospel women and they allow him to board their bus and ride with them to Gotham because they're nice ladies. The Penguin is NOT HAPPY to be on board with these gospel singing women – why are we supposed to find this funny? Is it because he's white and they're black? Does he hate gospel music? Or is it just an excuse for Cobblepot to make that really awful face that he always makes? Your guess is as good as mine, dear readers.

Doc Thompson reveals that the victim from the beginning of the episode had his adrenal glands removed, possibly because at the moment of death the adrenal glands are full of fear. Gordon offers her the medical examiner's job (because he can just give out jobs now?) and then they exchange extremely expositional dialogue ripped from the pages of that one romance novel that even your aunt doesn't like.

"I have a powerful urge to kiss you right now."

"Why don't you?"

"Because I'm on duty."

If you didn't already think the writers of Gotham hated you, you should know it by now.

The last scene of the episode is Fish waking up on the boat to the sound of gunfire. Everyone on board has been killed, including the captain. A black pirate guy shows up and the two charge at each other as theGotham credits explode onto the screen. If anything actually needed exposition, that would have been it.

NEXT TIME! Fish takes over the marauding pirate ship and sails away from Gotham to become the legendary Captain Fish! Gordon asks Doc Thompson if he can hold her hand, they discuss proper hand holding protocol over a dinner of skinless chicken breast and wheat bread. Doctor Crane's adorable pig stunt goes viral, catapulting him to the stratospheric heights of Dr. Phil.