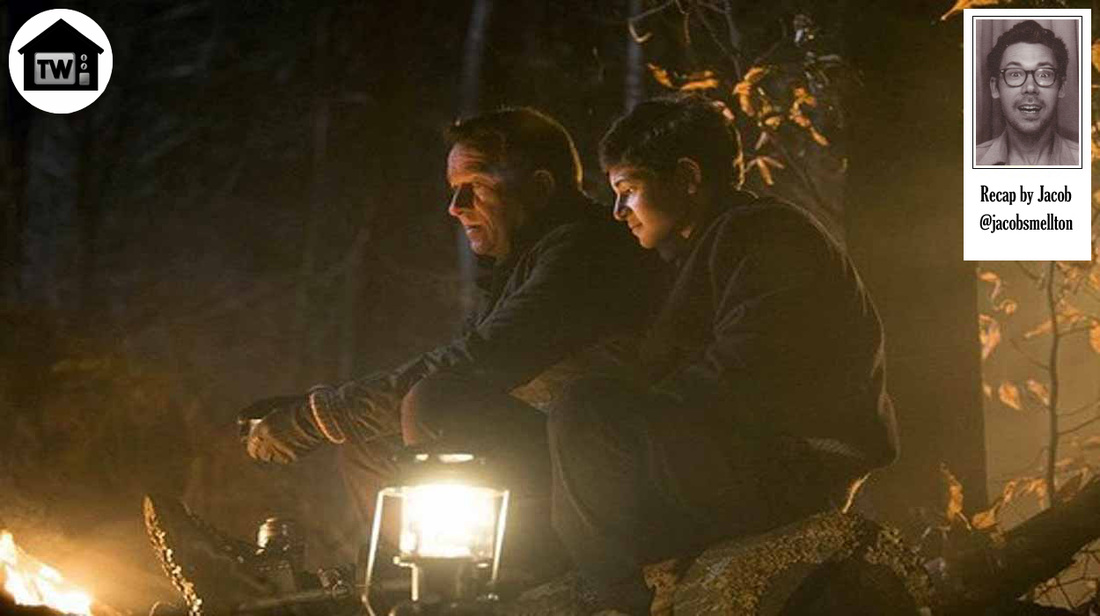 Gotham's latest episode, "The Scarecrow," makes multiple tonal shifts as it transitions through the myriad plot lines that it has to burn through. I'm trying to be OKAY with this because I can't change anything, but you better cue up My Chemical Romance because I am not okay.
Ignoring the wild mood swings of the episode, the real thorn in my side about "The Scarecrow" is the misnomer in the title. While a scarecrow does make an appearance, we don't get the full Scarecrow experience, it's only more of the "See? There's that thing you like …" that we've come to expect from Gotham. I know I shouldn't be crossing the timelines, but at this point I would absolutely love it if Bane showed up and took Gotham for ransom. You can keep it Bane. You can keep it.

This episode continues the story from last week – #TEAMBULLOCK are searching for Doctor Crane, The Penguin is on the run from Maroni, Fish is on a boat with Somali pirates(?), and Master Bruce is on his way to becoming the World's Greatest Detective™.

After harvesting the adrenal glands of people that he met in his phobia group, Dr. Crane has escaped to a farmhouse outside of Gotham with his son, Jonathan, where he's conducting experiments on the two of them by injecting a thick substance that he gets from boiling the stolen adrenal glands. I guess? He doesn't go into much detail about the process, but that's probably it. After injecting himself, his eyes get all Requiem for a Dreamy and he sees a woman descend the farmhouse stairs before catching on fire and verbally abusing him. Different strokes for different folks, know what I'm sayin'?

At the same time that Doctor Crane is banging his fear serum (or Fearum™), #TEAMBULLOCK is hitting the pavement hard to figure out what's going on with Crane. Well, sort of … Gordon is out on his third date (!) with Doc Thompson while Bullock presumably sleeps off a hangover in a pile of trash somewhere.

At the end of the date, Doc Thompson tells Gordon that she's the GCPD's new medical examiner and he gets all squirmy. IT WAS YOUR IDEA JIM, YOU DUMB IDIOT! He's worried that working in too close a proximity to the sexy doctor will make everyone hate him or think he's being inappropriate or something. Everyone on the force already hates Gordon, why would they care if he were hooking up with the new M.E.? Gordon just can't do commitment. You're not getting any older, Jim, and if you keep casting these beautiful women aside you're going to be left with whatever washed-up Gotham city skank wants to put up with you.

Fish, meanwhile, gets the short end of the stick in this episode. We only spend what feels like five minutes with her, which is just not enough for her personal character arc. Taking place seemingly over the span of a few days, Fish goes from new meat prisoner in a pirate fight club (or something?!) who has to learn the rules of her surroundings, to killing the head boss and becoming the new leader of the prisoners she's just met. There's also a subplot within this subplot (plot C) where the pirates are taking the prisoners and harvesting their organs. I think? There's not enough time spent with Fish to fathom what's actually happening. I would have LOVED to see a more fleshed out version of Fish's story.

Onto the man who put Fish in the fight club (?), Penguin. He's not doing particularly well since escaping Maroni's attempt to murder him in that car compacter. He tells Falcone about his near-death experience, but all Falcone cares about is whether or not Penguin can get Fish's club up and running. They need to start making some money! He leaves the club to Cobblepot to do with as he pleases and promises to take care of Maroni.

The Falcone and Maroni subplot (subplot E if you're making a chart) is actually interesting, but unfortunately it's not fleshed out enough to make you care about anyone involved. After a Sorkin-esque walk and talk through Falcone's villa, he and Maroni come to an agreement over Penguin. Maroni won't kill him as long as Falcone is alive, and Falcone will hand a judge over to Maroni that hasn't stopped bugging him. At this point Falcone leads Maroni to a sound proof room where the judge in question is bound and gagged – everyone has a good laugh at this hilarious sight.

Why does Falcone care so much about Penguin? He tells Maroni that they both know that Penguin is smart enough to realize that he'll never be a boss, and if that's the case, then why keep him around? This is either going to end up in a reveal where Falcone is Penguin's father or Penguin's going to kill eeeeeeveryone. Or both. At this point it doesn't seem like either mob group would be any worse off without Penguin. He seems to be the catalyst for all the unrest in the underworld, so it would make sense to get rid of him. But what do I know? I just burned my mouth with a microwave burrito and instead of spitting it out I rolled it around with my tongue until it became slightly less volcanic.

In plotline F, Master Bruce goes on the famous Batman hike, a tradition that he and his father did every year until that whole double homicide thing happened. Alfred offers to go along with Master Bruce, who refuses because he's a brat and goes off on his own. On the Batman hike, Master Bruce comes across a pile of rocks that he and his father made and gets orphan angry and starts smashing the rocks and throwing them around like a total spaz.

Master Bruce's spaz attack causes a minor landslide that sends tumbling him down into a ravine where he either breaks or twists his ankle. Bring the smartest, strongest, and all around bestest boy in the world, he sets his leg with some sticks. I bet you wouldn't have thought of that, you dumb poor person. Master Bruce climbs out of the ravine to find Alfred hanging out by a roaring fire and having a cup of tea. So very British, I wouldn't be surprised if he'd just finished watching The Young Ones on his portable DVD player. It seems this was all a part of Alfred's plan to toughen the boy up and make him less of bratty little baby. Master Bruce and Alfred sit quietly and watch the sun rise in a storyline completely disconnected from the rest.

WHILE ALL OF THIS IS HAPPENING IN THE SAME EPISODE, Penguin is opening his club, "Oswalds'," and everything has to go juuuuust right. Cue wacky Saved By The Bell music. Penguin hand-delivers an invitation for his new club to Gordon who really doesn't want to hang out with him since the whole "drowning a kid" thing.

And in a moment that's sure to make every Batman fan girl have a meltdown on tumblr, Penguin and Nygma have a smarmy Doctor Who lookalike face off that was only written into the show so the viewing public can go "OH OH OH! BECAUSE! BECAUSE! IT'S THOSE TWO! AND THEY!" Start the barf machines; I think I know where the second season is going.

Doc Thompson begins her first day at the GCPD and Bullock, the rakish truth sayer that he is, totally calls the end of her and Gordon's relationship before dragging Jim out to do some actual detective work. #TEAMBULLOCK goes to find Professor Crane at the local university (where can I get a GOTHAM U sweather?), but he's disappeared and no one knows where he's gone. They bring up the phobia thing and the head of his department knows all about the adrenal gland stuff. It turns out that he wrote a paper about his entire modus operandi. Crane developed protocols for two inoculations, himself and a mysterious SUBJECT B. #TEAMBULLOCK learn that Crane's wife died in a house fire, and they go to the old Crane house to investigate.

When #TEAMBULLOCK arrives at the Crane house, Doctor Crane is about to inject his son with a second, extra double dose of the fear serum (Fearum™). Before they can stop him running off, he injects Jonathan who freaks out and starts hallucinating about anthropomorphic scarecrows. The detectives have a less-than-exciting shootout with Doctor Crane as Jonathan convulses in a pile of hay.

Despite updating Fish's old logo (to a really cool neon umbrella – I would wear that button or put that sticker on my laptop), Oswalds' is a complete dud. Penguin booked some shitty Cramps knock off to play the opening and it's a real drag. Only one guy with a Mohawk showed up. Better luck next time, Penguin. Maroni shows up to threaten Penguin and there's a veiled reference to Penguin pissing himself. We're just going to have to lower our expectations if we want to continue watching Gotham, because it's not going away.

The episode ends with Gordon being told that Jonathan will live the rest of life bombarded with the thing he's most afraid of – a scarecrow that looks like it belongs in The Nightmare Before Christmas. What a downer.

This could have been a cool episode if there wouldn't have been so much jumping from character to character, which seems to be the Gotham's de rigueur. I try not to look at spoilers for Gotham (I don't need another super hero-related ulcer), but even if there hadn't been weeks of blog chatter about the show setting up a big entrance for The Joker, the preview for next week's episode lets the cat out of the bag. It certainly feels like the producers were tearing through storylines in order to get to The Joker, presumably to piggy back off of the lasting impression of Heath Ledger's iconic performance.

Admittedly, The Joker is Batman's most famous villain, but do we need to meet him in the first season of a show about Commissioner Gordon? No story has ever suffered from allowing its characters to subtly grow into something new; if anything, Gotham suffers from fast tracking its characters.

The preview for next week's episode says, "You've met The Penguin, you've met The Riddler, you've met Catwoman, now get ready for The Joker." But we haven't met those people. Penguin is on his way to being the monstrous mob boss of Detective Comics, but to say that we've "met The Riddler" is the show giving itself too much credit. We've spent approximately 30 minutes across 15 episodes with a guy who likes riddles. I don't mean to split hairs, but Gotham hasn't developed their characters nearly enough to say that they are who they will be. Ugh.

NEXT TIME! Gordon goes to the circus and there's going to be a flying Graysons reference or I'll eat my hat.

​