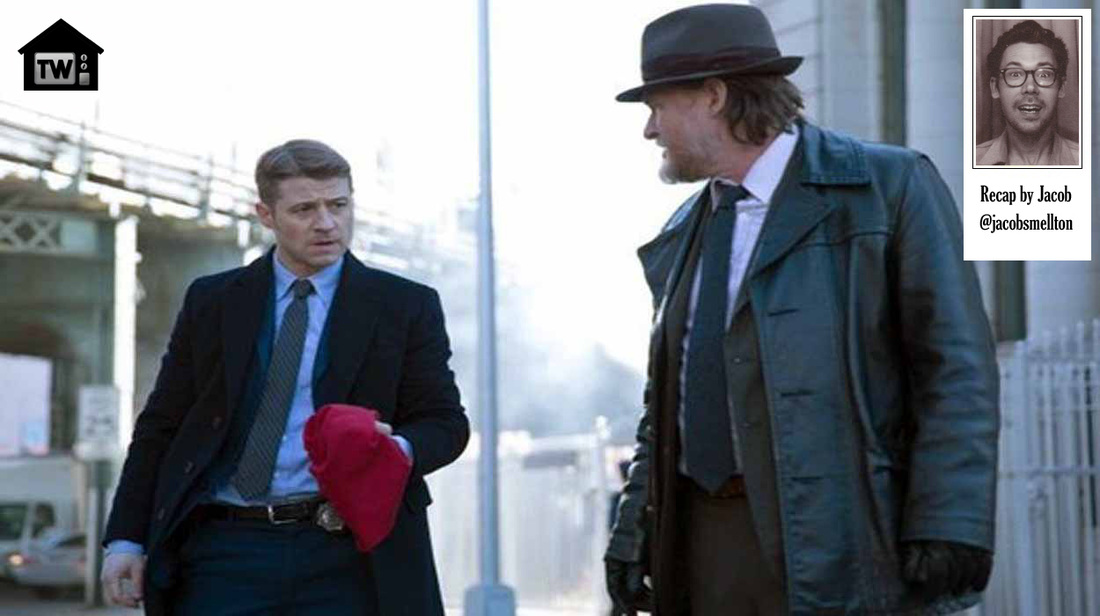 So many surprises happened in this week's episode of Gotham, mostly the eye thing! If you haven't watched the episode yet, check it out because "The Red Hood" was mostly Very Big Things™ happening to the people of Gotham. Finally.
The episode opens with the mind bogglingly bad idea of staging a bank heist. The scene, overall, is fine. There's a funny back and forth between "the boss" and his subordinate who decided that he wanted to wear a red hood (I guess we're calling ski caps "hoods" now) in order to stand out from the run-of-the-mill bank robbers in Gotham City. I certainly laughed out loud (there has to be a quicker way of saying that) more than once during the scene, it was TBS Very Funny!

The problem wasn't the robbers, or even the backdoor introduction of The Red Hood, a character that sparks a wildfire through Batman continuity (you're welcome to name your pop punk band "Batman Continuity" – just shoot me an email!); the issue is inherent in the shooting of a bank robbery scene in Gotham – a show based on Batman, which in the last 10 years of the franchise has released one of the quintessential bank robbery scenes. As indebted to film history as our introduction to Ledger's Joker is, it manages to stand apart from its references to create a new cinematic touchstone. The heist from "The Red Hood" feels more Point Break thanHeat, but despite its overall blahness some interesting points are raised.

During the heist, which is more or less the first robbery scene from Point Break, the gang robs the registers as the Red Hood, who has become the de facto leader once in the throes of performance, reminds the hostages (i.e., his audience) that the gang isn't stealing their money – they're stealing the bank's money. A nervous member of the gang counts down the seconds until the police arrive and an aging security guard fires six rounds at the Red Hood – missing every shot, as if he were a stormtrooper firing at Han Solo. During their escape, Red Hood tosses handfuls of money into a now-adoring crowd, gumming up the streets for the GCPD and ensuring their escape.

While watching the footage of the heist, Gordon is confronted with the concept that the Red Hood is more akin to Robin Hood than the usual Gotham scum. Regardless of whether or not Red Hood's intention was to become a folk tale, throwing his money into the hands of Gotham's citizens instantly mythologized him to the rank and file. After taking the footage back to their precinct, #TEAMBORDON watch footage from a week before the robbery and see a member of the gang (the man who would be hood) testing the police's response time. Unfortunately, he's wearing a shirt emblazoned with the name of his hideout, Kleg's Auto.

At stately Bruce Manor, a man from Alfred's past, Reggie, appears at the door. He's soaking wet and basically a Guy Ritchie stock character. Master Bruce invites him to stay for a few days.

Fish finally meets the boss in charge of her body snatching basement fight club, and it's The Dollmaker! Or, Dr. Dulmacher – but whatever, it's The Dollmaker and he's doing that thing where he pretends that he works for The Dollmaker but he's actually The Dollmaker. During his conversation with Fish about her basement revolution, I feel like he slowly (for this show at least) drops the pretense and lets her in on the fact that he's actually Dulmacher. Maybe? Or maybe it's because I've read the IMDB for this episode and she doesn't have wifi in the basement.

At Kleg's Auto, Gus (the guy wearing the red hood) is elated that the paper has christened their crew "The Red Hood Gang," something they never intended. He believes that by donning the Red Hood he can become more than a bank robber; he sees the hood as a symbol for freedom and Robin Hoodish lawlessness. And he goes so far to suspect that the hood was the reason the security guard failed to take him down during the heist. Destro, the crew's actual leader (if not by seniority then certainly by size), feels like they should be getting ready to skip town after their next heist, but Gus insists that a societal change could be made with the hood, and that whomever holds the hood should lead. So Destro kills Gus and takes the hood for himself, taking on the mantle of the Red Hood.

Cobblepot's club is running out of booze and customers are fleeing the club like rats abandoning a sinking ship. How they're running out of alcohol when there aren't any customers to drain said booze is kind of confusing, but I'll let it slide (HAHA I'LL LET IT SLIDE?). The now-neutered Butch tells Penguin that his club is failing because Maroni is bleeding him of all alcohol. He controls booze on "this side of town" and no one will sell to The Penguin out of fear of Maroni's retaliation. Penguin makes a plan to go kill some guys and steal some booze, which Butch warns against. But Penguin either doesn't trust him, or he's distrustful of anyone that he sees as the status quo of the Gotham Underworld.

#TEAMBORDON goes to Kleg Auto and all they find is the lifeless body of Gus, and they surmise that this is the end of the Red Hood Gang. Could they be any more wrong? While they toast their assumed success, the Red Hood Gang 2.0 robs another bank, now with Destro playing the part of the Red Hood. Now wearing the hood, he begins to take on the mannerisms of a performer. The bank hostages goad on the robbery, and even ask for a little of the earnings. In a clumsy bit of foreshadowing, Red Hood says that they're there for "the insurance …" which he quickly corrects to "the bank's insured money."

Touched by a hostage's request for money because, "we're all hurting," Red Hood does something that Destro never would and throws handfuls of money into the air and screams "Sayonara Gotham!" as the gang makes their exit. Destro quickly realizes what Gus knew the moment that he cut eye holes out of a red bag – that the symbol is more important than the man. Whatever Destro was in a past life, he can shove off for the 90 seconds when he is the Red Hood.

After the robbery, #TEAMBORDON are once again watching surveillance footage from the bank when an eyewitness is brought in with some info. He saw Destro remove his mask to drive their getaway vehicle and, despite having the wildest Italian accent known to man, he agrees to help pick Destro out of a lineup. After doing so, #TEAMBORDON lets Destro go on his merry way so they can track down the rest of the gang.

Back at stately Wayne Manor, Reggie decides that he's going to teach Master Bruce to win a fight by any means necessary. Rather than showing Master Bruce that he can fight with a measured discipline, he has Bruce punch him in the face until he breaks his nose. Then he gives Master Bruce a cane and tells him to use that. Shockingly, Alfred does not approve, which Bruce thinks is sooooooo lame.

The three characters trapped in the Wayne Manor set have dinner and we get to explore the stark contrast between Reggie and Alfred. The way Reggie would tell it, Alfred was a stone cold killer when they met, and somehow he tempered his rage to something less palpable. It's obvious that Alfred could have gone off with Reggie and become a common thug (although Alfred gives off the feeling that he was never meant to be something so low as a thug – if anything, this episode spells out that some people were always meant to touch greatness).

Reggie does some more cool uncle stuff (He drinks a glass of wine in one gulp! He keeps everyone up late with bawdy stories! He has great hair!) until everyone goes to bed.

Penguin goes to rob a liquor distribution center with a couple of mooks, but before he can get anything done, the police arrive to bust everything up. As Penguin watches his future empire crumble from the back seat of a classic sedan, Butch arrives to show Penguin that there are easier ways to get what you want than going in guns blazing. Back at the fully stocked bar, Butch and Penguin toast over no longer being a sidekick, but Butch tellingly pours Penguin a second drink before serving himself and Penguin begins the mind games. He offers a toast to Fish, whom Butch insists got what she deserved.

Somewhere in storyline E, Barbara is trying to be Cool Mom to Selena and Ivy, but specifically Selena becauseshe's so pretty. She offers the girls anything they want to wear and tells Selena that she can "use [her] beauty to [her] advantage." Selena calls her out for being a creep and leaves, I think? They cut away before we really got an answer. I'm looking forward to the next episode of Gotham and the two minutes we spend with the Barbs/Selena/Ivy triumvirate.

In the scene that everyone is going to be talking about (despite the rest of the episode's commentary on privilege, symbolism, and how that symbolism affects human behavior – ugh, I'm turning into Professor Shelton. You're all getting F's), Dulmacher tells Fish that she's no longer going to be leading the basement rebellion because he's going to harvest her eyes. In a truly uber-Fish moment, she takes control of a very bad situation with seemingly zero options and uses a spoon to carve out her own eve and crush it with her shoe, proving that she is the baddest motherfucker in Gotham and that Fish, and only Fish, is in control of her destiny. It's very cool to see Fish in a scene where she gets to be straight up gully. Despite wearing a cotton white robe, and being surrounded by white men wearing white, when backed into a corner Fish is unafraid to go back to her hood rat roots and burn the house down around her.

As Destro returns home from the lineup, unwittingly being tailed by #TEAMBORDON he's surprised by gang member "Trope" (seriously, the meekest member of the gang who counts down the police response time during the heists name is Trope … if there was ever an inside baseball, fuck you fly over states, of a reference – it would be naming a character "Trope") who wants to borrow the Hood to impress his girlfriend. He's convinced that she won't leave him if she thinks he's Red Hood. He doesn't even want to wear it; he just wants to be seenwith it.

Destro says no and Trope shoots him, going out the window with the Hood. #TEAMBORDON check out Destro's apartment as he bleeds out on the floor and find a stack of loan rejection letters from the banks that were robbed. Destro reveals that he needed a loan to open a pastry shop and that he was forcing people to see that banks don't care about people.

Alfred finds Reggie stealing candlesticks and knickknacks from Wayne Manor and after a short back and forth about Reggie being in trouble and who has the most Guy Ritchie-ish English accent, he stabs Alfred. There sure are a lot of characters bleeding out in this episode.

Red Hood Gang 3.0 arrives at the final bank. Trope, now in costume as the Red Hood, is calm, collected, and without his trademark stutter. Before the trio can enter the bank, the GCPD arrives on the scene en masse and Red Hood begins a shootout in the street. After killing the other two members of the gang, Red Hood is still standing – and whether he's operating under the mantra of "they'll never take me alive" or he truly believes that no harm can come to him while wearing the mask, he decides to take on the GCPD. The GCPD fills Red Hood full of lead. After pulling off the hood to reveal Trope (ugh), Gordon receives a call about Alfred and runs to his aid, leaving Trope to die in the street.

At the hospital, Alfred is hooked up to all the machines as Bruce weeps for his only friend.

At Wayne Enterprises, Reggie meets with a group of shadowy figures in a board room where he shows the information that Master Bruce has on the underbelly of his company. Reggie insists that now is the time to "make a move on the kid." UGH. I can't with this story line. I know this is supposed to be a huge TWIST moment for the show, but there was just a scene where one of the main characters stabbed her eye out and it's all I can think about right now.

In a pretty cool final scene, a random kid is seen donning the Red Hood and making a gun from his hands before firing it at the cops. And into the credits we go, throwing off the shackles of oppression.

NEXT TIME! Cobblepot and Butch do that thing where they entwine their arms and drink from each other's glasses! Barbara flips through a magazine! Detective Bullock eats a Danish and thinks about becoming the Mad Hatter! Hey, crazier things have happened.

​