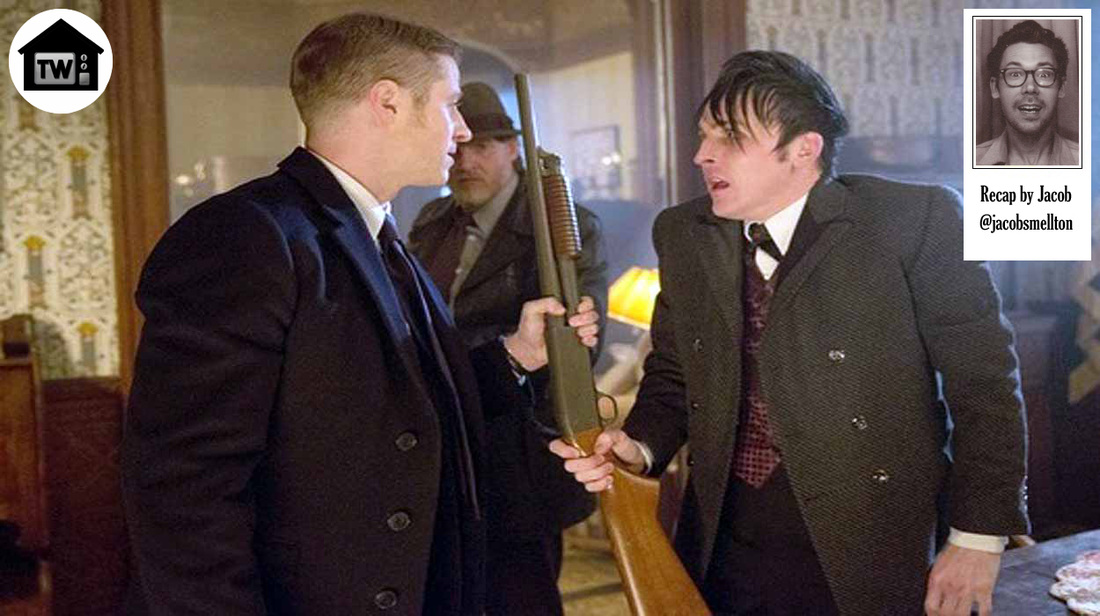 Gotham follows up its big Red Hood "reveal" with an episode that's mostly fine. I don't know. I've resigned myself to the overall blah that is Gotham.
This episode follows the winning (?) formula of every other episode from the back half of the season: Fish gets out of a sticky situation (sort of), Jim acts like he's God's gift to Gotham (the title of Barbara's tell-all memoir), Bullock appears to be written by two writers who seem to be working on different shows, and Bruce does something boring. Although this week's episode did have the added bonus of horrible visual effects, but let's save that for the full recap.

Bruce sits with Alfred, slowly boring his butler to death as Jim tries to help the two solve Alfred's attack – but they don't want his help! The Wayne Manor boys take care of their own. Also, snitches get stitches.

In another hospital bed, Fish wakes up to Doctor Dulmacher standing over her and administering an eye exam. It should be noted that I was wrong about the identity of Dulmacher last week, it turns out that the actual Dulmacher is a different bland white guy. She offers her services as a right-hand woman to her bland overseer, who says he'll think about it and reveals that he was able to restore Fish's eyesight, although, with a different colored eye than she had before.

So, let me get this straight doc – you took one of Gotham's most deviant underworld denizens, who's already shown that she'll not only sell out her friends but she'll actually cause herself harm, and you've given her perfect vision AND David Bowie eyes? Where'd you get your degree, Dum-Dum University?

At the GCPD, the captain (whom I thought was a lieutenant, but whatever) tells Gordon that Detective Flass (the drug dealing, murdering, Bullock lookalike) is walking free thanks to Commissioner Loeb (Hannah's dad). Not only is Loeb reinstating Flass as the head of Narcotics, but he's backing him to be head of the Policeman's Union. This isn't good for good boy Gordon.

Gordon goes to see Commissioner Loeb, who's wearing more base than a contestant on Ru Paul's Drag Race, about this whole Flass thing and Loeb shows Gordon that Bullock was the witness that exonerated the drug-dealing doppelganger. OH NO!

When Gordon confronts Bullock about the exoneration, Bullock LOSES IT and tells Gordon that Loeb has dirt on him and half of the GCPD, inspiring Gordon to declare that he's taking down Loeb. To mis-quote Edward Nygma when he speaks to Ms. Kringle, "this is a bad, bad, bad, bad, bad, bad, bad idea." Oh, by the way, Nygma likes Kristen Kringle, the librarian that dresses like she's an extra in Pleasantville. Moving on.

At a '50s themed diner – or a diner in the actual '50s? I DON'T KNOW ANYMORE! People are on cellphones and then Ms. Kringle is wearing a monogrammed sweater! Is Gotham a city out of time?! Probably not, that would be too fun. Anyway, at a diner, Gordon and Harvey Dent meet up to discuss their whole Loeb problem, and it seems that they're the only two men in Gotham on whom he doesn't have dirt. Dent brings up a rumor that Loeb may have killed his wife by pushing her down the stairs of his farmhouse, and then he has an a-ha moment out of nowhere. That's right, Harvey Dent breaks out into that number-one single from the '80s as he's chased by Italian motorcyclists. A-ha moment? Nothing?

From the diner, Gordon and Dent (or DORDON, if you're nasty) go to see Loeb's old partner from his time on the police force, whom they shake down to learn about the location of his secret files THAT MAY NOT EVEN EXIST! And if they do, wouldn't they be in his office? Anyway, Loeb's old partner sends DORDON to see a man named Xi Lu on "Urine Street."

While #TEAMDORDON takes a trip down to Xi Lu's, Fish and Dulmacher discuss her deal: She'd like to stay out of the basement and be his assistant manager, and he wants her to deliver organs from the basement. Seems fair – and I could have mentioned in the earlier paragraph about Fish, but then Dulmacher does something that's so cartoonishly in line with Fish Mooney that I can't ignore it. He "checks in" on the former office manager (the bland guy from last week that I assumed was Dulmacher) and whose head has been placed on the body of a Frankenstein's Monster of a woman. Never mind that it would be horrifying to wake up in a nightmare of Cronenbergian proportion, but WHO SIGNED OFF ON THOSE GRAPHICS? Go to 16 minutes flat in the episode if you want to see visuals that belong in a cut scene from Final Fantasy 7 and not a television show on a major network. We've got to get Fish off the island.

At the hospital, Selena visits Master Bruce, who says that he's going to track down Reggie and find out what Wayne Enterprises knows about his investigation. I don't know how an 11-year-old put together that W.E. is behind Alfred's stabbing, but whatever. After making his insane proclamation, he just kind of hangs out. Guess we'll see what he's up to next week.

At Xi Lu's, #TEAMDORDON bumbles into a money-laundering scheme where literally EVERY GUY IN THE BUILDING pulls a gun on them. #TEAMDORDON take off running through an alley and it's like a scene from 28 Days Later, but instead of infected English blokes giving chase, it's cooks from a Chinese restaurant. Bullock joins #TEAMDORDON to make the all-powerful #TEAMD'BORDON before grabbing Loeb's old partner and hanging him out the side of a moving vehicle. The wimp gives up Falcone as the guy who knows where the evidence is stashed, which really isn't a lot of help. It's like telling Luke Skywalker that Darth Vader might have some information on Emperor Palpatine. And anyway, they don't know anyone who knows Falcone. Oh wait …

At Cobblepot's forever empty nightclub, Penguin agrees to help #TEAMBULLOCK find Loeb's files if he can have some time alone with the files and one "no questions asked" favor from Gordon. Bullock doesn't think Jim should take the deal, but he does anyway because he never thinks ahead.

Penguin takes #TEAMBULLOCK to Loeb's old farmhouse, where he suspects the files to be hidden. At the house, a sweet old couple straight out of a John Steinbeck novel greets them. Continuing with the Girlscrossover, Becky Ann Baker (Hannah's mom) plays the farm marm. The Steinbeck couple immediately suspects that something is up and pulls a shotgun on #TEAMCOBBLEBORDON, but they're no match for the two seasoned detectives and their birdlike friend, who is a total wuss (sometimes).

The detectives go into the attic where instead of finding a cache of files, they find a grown woman who's gone full blown crazy pants! We know this, not because of anything she says, but because she's wearing a blue pastel princess dress and ballroom dancing with herself around a tea table. Are we still watching the sameGotham? Wasn't this show a police procedural 20 minutes ago?

Gordon and Bullock sit down with the woman who turns out to be Loeb's daughter and they press her for information about the files/her mother's death. It's around that time when she shows off some jewelry that she makes out bird bones. As gross as wearing bones might be, the necklace she shows off looks better than anything I've ever seen for sale on Etsy. Oh, and she killed her mother, not Loeb, so there's that. To be honest, after all the bird necklaces, David Bowie eyes, and Frankenstein's Monster bodies (with GIANT boobs, I might add), the revelation that Loeb has a secret daughter is so blasé that it brings the episode to a halt.

Nonetheless, Gordon rubs Loeb's daughter in his face (metaphorically) and persuades him to try Flass fairly, release Bullock's secret file, and back GORDON as the head of the Policeman's Union. Gordon's ridin' dirty, ya'll.

In the goofiest scene on Gotham so far, Cobblepot tells the Steinbeckian farm couple that he has one ticket to Arizona for the couple, and that they'll have to figure out who gets it. Hannah's mom brutally murders her husband (?) before Penguin reveals that there was no ticket to Arizona and shoots her with a shotgun. I'm sure that's supposed to be seen as a super cool moment for Penguin, but it just feels like lazy storytelling and it ended the episode on a sour note.

NEXT TIME! Nygma gets sad because of a girl and the viewers continue not to care! Penguin calls in that favor, in the form of 10,000 unpaid parking tickets! Fish swaps out one of her hands for a hook!

​