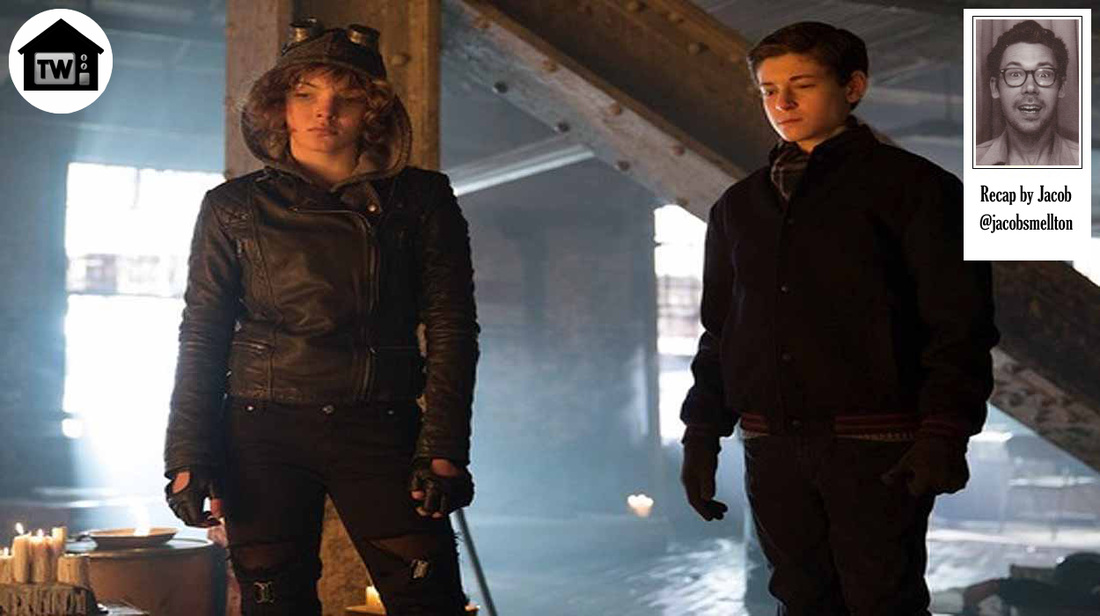 Gotham returns this week to remind us why we never liked the show in the first place and to start wrapping up all the loose ends they've been fraying over the course of the first season. In this episode, Gordon backtracks into being a Boy Scout, Fish gets the H-E-double-hockey-sticks out of the secret prison, and Master Bruce is an accomplice to murder. ¯\_(ツ)_/¯
In Fish's nightmare prison, she spies a helicopter and decides to test her gilded cage's alarm system. She breaks the lock on a window and as soon as she approaches the helicopter, a jeep full of Darylls speed up and Fish makes small talk until the main "catcher" shoves a gun in her face and tells her to go inside. It looks like Fish is only now discovering what Scott Stapp knew in 1997, that she's in her own prison. Ugh. Yuck. Sorry.
At stately Wayne Manor, Master Bruce and Detective Gordon have a sit down over club sodas and sandwiches with VERY THICK BREAD while Gordon grills the boy who lived about whether or not he lied about Reggie, the guy that stabbed Alfred. Master Bruce says he doesn't know who it was, oh but we know the truth, dear reader. Gordon asks Master Bruce to keep Alfred from going after his assailant, and then these two plot lines part ways forever more.
At the GCPD, a ginger cop approaches Gordon about solving a homicide. Gordon already has a lot of cases that he needs to be working on, the Wayne Murders maybe, but the ginger butters Gordon up until he can't say no and decides to "look into it" after he finishes jerking off while watching himself in a mirror.
He goes to pick up Doc Thompson from her CSI room and they talk about the case that Gordon was SO BRAVE to take on. All they know is that a woman was murdered in the South Village (Doc Thompson's neighborhood, we're told for definitely no reason) and the case has gone cold!
Gordon says that no one knows which bar she was picked up from, but Thompson says, "There are a lot of speakeasies in the South Village. It's the new thing. You walk in through a laundromat. Easy to miss if you're not in the know." We get it. You're very cool, in "the know" even, and when you're not spending your nights working on cold cases, you're going out to secret laundromat bars and doing your best to gentrify what was already a perfectly nice neighborhood. Go choke on an organic pumpkin spice latte in Brooklyn, you sexy piece of trash!
Alfred is up and about back at Wayne Manor, and he and Master Bruce talk about Reggie and how they're both really excited to kill the only other English guy on the show. Alfred mentions that Reggie's probably in a shooting gallery (which is supposed to be slang for a place where you shoot heroin, but I'm pretty sure that's not a real thing that people say). Alfred decides to go after his foe, but his stitches rip and he gives a very English, "Oh dear," leaving one of the show's best characters incapacitated on a couch for the rest of the episode. Oh dear, indeed.
For whatever reason, Cobblepot spends his bulk of the episode trying to buy a dingy bar from an angry stereotype of a woman, but she doesn't want to sell. Although … she really hates the guitar player that her daughter is dating and could be persuaded to take on Cobblepot as a silent partner if he brings her back and dispenses with the guitar playing lothario. If you look up the definition of "D Plot" in the television writer's dictionary – this is it.
When Gordon brings up the new case to his partner, Bullock is none too happy. He doesn't want to do any extra work, and why should he? This is fucking Gotham, all you have to do to be employee of the week is show up, turn in your paperwork, and not prosecute the Commissioner. Nygma shows up so he and Gordon can get all expository on our asses. Gordon sends Nygma away to find missing evidence, because apparently The Riddler is paid by the word.
At the last speakeasy, which is hidden in the back of a normal bar (I'm beginning to think that the writers for
Gotham
don't actually know what words mean and somehow manage to assemble them in a correct enough order as to make a television show) #TEAMBULLOCK conduct a classic
Law & Order
style interview (they ask inane questions while a bartender wipes down the bar, pours a couple of drinks) and then we're off to FLASHBACK TOWN BABY!
In the flashback (you know it's a flashback because of the fake film grain that's been applied to the footage), the dead women and her date,
Gilmore Girls
' Milo Ventimiglia, have a very boring back and forth. She thinks something has to be wrong with him! He's so handsome and single and handsome. He says that the only thing wrong is that he hasn't found what he's looking for, "unconditional love." People of earth, if someone says this to you on a first date, no matter how handsome they are, this is a red flag. Actually, it's 10,000 red flags spontaneously combusting and forming the shape of Gandalf the Grey, who then says "FLY YOU FOOLS!"
In this scenario, the red flags preferred the film version of
The Fellowship of the Ring
to the book.
Fish explains her escape plan to some tough guys who don't really want to help. But they do want to get off the island so they agree. I guess? Fish's story has been relegated to 50-second chunks so it's hard to glean the nuances of five giant dudes wearing all black.
Master Wayne heads out to inner city Gotham and starts checking out the gun ranges of Gotham, you see because he took Alfred's comment about "shooting ranges" literally. While he's waiting to go into the last gun range on his list, Cobblepot passes him on the street and has what can only be described as a "moment" upon passing his, uh … energy, I guess. Look, we get it, that's The Penguin and Batman. But there's no reason to point that out to us. Although, if this show takes place in the same universe as Superman, The Flash, and Green Lantern, then it's not out of the question for Cobblepot to have a
Highlander
-esque sixth sense that allows him to detect when Batmans are present. Do you think Cobblepot and Master Bruce are Highlanders? That would definitely make the show more interesting.
At the GCPD, Doc Thompson has gone over the body of the dead woman and she thinks they're not actually dealing with a murder, it looks like the dead woman just ran away and accidentally died. But oh, don't you worry, dear reader, Gordon has a hunch that the woman was kidnapped, locked up, and murdered by the guy who picked her up at the bar. How did a "hunch" tell him all of this? Maybe he watched the same series of flashbacks that we did.
To sum up, Milo plays a handsome guy named Jason Lennon who is a sweetie until the women he picks up have to leave for work (or just go about their lives) and then he violently abuses them and makes them cook, clean, etc., until he kills them while wearing rubber
American Psycho
gloves in a room that can only be described as "Dexter Chic."
Back on the island, Fish tries to steal Dollmaker's keys from his office, but because he's the villain from
Human Centipede
, he catches her in the act and threatens to Frankenstein her body if she tries to escape. I hope you've got gas in your Frankenstein machine, buddy.
Master Bruce continues his search for Reggie and ends up in Diagon Alley, where he runs into Selena who greets him with a hearty, "I could have smashed your head in with a brick," which is what my girlfriend says to me every morning when I wake up. She rags on him about the whole "shooting gallery" thing and then takes him to an abandoned warehouse, where they find Reggie. After stealing his heroin and getting the information they need (that a man named Bunderslaw hired him to get the info on Master Bruce), Selena pushes him out a window where he falls to his death.
Cobblepot brings the daughter back to the bar and gets his wish … TO BUY THE BAR WHERE HE'S GOING TO KILL DON FALCONE! Was that ever on the table? Can Falcone only be killed in a certain place? Is he a Highlander? Is Gotham actually a backdoor pilot for a new Highlander series?
Back at the station, Nygma finds a copy of a piece of evidence that displays a hand-painted broken heart. The actual evidence was destroyed or lost, or someone ate it. Who knows? Bullock freaks out and explains this is the mark of the Don Juan Killer, or "The Ogre," and that not only does he kill beautiful women, but he also kills the loved ones of anyone who investigates his crimes. Sounds like a pretty complicated M.O. if you ask me. Maybe it's time that The Ogre takes on an assistant, or at least an intern.
Fish starts the breakout by giving her TUFF guys the keys to the front gate and sending them out a window while she goes back for her friend Kelly. On her walk back to the prison, she encounters Dollmaker, who is jumped by the prisoners and left for dead. The catchers (what a horrible name) go after the TUFF guys who are making their way for the boat, only to discover that they've all been set up. The catchers are SO MAD that they've been tricked that they kill all the TUFF guys with machine guns.
Fish, Kelly, and some of the prisoners take off in the helicopter, but the main catcher (ugh) shoots Fish through the helicopter window (I THINK? We don't actually see any broken glass) as she flees, so I guess that's how she's going to die? Although that feels a little too normal for Fish. With three more episodes left, I hope that her sendoff is as batshit crazy as her entire storyline has been. Maybe she'll get locked in a piñata full of angry wasps, or thrown into wood chipper made of fire. Anything that isn't being shot one time with a rifle from a safe distance will be A-OK with me.
#TEAMBULLOCK find the ginger cop and smack him around until they find out that Commisioner Lobe put him up to putting Gordon on the case. Gordon calls Doctor Thompson to make sure she's not dead and when he gets her voicemail he goes FULL DARK KNIGHT on Lobe and tells him that not only is he solving the Ogre case, but that's he coming after Lobe next. Fine. Whatever.
Stray Observations:
"Bunderslaw" sound like the name of an evil gym teacher in a mid-'90s children's movie.
Since Cobblepot's new bar is covered in photos of Don Falcone, it would have been nice to get a little bit of backstory, seeing as how we were treated to FOUR FUCKING FLASHBACKS. I don't know why this would have been an issue.
On the island, everyone kept saying "chopper" like they were in Predator.
If we're being led to believe that The Ogre has already captured Doctor Thompson, I call bullshit. How would he know that she's hooking up with Gotham's Boy Scout and how will Barbara play into this? Will he capture them both and make them play The Newlywed Game against Gordon? Only time will tell.
NEXT TIME! Yet another flashback reveals the details of The Ogre's day when he's not serial killing. Mainly he combs his hair, and calls a plumber and his personal stainless steel knife guy. Gordon falls into a well, and no one saves him. Alfred notices that Master Bruce has been cutting his bread too thick and gives a three-hour lesson on proper bread thickness.
​