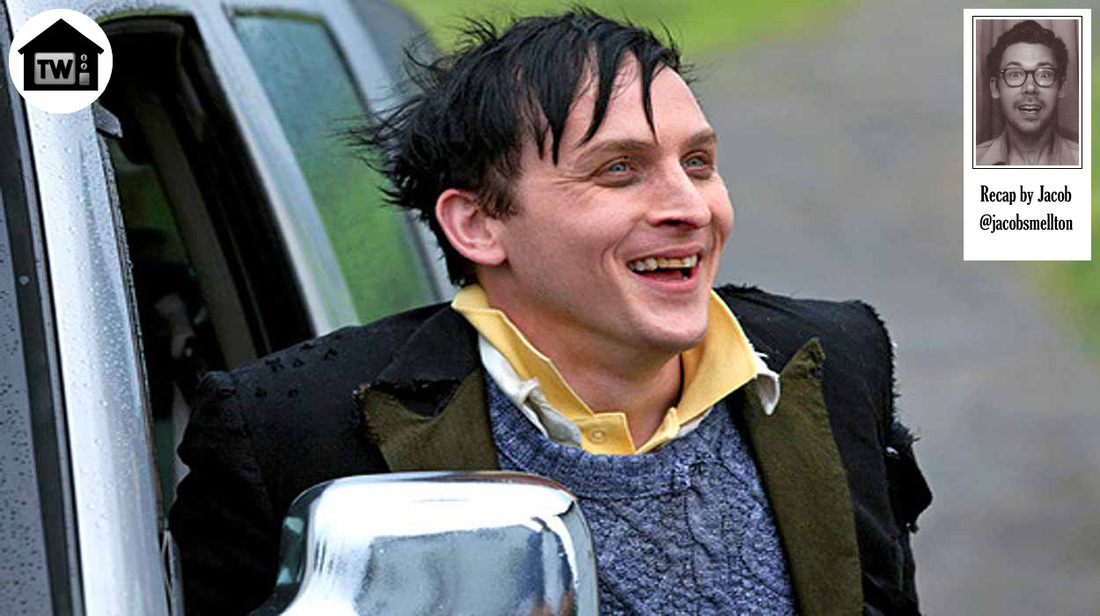 Slowly but surely Gotham is beginning to take form as a quality television show about a Batman and the town that loves him. While the pilot dealt with trying to be everything to everyone, the second episode settles into a less serious tone allowing for the more cartoonish elements of the Batman universe to come into play.
There were some really fun parts of this episode: Carol Kane's Mrs. Cobblepot was delightful, the trio of Asian rockers in Fish Mooney's club felt like a set piece from Batman: The Animated Series, and Cobblepot slowly coming into his own as The Penguin was a lot of fun to watch. Hopefully the series continues down this path.

The episode opens with Master Bruce burning his hand like a spaz and Alfred realizing that he has no fucking idea about how to raise a child. We'll come to learn that Bruce's father gave him awful child rearing instructions, but for now let's just enjoy their warming embrace.

Meanwhile in Diagon Alley, two weirdos claiming to be from the Mayor's Homeless Outreach Program offer free food to local kids – or do they? They don't! Instead they start stabbing the kids with a very fancy pen and even shoot a man wearing a turban. Maybe it was Devandra Banhart. Does anyone have eyes on Williamsburg? Then a homeless guy is rather clumsily thrown through a restaurant window onto some rich people while Selina Kyle watches from the shadows and probably plays with a ball of yarn.

Hours later, Jim Gordon is at the scene of the crime, poking around the dead body. He finds a pair of dog tags on the man and becomes instantly emotionally connected to the crime. As a detective, shouldn't he do his job without needing to have an emotional connection to the victim? I'm willing to bet dollars to donuts that's somewhere in the rulebook.

At the police station, the kid who was thrown through the window tries his best to sum up what's happened in the first six minutes of the show, but Detective Bullock is still mad about dropping his coffee at the crime scene and goes off, angry high school substitute style on the poor guest actor. One of the things that bothers me about Gotham is the handling of Detective Bullock. Is he a crooked cop or is he just a good cop led astray? I suppose that there can be shades of both in his character, but by wildly swinging him back from one pole to another, Bullock loses all empathy from the audience. Unless Bullock is actually two Detective Bullocks; one of them a crooked cop who'll do anything for a collar, and the other a sensitive man who has been on the force for so long that he can no longer tell the difference between good and bad. Hopefully the Gotham team is reading this and finds a way to work in my Theory of Two Bullocks into the show.

Nine miles outside of Gotham, Cobblepot shambles down the road, hitchhiking his way back to the city that spit him out. A couple of frat boys pick him up and rightfully make fun of him for looking like an extra from a My Chemical Romance video, but he doesn't seem to mind. Sometimes it's just nice to have a little bit of company. I didn't like Cobblepot in the pilot episode. He was too on-the-nose and hardly discernable from Edward Nygma, save for his eyeliner and Black Parade outfit. But now, with Penguin G. Cobblepot (his new in canon name) riding in the back of a "lovely truck" and sharing a brew with his new college buddies, I'm beginning to come around to him. Add to that his merciless killing of future one percenters and he's basically the new protagonist of the show. Batman always did have the best villains.

The next scene is one that I usually wouldn't mention for the sake of word count, but Edward Nygma breaks up Gordon and Bullock's meeting with the Commissioner (Captain? The Chief? McCloud?) where she's laying out the very detailed Gotham police strategy of not telling the press that children have been kidnapped and congratulating Gordon for killing Cobblepot. Boy is she going to be steamed when he moseys back into town. Nygma has found high levels of a neurotoxin in the kid who was thrown through the window. The neurotoxin, ATP, is hard to get and was last used in Arkham Asylum before it was closed 15 years ago.

At Fish Mooney's club, a trio of Asian rockers finish up their set of license fee-free rock and roll music as Falcone stops by to discuss the murder of the Wayne family with Fish. They exchange some basic bad guy gangster dialogue and Fish acquiesces the top bad guy spot to Falcone before he asks her about "her lover." Is this how humans speak to one another? I know that I'm essentially a garbage person that sleeps on a floor and watches TV all day but I can't remember the last time I heard someone refer to their bf/gf/bone buddy as his or her lover. Falcone calls over Fish's bone buddy, a hot stuff waiter named Laszlo (AS IF), and threatens to puncha his face if he breaks her heart. Then his goons go ahead and puncha his face anyway (as well as his ribs, legs, and probably very lickable abs).

After the club is cleared of goons, patrons, and Asian rockers alike, Fish gives a speech about killing Falcone and then wishes that Cobblepot were still alive. Well, a genie must be writing this show because Cobblepot pulls up to a farm house wearing his college buddy's clothes and with bodies wrapped in plastic in tow to rent a trailer on the outskirts of Gotham. She should have wished for more wishes.

Carol Kane makes an all-too-brief appearance as Cobblepot's mother, a delusional Russian immigrant who likes to dress in nothing but lace and seems to have her finger on the pulse of the antique photography market. After watching this scene again, I appreciate the intense madness and melancholy that Kane was able to inject into a possibly one-note character. Yes, she's a total nut, but she's worried about her son. Hopefully it's not the last we see of her.

Over Chinese take-out, Jim and Barbara debate about whether or not Jim should call in an anonymous tip to the Gotham Gazette. Jim is too much of a titty baby to take charge so Barbara pulls on her #bosslady jeans and calls in the tip herself. You go girl! When Jim gets fired from the force for being too much of a wuss, maybe he can work for his girlfriend as her receptionist. It'll be like The Devil Wears Prada but different. Never mind, that's a terrible idea.

That evening, the Kid Snatchers are collecting the snatched kids from Larry Flynt lite and mention that they're working for someone named "The Dollmaker." The Detectives enter the pharmacy as the Kid Snatchers do their best to act nonchalant before immediately starting a shootout. Gordon finds the kids and shoots an old janitor down into a bottomless well.

After rescuing the kids, the police begin to pull the rest of Gotham's homeless young'ns off the streets en masse, The Mayor suggests that the children will be sent to an institute for homeless babies, essentially imprisoning them in case they see Les Mis and decide to steal a loaf of bread. Surprise, the Mayor is a greed monster whose strings are being pulled by an as-yet-unknown entity. He's basically a character from a Twisted Sister video and Jim Gordon is not going to take it.

Alfred comes to the police station to visit Gordon and request his attendance at tea time with Master Bruce.

The Gotham police are so terrible at their jobs that they somehow manage to lose a bus full of homeless children that were being shipped to a Dickensian child prison (never mind the fact that they allow children to grow up on the streets and essentially condemn them to a life of crime). After interrogating Larry Flynt lite, the detectives believe that the children are being sold as food. Gross.

Meanwhile at the shipping yard, Selina Kyle has gone missing from the Kid Snatchers and scratches out a crony's eyes. It's very gross. It's so gross that I'm trying to figure out how she did it and if she spent the remainder of the episode with her fingers covered in cranial matter and effluvium. It's not a pretty thing to think of, but it's where the mind goes.

Jim saves Selina from Ms. Kid Snatcher and delivers the Batman catch phrase we've all been waiting for, "WHERE ARE THEY?!" It's a real shame that he didn't throw on the Christian Bale sandpaper voice for that line.

Back at Wayne Manor, Alfred tells Jim that Master Bruce is burning and cutting himself and explains that Bruce isn't allowed to see a therapist because Thomas Wayne left specific instructions to allow Master Bruce to "choose his own course." They may have been MEGA WEALTHY, but rocket scientists they weren't. Bruce tries to explain that he's working up to being Batman and offers money to the homeless children of Gotham. Detective Gordon, on behalf of the city, declines the money. He instead accepts clothing. Fine. Who doesn't like a free sweater?

In a truly delightful scene back at Cobblepot's trailer, he goes super crazy and tries to ransom off one of the frat boys via burner phone to his mother, who hangs up on the attempted felony. Oh well, better luck next time, buddy.

At the police station, Selina Kyle blackmails a cop into finding James Gordon and we learn that she has some information on Master Bruce that she wants to trade for being let loose on the city to keep cat womaning. She knows who killed the Waynes, and oh boy does that theme music make it sound like she means business.

NEXT TIME! Will we get an episode of nothing but Cobblepot and his new blonde boy toy? We can only hope.