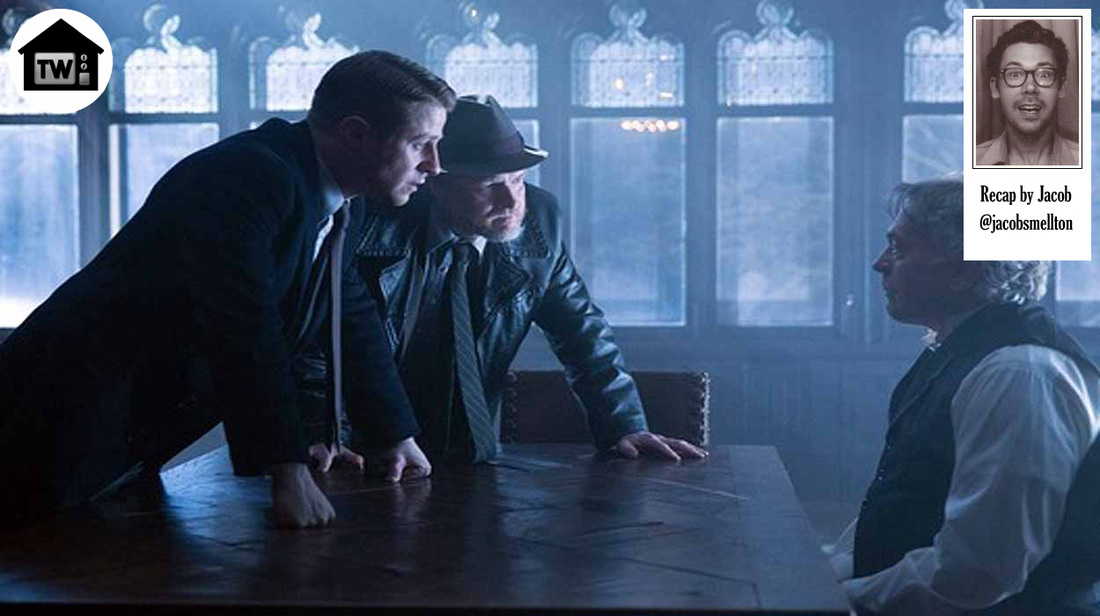 This week's Gotham ramps up the exciting stuff as they run out the clock on the first season. Gordon closes in on The Ogre, who in turn closes in on Barbara. Master Bruce comes one step closer to becoming the world's greatest detective. And Nygma FINALLY has some plot development (kind of).
Picking up immediately where we left off last week, Master Bruce and Selena are arguing about killing Reggie. He wants to be a baby about the whole thing, and she thinks they should act like rational human beings (who, admittedly, live in a comic book world and also just killed a guy). She correctly posits that someone would have killed Reggie at some point, so why shouldn't it be them? Which is funny, that's how I rationalize all the taquitos I shoplift at Trader Joe's. Selena turns to leave Bruce a lone chili pepper under a bridge when out of nowhere he hatches a plan to break into Bunderslaw's office and get … something. Knowing this show, it's probably files.
Gordon has pissed off The Ogre and he thinks Doc Thompson has been taken to his 50 Shades room, but she's at home taking a bath in the CREEPIEST apartment ever. Don't get me wrong, it's a charming clock tower apartment that's only lit by the soft glow of a single candle, but there's a serial killer out there, you dummy – at least turn on some floor lamps! The horror movie jump scares build as Doc Thompson throws a cat out of her window and Jim pops up, along with a hearty music sting. He explains the whole Ogre thing but she doesn't seem to care. I guess my grammy was always right: you can't scare a woman who bathes in the dark.
Meanwhile,
Gilmore Girls
' Milo Ventimiglia is having a drink with Barbara! Oh no! Get out of there, Milo! She brings Ventimiglia back to her place and things get dark. Or darker than they usually get with Barbara. He keeps bringing up her boyfriend (which is super rude, by the way), and she keeps diving head first into a pity party of one until she finally throws Ventimiglia out on his handsome ass.
At Cobblepott's, Portishead plays to a mostly empty room as Penguin sets up a hit on Don Maroni and all of his lieutenants. The stereotypical Irish assassin that he's chosen to work with initially says no, but he's cajoled into it after he's promised aaaaall the potatoes he can eat. Just kidding, folks. But he does agree to murder Maroni and all of his men. After chatting with the hit man, Cobblepot is informed by Butch (who is still on this show?) that his mom is having a drink with Maroni (OH NO)!
Ms. Cobblepot (or uh … Kapleput, as I have just been informed by IMDB) is getting shitfaced and talking up her son when Maroni starts badgering her about all of the crime Penguin's been getting up to.
In a series of fast edits meant to display the urgency with which our protagonists are working on their cases, Gordon interviews the first cop to work on the Ogre case. He wants to know about the missing evidence.
Nygma goes to see Ms. Kringle with an edible arrangement and he sees that she's been abused her new hotshot boyfriend.
Master Bruce is researching Bunderslaw, and he wants to visit the Wayne Enterprises charity ball with Selena Kyle so he can get those files (or whatever).
#TEAMBORDON is researching one of The Ogre's victims at a plastic surgery office (hospital? Spa? What do you call those places?) when they notice a creep hanging out in his car and watching them from a dark alley while wearing sunglasses (so you know he's cool). It's The Ogre, and he's trying to run them down! Or just scare them? Vehicular homicide never struck me as Ogre's style, maybe he was wearing a cock ring while he drove around that day.
When #TEAMBORDON returns to the GCPD, The Ogre calls Gordon and tells him that he's going to kill someone that he loves, as soon as he figures out who that actually is. Obviously, Gordon retaliates the only way he knows how, by holding a press conference in front of five photographers.
Meanwhile, in one of Gotham's many clock towers, Barb and Selena prepare for the Wayne Enterprises ball. Master Bruce sends Selena a bunch of clothes and she has a fashion montage. Or she should have. I can't tell if the show is trying to make a point about the differences between Selena and Barbara (She's brunette! She's blonde! She's 14! She's … 35?), but Selena gets dressed and looks like a Hot Topic prom queen runner up. Congratulations, 14-year-old girls everywhere, you have a new aspiration.
After receiving a bunch of expository information that no one needed, #TEAMBORDON go to the Van Grut estate and it's the fanciest mansion that ever mansioned. When they arrive they find a man trying to hang himself in the living room or den or whatever you would call one of many giant empty rooms. Bullock searches for clues upstairs while Gordon snoops around downstairs and finds photos of Ms. Van Grut and a boy whose face has been scratched out of every photo. Bullock finds the decomposing body of Van Grut in her bed. MYSTERY SOLVED! Oh … it's not? There's still 20 more minutes in this episode? *sigh*
At the ball, everyone is dancing and the two young sleuths are bickering and looking for Bunderslaw. I wonder if they realize that this is going to be their exact dynamic for the next 30-ish years? The Ogre shows up at the Wayne ballroom thing and he can't stop making moves on Barb, even though he knows she's not Gordon's sweetheart. Or maybe he doesn't know and he's just dumb.
While dancing, he opens up to her about Van Grut telling him no one would ever love him. Barb tries to flee the dance, but no dice; he's too charming/mildly abusive and she LoOOooOoooOOooOooOoves it.
While Master Bruce makes small talk with Bunderslaw, Selena steals the key from his waist coat and sees Barbara taking off with Ogre.
SO, Ogre's dad tried to kill himself because knew the police were closing in and he didn't want to give his son up. Ogre has been living off Van Grut's money for years, after he killed her for calling him ugly. Which he was, like,
Phantom of the Opera
ugly. Even his father doesn't know that he's had plastic surgery to turn him into Mr. Handsome.
Outside of Kringle's place, Nygma confronts her Lifetime movie of the week boyfriend and tells him to leave Gotham forever. Lifetime Boyfriend starts to beat the shit out of him when Nygma stabs him like … a hundred times in the stomach, saying "Oh dear" each time. It may be the most polite murder committed to film – and don't you dare say otherwise.
Back at the Cobblepot apartment, Penguin breaks his mother's heart when he lies to her about being a nightclub owner. Maroni somehow timed this out and has flowers delivered. Then Penguin kills the delivery guy. There's a "don't kill the messenger" joke in there somewhere, but this show really takes it out of me.
Gordon can't get a photo of what The Ogre looks like from the plastic surgeon, but does get a very bad sketch before finally having an epiphany and realizing that Ogre's research skills are lacking and that he has Barbara. At The Ogre's, Barbara has a 50 Shades of Grey moment when she's shown the "silver room." Literally, a song that was in 50 Shades of Grey starts playing when she sees the room. She's enthralled, I'm annoyed, and it's the same as it ever was.
Stray Observations:
Why are there so many clock tower apartments in Gotham? Admittedly it looks cool, but are there no watches in this universe? What's the rent on a clock tower apartment? Is super cheap due to all the ticking?
I can't wait for all of the Edward Nygma watermelon cosplay.
NEXT TIME! In a move sure to rile the fan boys everywhere, Ogre becomes the Joker and Barbara turns into Harley Quinn. Sandman appears out of nowhere to let the viewers know that this season was all a dream. Gordon gives a press conference to an assemblage of potted plants.