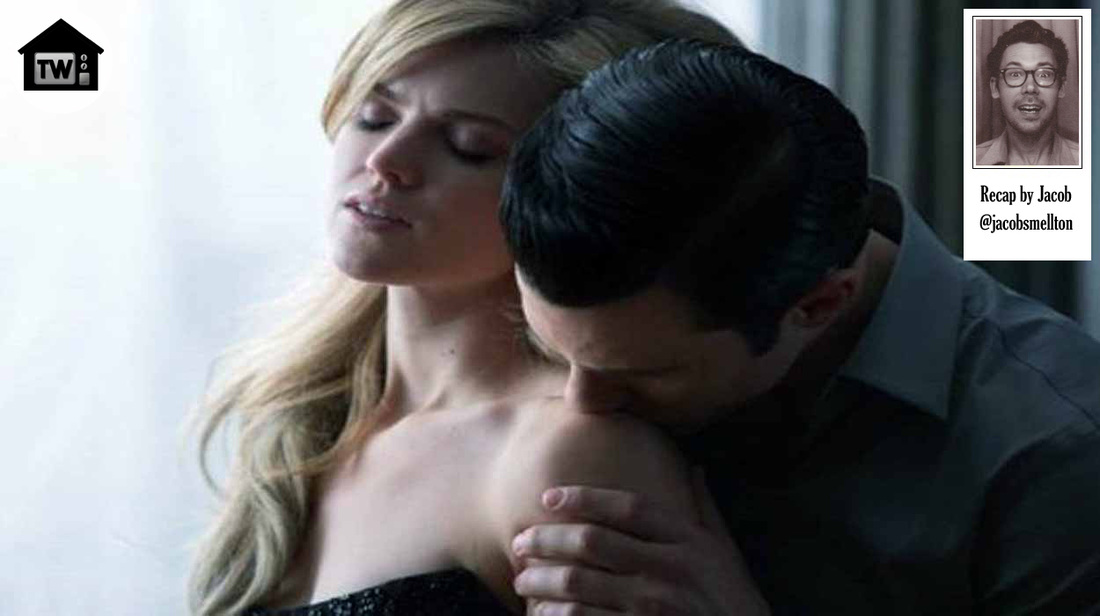 Gotham, like a party guest that just won't leave, returns with yet another episode in the "Fifty Shades of Wayne" trilogy (thanks Steve!), and it looks like we're stuck in a Barbara-centric episode, ugh.
Remember when I really liked Barbara at the beginning of the season for being tough and independent? Well I was wrong! Dead wrong! Don't ever take my word for anything again! Except please do because that's basically my only currency in this world. Now let's all be good little Gordons and grab the business end of the knife that is this episode of
Gotham
.
I shouldn't sigh when a TV show that I'm watching comes on. I don't know if my reaction should be pure elation, but I also shouldn't be upset. Has anyone else been feeling that way? Presumably Jada Pinkett Smith shares this affliction.
The morning after their All-Night Leather-Clad Fuck-Fest™ Barb tries to leave the sexy sex guy's apartment and … he doesn't take it well. Although, one could argue that he takes it a lot better than he has in the past because he doesn't gut her like a fish. Instead, he stops short of performing an a capella version of "Stay With Me" and tells her that he was going to kill her but didn't because he "saw the real her" and that she's the woman "he's been searching for." Look, we've all used lines like this on people in our lives, but the difference between us and the Ogres of the world is that we don't shove a bag over someone's head before we smash cuts into the credits. That, and presumably great abs.
Gordon is STRESSED ya'll – he's basically an oversized Cathy shirt come to life. "The Ogre kidnapped my ex fiancé and the police commissioner basically sanctioned her murder to get back at me for doing my job! ACK!"
Doc Thompson, a once somewhat interesting character now relegated to reminding Gordon that he's a good guy who does good guy things (sound familiar, Barbara?), shows up and leaves as soon as the detective works begins.
#TEAMBULLOCK interrogates a small-time pimp who supposedly saw The Ogre at "The Foxglove," one of those speakeasies we've been hearing so much about. Apparently he hangs out there and meets woman before falling in love and killing them OR WHATEVER THIS CHARACTER DOES.
Nygma, fresh off the high of stabbing a guy to death, wheels two giant steamer trunks full of body parts into GCPD. No one cares because no one likes Nygma (this includes viewers). Later, as he's about to dissolve the hacked-up body parts, Ms. Kringle shows up and sees her Lifetime boyfriend's body parts in the sink, and fortunately she doesn't recognize his bloody feet. Things are looking up for Eddie!
Like a good villain who's on his way out, Ogre explains his M.O. to Barb while he has her BDSM'd in his silver room. She's not happy about it, he is, there's not much to report with these two. It's like they're in a boring
SVU
episode (anything without Christopher Meloni). Nothing against
Gilmore Girls
' Milo Ventimiglia, but these two are more boring than Garrison Keillor at a snooze convention. He's sure that Barb is a serial killer like him and he wants her to tell him to kill someone and she demures/cries a lot until she tells him to kill … someone. Probably a character that we haven't spent a lot of time with or Doc Thompson (but probably not because that would be too interesting).
Master Bruce receives a letter with the mysterious key to Bunderslaw's office or whatever. He goes to Wayne Enterprises and starts snooping and in finds a safe labeled Gotham, but he's caught before he can find anything too cool. You don't become the World's Greatest Detective overnight.
Bunderslaw gives him a "talk" about the fact that Wayne Enterprises is a multi-national corporation that is OF COURSE breaking the law. The Waynes are billionaires, duh, they're obvi breaking a thousand million billion laws. You can actually see Bruce start wondering where he can buy a "Not My President" shirt before he meets Lucius Fox, a handsome devil who tells Bruce that his father was hoping that he would turn into Batman. Not really. But at this point the characters might as well start saying things like, "You better not turn into Batman and clean this city up."
Remember that bar that Penguin bought after killing a guitar player? Well it's been loaded down with guns thanks to Butch. While he and Penguin are celebrating the future demise of Cobblepot's enemy, Jim shows up and asks for an invitation to the Foxglove by way of lots of yelling.
At the bar (the one that Penguin bought after killing a guitar player), Maroni is meeting his good friend Tommy Bones, who's been in prison for 9 years. The Irish guy shows up bearing gifts and pulls the gun on Maroni but it's not loaded (!), or it jammed (!), or something (!) – I don't actually know a lot about guns. It doesn't work. It turns out that Cobblepot took the firing pins out of the guns in order to instigate a gang war between Falcone and Maroni. Good plan?
At The Foxglove, Bullock has transformed himself into a suave gentleman of leisure. He obviously didn't know that The Foxglove was a roaming sex club. Much to his surprise, there are people in leather, weird spiky masks, plastic body suits, and everyone is getting freaky to Frankie Teardrop. Actually it's just some janky electronic song, but how much better would the scene of Bullock discovering that he was accidentally in a BDSM club have been if "Suicide" had been playing? Anyway, Bullock blows his cool and arrests everyone when some off-screen characters and a pig take the stage and get up to something unsavory.
The Gotham Police Force hits The Foxglove en masse and arrests everyone! Except for Sally, who happens to be the one and only survivor of The Ogre. She was his first victim before he had started killing people, back in the good ol' days when he was just slicing their faces up. She sends them directly to his apartment where they're definitely going to bust him with no issues. That's just how Gordon works, baby.
At the apartment, Bullock finds the BDSM room when an antique cordless phone begins ringing. IT'S THE OGRE! He taunts them for a bit and afterwards they do some truly hilarious detective work and figure out that he and Barb have driven upstate to her parents' house. Cut to upstate Gotham, and Ogre is killing her parents.
#TEAMBORDON arrive hot on the heels of Ogre, because he had just left his apartment when they got there I guess, and find Barb's parents stabbed to death. Ogre knocks Bullock out before getting into a furniture-destroying fight with Gordon who stops himself from getting stabbed by grabbing the blade end of a knife, yet another great idea from Jim Gordon, master of good ideas.
Ogre changes his strategy and takes Barbara captive by holding the knife to her throat. Is Barbara supposed to be enjoying this? Is that how she's playing it? It's super weird, right? Are we supposed to be watching and saying, "It's a trap Gordon!"? It's very confusing. Anyway, we don't have to worry about any of that because Gordon shoots Ogre clean in the head and everyone is happy, except for Barbara, WHO WAS IN LOVE WITH HIM! Maybe? I'm probably just projecting.
The end of the episode is a flash of bullet points meant to set up the final episode of the season, which is basically going to be an all-out gang war. Great! Fine! Can't wait!
Stray Observations:
What is happening on this show? Why is there psychedelic faux shoegaze playing?
The bands playing at Cobblepot's club are the worst. They're just terrible. Would it be too much work to book an actual faux goth band to play, a la Buffy the Vampire Slayer or One Tree Hill? Hold on, I'm getting a call from Hollywood. They said they're going to stick with imaginary ska bands in prom suits.
We need to talk about the Nygma storyline. His transformation into the Riddler couldn't have been treated with less care UNLESS (!!!) he wakes up wearing the Riddler costume from Batman Forever at the end of the next episode. You can keep that idea, Hollywood.
What's the over/under on Barbara being one of the big bads of next season and killing Doc Thompson? What does over/under mean?
NEXT TIME! Gordon barks orders through a megaphone, but forgets how to turn it on. Doc Thompson has one line, "I like peanut buttons." Cobblepot loses his favorite antique penny.