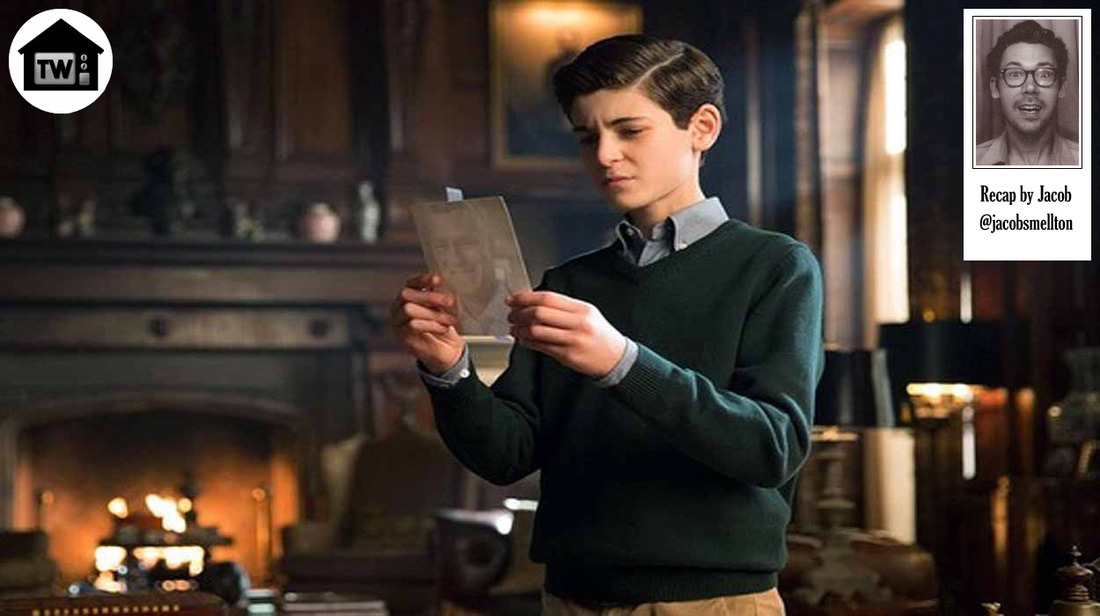 We made it you guys! It's the last episode of Gotham ever! Wait, hold on, I'm just getting some news here … ugh. Well, it's the last episode of the season anyway, and it wasn't as bad as previous episodes. Two of the stories were actually pretty good, but it's Gotham, and you know this show can't help it when it comes to shooting itself in the foot.

Selena is warming her hands over a barrel when she sees a boat coming over the harbor led by a heavily cloaked Fish. It's an image that's either meant to evoke Charon ferrying souls across the river Styx or the boat chase from
Moonraker
.
After a season of hanging out in his father's study, Bruce finally decides that it's time to start looking for his dad's old porn. Or something like that. Alfred insists that Bruce's father never kept any secrets from the family, and that he certainly never had any secret porn. But he did have a penchant for listening to classical music at a deafening level while locked away in his study, so maybe he was up to something.
Falcone, apparently unaware that a gang war is in full effect, arrives at his chicken coop on the docks of Gotham (?) and greets a hen just as a motorcycle duo rides by and blows him up with a surface-to-surface missile.
And if you think that's bad, things are going even worse at the GCPD. They can hardly contain the mob dudes they're busting and some n00b officer won't stop saluting Gordon – who is apparently going to be fired when the gang war is over? Is that a reference to a deleted scene or is Gordon down in the dumps? Either way, we never callback to this weird saluting officer.
For some reason, Doc Thompson is giving wealthy socialite Barbara a checkup in the disgusting coroner's office and suggests that Barb gets trauma counseling. You think? Despite Ms. Keen saying she's all smiles, Barbara agrees to counseling if Doc Thompson will be her trauma counselor and WHY IS SHE AGREEING TO THIS?! Not only is this probably a trap to cut off the doctor's face and wear it while she tries to get back with Jim, but we all know that nothing good can come from Gordon's ex having a sit-down with his current bae.
Bullock is pretty sure that Falcone is about to die (he was hit with a rocket, after all) and it seems that the "bigwigs" down at city hall okayed the hit. They're throwing their weight behind Maroni, who is a "hothead," according to Jim. But guess what, bbs? Ya boy Falcone ain't dead.
Falcone wakes up in what I originally thought was a prison medical ward, but I think it's actually just a regular hospital. How does anyone live past the age of 3 in this city? Anyway, he wakes up strapped to a gurney and with the Penguin and Butch leering over him. Falcone asks them to help him out of bed and Penguin comes clean about starting the war and how he's going to be the "king of Gotham." Before Penguin can murder Falcone with a scalpel, Gordon pops up and handcuffs him to a radiator.
Falcone makes a plea to Gordon to help him get to his safe house to get his shit together so he can retake the city. While everyone sits around and makes phone calls to Bullock or thinks about what to do, Maroni's people show up to kill the Falcone/Gordon/Penguin/Butch foursome. Gordon plans to escape with Falcone but then Penguin invokes his favor, which for some reason Gordon agrees to. He knows it's not a magic favor, right? At this point in the episode I would have loved a
Lost
-style flash-forward that showed an older Commissioner Gordon yelling at a picture of his younger self about keeping the Penguin alive. Hello Hollywood, that idea's free of charge, but the next one ain't cheap.
So Loeb and Maroni's men (why is Loeb with them when Maroni isn't? I guess we know who wears the pants in this mob-run city) start a shootout with Gordon. Bullock pops up during the shoot out and saves Gordon (obvi) but is LIVID when he finds out that he has to help rescue Penguin and Butch. At this point he should expect to have to stick his neck out for Penguin. They might as well make him a Junior Detective.
At Falcone's vastly oversold safe house (it's just a warehouse, why not just call it "my warehouse"?), the quintet encounter a very sassy-looking Selena who's now working for a VERY SASSY-looking Fish. In less than a day, how did she recruit a group of street thugs, train them, and give them all fancy short skrillex haircuts? Also, who pierced her head and why? I don't dislike it, the hair and temple piercings are completely in line with Fish's batshit crazy, "anything goes" approach to villainy, but I would like a timeline of events.
Fish is excited to see Butch but can tell that there's something wrong. He mentions that "nothing good" has happened and he fails to mention that he's been trained to follow Penguin's every command.
This portion of the episode, we'll call it "The Warehouse Section," might be my favorite. Everyone gets a good character moment in and there's no wasted dialogue. There's enough gangster intrigue for the show to consider itself a serious drama, Fish chews enough scenery to keep viewers from falling asleep, and the side characters (Bullock, Selena) get just enough screen time to shine. But the best part about "The Warehouse Section" is that it's not broken up into 30-second snippets interspersed with Master Bruce gluing together a diorama or Nygma giggling while he hammers a watermelon. That stuff is in the episode, but it's rightfully pushed to the corners.
After a phone call with Maroni, Fish tells everyone that she's getting her territories back if she delivers Falcone's head.
Maroni shows up at the warehouse and Penguin brings up the very succinct point that Maroni has zero use for Fish once Falcone is dead. There's a bit of a disagreement over whether or not Fish is a "boss" or an "underboss" But as we all know, Fish is a boss. Maroni puts off killing Falcone in order to make a speech where he repeatedly calls Fish "babes" and says a few unsavory things about women in general, so Fish shoots him in the head. I'm really going to miss Fish. Another gang war breaks out as Gordon, Falcone, Bullock, and Penguin escape. All thanks to the knife in Falcone's sock.
Mid-escape, Falcone decides to quit the mob, which sort of renders Gordon's plan pointless. As they hide in a storage shed, Bullock, Gordon, and Falcone talk about hiding out in Falcone's home on the beach (Gotham beach?), but they're immediately caught by Selena who brings them back to Fish. Falcone tells Fish that he's retiring and before she can kill him, Penguin starts firing a machine gun at EVERYONE but really hoping that he hits Fish. #TEAMFORDONE escapes.
Barb and Doc Thompson are having that trauma session that they talked about this morning. Nothing gets in the way of the good Doctor's trauma sessions, not even a city-wide gang war. Barbara admits that she felt like Jason (The Ogre) was the only person that truly knew her, and then she says that the best guys "are scary." You guys, I think something might be wrong with Barbara.
She wants to know if Gordon ever hits Doc Thompson and is disappointed when she says no. But don't worry, that's when things get weird. As the gang war rages on, Barbs and Thomps have a chat about love and murdering your parents over a cup of tea. Barbs walks Thompson through the murder of her parents and how she's not that beat up about the whole thing. Then she lets it slip that she killed her parents and by "lets it slip" I mean she goes through every detail before pulling a knife on the good doctor and chasing her through the apartment.
I've been fairly vocal about my dislike of Barbara. In fact, most of my emails to
Steve
(TVWS's head honcho/the web master we deserve and need) about
Gotham
mostly consist of whatever letters I can hit with my forehead and the phrase "I HATE BARABARA" typed over and over again, Jack Torrance style. But I like this Barbara. If
Gotham
is going to distinguish itself from the Nolan wannabe that its worst episodes are (Red Hood, etc.) then it needs to go fucking nuts and have the woman that we think Gordon is going to marry chasing around his girlfriend with a butcher knife.
After chasing Thompson into the bathroom, Barbara attempts to smash in the door before the fight spills into the living room where they have a knock-down drag-out and break ALL THE GLASS.
#TEAMFORDONE shows up just as Doc Thompson is smashing Barbara's head into the floor. No one seems surprised that after an evening alone with Barbara the sweetheart Doc Thompson is trying to beat her to death.
Penguin and Fish are locked in battle on a roof with a lead pipe when Butch shows up and they BOTH command Butch to shoot the other person and he freaks out and shoots them both in the leg. I think? This scene was so dark that I don't even know if he had a gun. He shot them with something. As Fish forgives Butch for maybe shooting her, Penguin smashes him in the head with a shovel and then throws her off a building into the harbor before climbing onto the railing and (I'm not kidding) screaming "I'm the king of Gotham!"
Titanic
style.
After all of the crazy goodness that was Penguin and Fish's battle, and Barbara's psychotic break, we have a bit of a cool-down moment with Nygma. Ms. Kringle notices that the first letter of every line from her Lifetime Boyfriend's letter spells "Nygma." He insists it's a coincidence and she leaves, even more creeped out by the super creep. Anyway, Nygma freaks out when he realizes that she's going to keep digging and starts having a cartoon freakout that looks more like an unreleased Marilyn Manson video from 1997 than a man losing in mind. In a very strong episode of
Gotham
, this feels so weak.
Falcone and Gordon have an episode recap on the roof where Falcone admits that the town needs a "lawman" and not a criminal. Falcone gives Gordon the knife that ended up saving all of their lives, and it turns out that Jim's dad gave it to him – FULL CIRCLE YOU GUYS! After some parting words, Falcone leaves Gordon with his father's knife and disappears.
Throughout the episode, Master Bruce and Alfred have been ripping apart Thomas Wayne's study trying to find any clues to his secret life. After Alfred quotes Marcus Aurelius, Master Bruce races to the book shelf and finds a clue in a book about stoicism. Whatever. He finds a remote with ONE GIANT BUTTON and when it's pressed it turns on some Batman music (unfortunately it isn't a classical rendition of Batdance) and pushes the fireplace back, revealing a cave fit for a man who is a bat. Instead of the traditional "GOTHAM" that ends each episode, "SEE YOU NEXT SEASON ASSHOLES" flies on the screen. Or maybe that was just on my feed.
Stray Observations:
About that title, where the fuck does this episode get off paraphrasing Tolstoy? Who do the writers think they are? It's like every few episodes they decide to make a literary reference to remind us that they went to Harvard and would rather be writing anything but a show about baby Batman.
Concerning The Riddler, would it have killed the production to cast a guy that looks less like Jim Carrey? It's not like anyone is having endless debates about The Riddler the same way that we discuss Joker. Comic book continuity is something that you can have fun with, and when it's not a huge character (and seriously, The Riddler is not a huge character) you can usually switch things up. They're doing it with Barbara, and they should do it with this dum-dum. This is why I'm calling for an alligator Riddler in season 2. Sorry, Cory Michael Smith. #ALLIGATORRIDDLER
Fish saying, "We're cool" to Bullock may have been the best moment Gotham has had. The closest runner up is Selena calling Gordon on trying to get her to help him because they've shared a few crime scenes together. It's small moments like that that really make the difference on Gotham. The big stuff (balloon bombs, sexy ninjas) all feel very ~TV~ but when we get to see that Fish is a fully fleshed out character that doesn't just parade around shaving her head and squishing out her own eyeball (which is very fun!), but she also cares about her friends and wants to see another strong woman rise through the ranks of the underworld the same way she did. It seems like her death was left open in case Jada Pinkett-Smith wants to reprise the role, and hopefully she'll make an appearance.
Where does the show go from here? Will season 2 be all about the new Gotham under Penguin's reign of terror? What will that look like? As much as I love it when Penguin gets a protracted story arc, I worry that the next season is going to suffer the fate of looking like a Hot Topic vomited all over the set.
Since this is the last episode of the season, I feel like I should assign a grade or a number, but I don't have a scale for that sort of thing. How about this; I did not like this season of
Gotham
. I thought it had very strong moments but those were mostly drowned out by episodes that were rudderless at best. I've spoken to a few people that really like the show and who think I'm an idiot, so maybe I'm an idiot. Or maybe they're less forgiving. This recap has gotten very long. Until next season, see you same bat time, same bat channel.