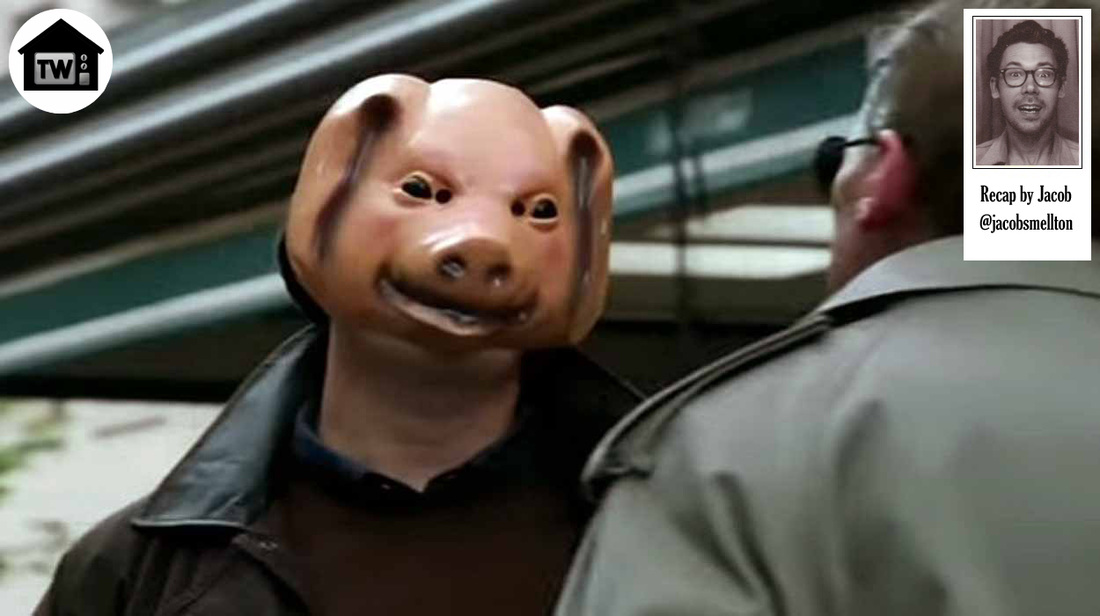 (Sung to the tune of Soundgarden's "Spoon Man") BALLOON MAN! YOU'RE IN GOTHAM! Is it obvious that I have no idea who Balloon Man is? Is that a Batman character? Because it sounds like an occupation to me; a whimsical occupation, but an occupation nonetheless. If you're playing "Occupation: The Drinking Game" along at home or the office, you will have had three shots of blackberry liqueur by now.
Oswald Cobblepot gets off the bus to Gotham, and along with his new haircut, he takes in all the crime swimming around him like air and is glad that he's home. I hope he keeps the sweater.

The episode proper begins with a news report about a bad boy millionaire cheating a bunch of hayseeds out of their investments. As he sneaks out of his brownstone to avoid the one news camera that's covering the event, a dog-masked man pushing an askew ice cream cart (or grilled corn cart, it doesn't matter) handcuffs the bad boy millionaire to a weather balloon, sending him floating into the sky.

Gordon and Bullock are on the scene and recount the crime exactly as it happened five seconds ago. I know that the medium of television is built around characters explaining things to other characters, but this is ridiculous. Maybe they could add some extra dialogue about the credits in the next episode. Oh well, I suppose they're giving us the exposition we deserve, not the exposition we need.

At the police station, Gordon meets Bullock's old partner who tells him that he shouldn't be such a Boy Scout and then beats a perp over the head with a a solid gold police award. I assume he got that award for his time spent on the police force in Ferguson.

Gordon and Bullock have an in-depth discussion about the Balloon Man and whether what he's doing is right. Should he be allowed to kill bad boy millionaires when they steal aaaaall the money or should he be allowed due process? I don't want to like Bullock, but so far he's eaten a Danish, worn glasses, and been overjoyed that a millionaire who defrauded millions of dollars from investors was lifted into the sky, never to be seen again. Those are all things I like! Maybe I'm #TeamBullock?

Gordon and Selena Kyle go to the alley where the Waynes were killed and she recounts the murder and reveals that she saw the killer's face in the dark. Gordon doesn't believe her because he's a chump. Gordon cowabungas into the sewer to find evidence that Selena was at the scene of the crime, which he does! But then Selena locks him in the sewer in the fastest retelling of The Count of Monte Cristo ever. (I believe. There was one production in Istanbul that only took five seconds, but it was in Turkish so I don't think it counts.)

At Fish's joint, the Major Crime unit shows up to inquire about Cobblepot, and Fish reveals that Gordon killed her old manservant. In doing so, she implicates Falcone in the not so murdery murder and Major Crimes insinuates that she's giving up Falcone because he beat up beautiful Laszlo. Meanwhile, Cobblepot runs into trouble when a mook tries to capture him in order to ransom him off to Fish, but in the process Cobblepot murders him and buys a tuna sandwich. Like you do.

Gotham can't seem to help itself when it comes to resolving plot lines. Are they afraid that we're Muppet babies and won't be able to take the suspense of one character being in danger for two scenes? Seriously, I would tie a guy to a balloon for one cliffhanger.

At Wayne Manor, Master Bruce is learning how to sword fight from Alfred while he (Alfred) recites poetry I think? With the accent it's hard to tell, everything sounds like it's coming from the bard.

Gordon and Bullock have another expository state of the show. Gordon is upset that thugs run Gotham and Bullock tells him that it's just how it is. I wonder if they filmed all of these scenes on the same day. I imagine it would save loads of time.

At the balloon factory (that's right), Gordon and Bullock question the owner while he does his best 1920s guy impression and gives up that there three other balloons out there! That means three other bad boys of Gotham are going to be flying sky high if Boy Scout Gordon and The Big Danish Bullock don't do something about it. Should Gordon and Bullock have a couple's name? Gullock? Bordon? Gorock? If you come up with something better, leave it in the comments and it'll become TV Woodshed canon.

Bullock's old partner is beating up a drug dealer in an alley, and as he makes a slow getaway he's approached by a scarfed man pushing an ice cream trolley. Sound familiar? Old partner punches out the scarfy ice cream man and rifles through his pockets, making some kind of important discovery before he's handcuffed on his leg (leg cuffed?) to a weather balloon and he disappears into the sky.

At Wayne Manor, Master Bruce has given up eating and is reading the morning paper, doing research about the new balloon-themed vigilante of Gotham and being a real dick to Alfred. I don't remember that being a tenet of the Batman ethos.

Gordon tries to sneak out of Barb's massive clock tower loft (how can she sleep with all the ticking?) and instead of getting to work on time like the Boy Scout he is, he lectures his girlfriend about how now that the Balloon Man has killed a cop, the investigation will be in full swing, and before no one cared. Just so we're clear, Gordon does not care for vigilante justice. You hear that, future bat-themed vigilantes of Gotham?

Bordon argues about whether or not their perp is actually the killer. The man they're tracking down doesn't seem to have the marbles to enact such a laborious crime, but Bullock doesn't care, as long as they get a collar.

Cobblepot gets a job as a dishwasher at an Italian restaurant to make a few bucks in order to purchase some new penguiny suits. I guess? I don't really know the end game here.

Bordon cracks some skulls around the city and they go to find Carl Smikers, the man who is definitely not the Balloon Man. Smikers' girlfriend almost kills Bullock with the world's oldest TV but he punches her in the face. It's a weird scene.

At Barbara's, the lady detective from Major Crimes has let herself into the clock tower loft and busts her smoking half a marijuana cigarette. It turns out that the Major Crimes lady detective and Barbara were once lovers and that the lady detective (LD for short) wants to bust Gordon because he's with Barbara. Is no one clean in this town?!

Bordon interrogates Smikers and he explains weather balloons to the hapless chumps. In the next scene a body falls to Earth and we find out that a priest that was molesting kids has been sent into the sky. After rifling through Bullock's old partner's pockets (he was the dead body that fell from the sky), Gordon realizes that he knows who the Balloon Man is.

At the restaurant, Cobblepot listens in on a conversation between the owner and Don Meroni. Meroni, the owner/mob boss/random Italian takes a liking to him and gives him some cash. It's all very The Departed.

Gordon pins the Balloon Man murder on LaMonte, the man who runs child protective services. I'm still on the fence about whether or not LaMonte is actually the Balloon Man. It seems too easy that a character we've met once would be the episode's big bad. I could be reading too much into the show, but it seems like it would behoove the writers to weave a larger story out of the Balloon Man vigilante killer thing. As soon as I finished typing that last sentence, I was proved wrong and LaMonte puts a gun to Bullock's head and makes a passionate speech about the law protecting the guilty if they were wealthy or important rather than the weak and the innocent. Bullock tries to teach LaMonte a lesson by sending him into the sky, but Gordon, fresh out of a viewing of Up, takes a ride on LaMonte until Bullock can shoot down the balloon.

Gordon joins LaMonte in the back of an ambulance and tries to get him to give up the final target, but all he gets is more vitriol about vigilante justice and how it doesn't matter who the target was. Master Bruce watches the Balloon Man report on the news over a dinner by the fire and gets a big idea. Did the words "DUH" flash on the screen for anyone else in that scene? Maybe it was just my stream.

After the LaMonte arrest, Gordon returns to the clock tower loft and espouses more anti-vigilante vitriol and then Cobblepot shows up and looks like a creep.

If this episode did anything, it introduced the idea that a character named "Balloon Man" played a big part in the Batman mythos. Will we begin to see a massive retcon of Batman source material? In the new Affleck-helmed films, will he constantly refer to being inspired by Balloon Man? I really hope so.

NEXT WEEK! Cobblepot and Gordon team up to form Gorblepot? Master Bruce starts wearing a cape? Bullock will definitely eat a pastry of some sort.
​