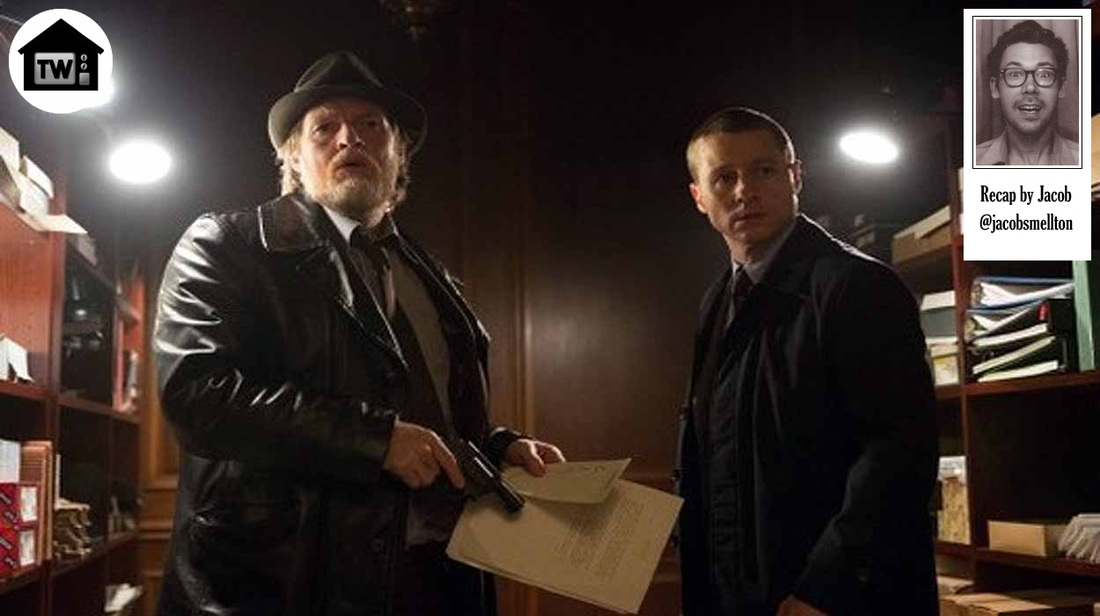 Gotham's back and we get to see what Cobblepot (I can't wait until I only have to type "The Penguin") wants with Gordon. Is it an after-dinner coffee? Maybe they'll discuss fantasy football picks? Despite the fact that both of those answers would make the show a million times better, he just wants Gordon's help in taking down the mafia (I guess that's fine).
Why is Cobblepot always so wet? It has to be awful to be doused with a bucket of oil and water before every take. I hope Robin Lord Taylor has a shower in his trailer.

A shadowy man approaches Councilman Jenkins and puts together a sonic screwdriver that's less cutesy Doctor Who and more "Ouch ouch my eye. You're stabbing me in the eye." To be fair to the shadowy bad guy, if anyone asked me to put a mysterious contraption up to my face, I would respectfully decline and curl into a ball while whimpering. You should see me at the optometrist. Instead of using my time-tested "curl in a ball" method, the councilman's buddy shoves the eye poker right in his face and gets it good. What is it with this show and having people get their eyes ripped out? The bigger question is what does it take to have a seat on this council of dummies? The lowest GPA in the county? A history recent of concussions?

The detectives don't even want this case because it's such a snooooooze. Nobody cares about these dumb councilmen and their proclivity for jamming stuff into their eyes. Meanwhile, Fish Mooney is trying out sexy ladies who can sing for some kind of non-singing seductress job. The very Dita Von Teese Lite singer is frazzled when asked to seduce Ms. Mooney, and who could blame her? If Fish wanted a seductress, she should have written that in the craigslist ad.

The detectives try to bust some skulls but things aren't coming up Milhouse for our two hapless flatfoots. That is until some mysterious information about Arkham shows up on Gordon's desk. Let's assume Cobblepot sent the box until we can prove that Nygma sent it. It makes sense that he would want Arkham to reopen; from what we've seen of his character, he's more mad scientist than man in green pilfering children's joke books, and Arkham would be the perfect place for Nygma to carry out the experiments that I assume he wants to carry out. Unfortunately we haven't spent enough time with Nygma to know his motivations. Regardless of the fact that we know that he will be The Riddler in about 10 to 15 years, what does he want to do now? It's disappointing that Gotham refuses to give us more than crumbs about the desires of the characters we're stuck with.

Master Bruce is busy becoming the world's greatest detective and helps Gordon with his investigation into Arkham Asylum. Apparently the Waynes wanted to turn the Arkham section of town into low-income housing rather than let it become a trash heap. Are we sure that Master Bruce doesn't have Benjamin Button disease? I don't believe that he doesn't sleep in Muppet Baby pajamas. If he's going to be young man with the soul of Richard Gilmore, could he at least smoke a pipe?

Another councilman is abducted and he's locked in an oil drum! Very comic book bad guy of this shadowy figure. I like it! In true bad guy form, the shadowy figure won't stop going on about how this horrible murder that he's about to commit isn't personal and then he reenacts the gasoline trail fire scene from Terminator 2.

The next morning, Bordon and the commish stand in front of a GIANT GREEN SCREEN that's supposed to be Arkham Asylum and they discuss mob stuff, mostly the ending to The Sopranos (surprise, Bullock LOVED it).

Nygma shows up to phone in his one scene per episode and to let the detectives know that the murders are connected to one killer. See you next week, Eddie!

At the restaurant, Cobblepot snoops around the kitchen and finds a couple of mooks counting a comical amount of cash. The manager – a man far too young to have a high and tight haircut – admonishes Cobblepot for not having his nose in the kitchen sink. Cobblepot goes back to washing pots and pans and replays the opening heist scene from Heat over again in his head.

Bordon discover that they're after a man named Richard Gladwell, otherwise known as the shadowy figure. They trace him to a hotel or a bank or something. A typing pool maybe? To a dimly lit office space with a lot of typewriters. Bordon goes on a hunt in the mysterious office space and Gladwell prepares his eye poker. Gordon closes in on Gladwell but he should be careful – from what I hear, Gladwell put in 10,000 hours to the preparation of that eye poker. I'm sorry.

Bullock finds newspaper clippings of the dead councilmen in Gladwell's desk, as well as the letters C, M, and T. Rookie mistake Gladwell – maybe you should have spent 10,000 hours practicing your hitman techniques.

At Cobblepot's restaurant, there's a robbery and all of the mooks are killed while Cobblepot hides from the masked robbers with a boss-endearing bag of money, and it's kind of adorable. Cobblepot looks like the kind of character that could very easily end up on shirts in the sale aisle of a Hot Topic very soon. Maroni is suuuuuuper pissed about the whole robbery thing that Cobblepot definitely didn't plan in order to get back at Fish/Falcone/the mob in general, but he's happy with Cobblepot and rewards him with a plum manager position. All of that scheming finally paid off.

Barbara asks Gordon about Cobblepot and he questions her about Montoya. Babs comes clean about her lesbian relationship with Montoya and Gordon takes it like a little baby. Chill out Gordon, it's the 21st century.

Richard Gladwell isn't really Richard Gladwell! The real Richard Gladwell is a dead body with an eye wound! So who knows whom this shadowy figure is? With any luck he's Alec Baldwin's The Shadow. I know he's not, but I can dream! Back at Mooney's place, she tries out an ingénue with a voice like a smoke stack and fashion sense like an Alkaline Trio groupie, and I guess it goes well because Bullock shows up and is all moon-eyed over the underage cutter.

Cobblepot, still dressed like the Pillsbury Doughboy, tips Gordon off to the hit of the Mayor and out into the perpetual rain he goes! The Mayor can't be bothered with all this murder and before Gordon can spirit the mayor away to safety, the shadowy non-Gladwell shows up with his eye poker. Gordon gives chase through the mayor's brownstone (which is gargantuan, I might add – what is it with the massive living spaces in the DC universe? I suppose it's a conversation for another time) and he has a very well-structured fight with the shadowy figure until Bullock shows up and shoots the shadowy hitman about a thousand million billion times.

Back at the police station, Barbara apologizes for being an adult who was in a relationship with another human being and Gordon continues to act like a baby when Babs suggest that, despite the fact that she hid this one thing from him (because he's a baby), that they have an honest relationship.

Barbara draws a line in the sand and says that Gordon has to be honest with her about Cobblepot or they're splitsville. Not a crazy thing to ask from someone that supposedly loves you. Surprising no one, Gordon sulks his way through the conversation and she leaves him in the police station.

Mooney meets her two sexy ladies at the dock and says that only one of them can have the job and that they must beat each other up, Bloodsport style. My Chemical Romance's biggest fan wins the fight.

The Arkham plan ends up going through as a waste dump/low cost living space/home for crazy people. Doesn't it sounds awful/exactly like Los Angeles? If only Gotham had a hero, a hero dressed in sexy black Kevlar to save us all from the evils of redistricting. Master Wayne gnashes his teeth at the compromise and Gordon all but says, "Hey, why don't you turn into some kind of bat man?"

It's revealed that Cobblepot was the mastermind behind the Maroni heist, and as he steps over the bodies of his cannoli-poisoned henchmen, the viewers breathe a collective sigh of "Duh."

NEXT WEEK! Cobblepot cruises up the management chain to Assistant Manager of a distribution warehouse and Gordon throws a fit because Barbara wants to vote.
​