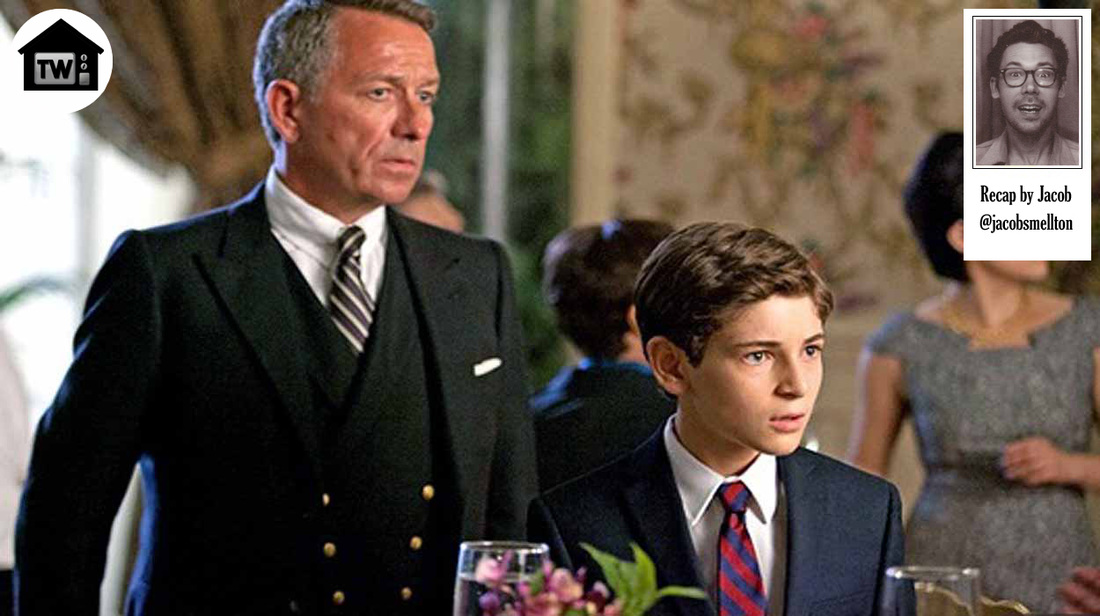 Are you guys ready for another recap of Cobblepot: Gotham City Nights? Why hasn't anyone hired me to name their series when gold is flying from my fingers?
The intro to this show is getting longer with every episode. While most television is made up of characters explaining things to other characters for 48 minutes, I think it's safe to cut that thing from the first episode where Cobblepot gets crazy about the river of blood. Instead, include a supercut of guest actors referring to him as "Penguin." Remember when that was a thing?

Master Bruce is building a Barry Allen style murder board and trying to see the intricacies of Gotham. Why did both crime families get such good deals with the Arkham project? Why couldn't Wayne Enterprises stop the deal? Alfred, not sure how to raise a child maniac, decides to go Downton Abbey his day away on the other side of the estate.

The Maroni gang wants to stick it to Falcone by knocking over his casino in what is, I suppose, a mild prank for a bunch of gangsters who just made millions of dollars in a land grab. The overall answer to every question about Gotham seems to be "greed." The only reason that anyone on this show (other than Gordon and Master Bruce) does anything is have one more dollar, nightclub, widget, more than the other guy. Is that how Batman eventually triumphs over the evildoers of Gotham? By not desiring more? Very zen of you, Master Bruce.

A drugged out busker strums lazily at an acoustic guitar as a creep with a bad haircut crosses the street and deposits a vial of something sinister and green in the guitarist's case. He breathes the drug in deep and becomes way too excited about drinking milk He's also super strong and starts speaking like a Greek god ("Do not vex me mortal," etc.).

Bordon are on their lunch and they're bonding over hamburgers. Apparently Bullock's fave burger rave in G-Town is located in the back of a truck that not only makes delicious burgers, but also has milkshakes. It sounds suspect, but the best places usually do. Gordon sees Selena Kyle (in full Catgirl attire) robbing a businessman only to be thwarted by a cab with the worst sense of timing in the world. Unfortunately for Bullock, the mugging segues into another crime taking place outside of the impedance of yellow cabs. As Gordon chases the new case, Bullock exclaims that "Man cannot subsist on crime alone" as he follows Gordon back into the gloomy streets of Gotham.

At the convenience store, Bordon finds the clerk hidden in a hole and he explains that the busker stole his ATM machine and drank all his milk. Maybe Mr. T was right about all that vitamins and greens bullshit.

Fish is teaching her street urchin how to sing "Ave Maria" in order to make her into a secret weapon. Why? Who knows! Does opera get the blood pumpin' for the men of Gotham? What a strange world the viewer has been thrust into.

After her vocal lesson, Fish meets with Falcone and an Eastern European stereotype in an abandoned warehouse. Was Nick Kroll an extra on last night's episode? I can't input a screenshot into my review at the moment, but if you check the tape at 10:20 you will see a heavily sunglassed man who bears a striking resemblance to El Chupacabra. Fish continues her plan of sucking up to Falcone by starting up a quick game of "Yo Mama" with the East Bloc mobster:

"Yo mama's so European that when she heard a Taco Bell commercial say 'Run for the border,' she moved to Brunei."

"Yo mama's so European that her currency is in turmoil."

"Yo mama's so European that when Richard Gilmore set up a tee time for her at the country club, she ordered Earl Grey."

Bordon goes on a hunt for the hulked-out busker and get some info from a lady of the night and she sends them to a milk carton-laden building where the busker is stumbling around and begging for more of his mystery drug. The dude is still crazy strong, but not so strong that he can't be crushed under the weight of his stolen ATM machine. The sound is superior in its grossness to almost any sound I've heard in the last five years.

Master Bruce has fallen asleep working on his murder board and Alfred is absolutely livid that his ward is sleeping through the day. Master Bruce and Alfred make a plan to visit the board of directors at Wayne Enterprises so the young detective can prod the suits about the Arkham deal. I'm sure that's going to go swimmingly.

Viper (the mystery drug) has hit the streets and everyone is super strong but they're also super dying. It's a bad scene. Everyone in the police station is PISSED! Except for Nygma, he seems to be genuinely pleased with the composition of Viper. The drug uses the body's calcium to increase a person's strength but it also makes them very hungry, hence all the milk drinking. Once the calcium is all used up, the user's bones crumble into dust. Kids'll take anything these days. First it's Molly and now Viper? My daughter better not be walking around with dust bones or I'm sending her to boarding school. AND I MEAN IT THIS TIME!

The Maroni gang is still trying to figure out how to rob the Falcone casino, and Cobblepot makes himself helpful by inferring that he knows the janitor of the casino. Maroni makes a great callback to the first paragraph of this recap and he crowns Cobblepot as The Penguin. After Cobblepot tells Maroni that he used to work for Fish, he's given a nice smack around the restaurant.

The owner of the company that makes Viper comes to Bordon and they give up the creepy guy, Stan Batalski (I prefer the creepy guy), as the man who's been dispensing the mystery drug. Before Gordon can go off and catch the creepy guy, he's whisked away by Maroni's men to meet up with Cobblepot and Maroni – apparently he's in pretty hot water about the whole not-killing-Cobblepot thing. Gordon recaps the first episode for Maroni and saves Cobblepot yet again. If Gordon doesn't already regret saving The Penguin, he will soon.

Gordon returns from Maroni's restaurant and Bullock has made no headway on the creepy guy case, but in less than a minute, Gordon finds a clue that leads the detectives to Gotham University. They contact this philosophy professor, who gives up that Batalski was hired to create drugs for the army, but when he went to the Waynesto inform them of what was happening at their offshoot company, the Viper project was shut down. That is, until they were murdered; now the project is back up and running. Professor Somethingorother gives up that he planned the Viper thing with Batalski and then he takes a vial full of the drug and becomes a testosterone-fueled grandpa who throws Bullock through a wall before giving up some final clues moments before his death. It's very Yoda of him.

At the Wayne Foundation charity function, Batalski plans on pumping Viper (or Venom, the new, chic version of Viper) through the air ducts. Master Bruce takes a meeting with the head of Middle Management about irregularities with the Arkham Project. The woman tries to soothe his worries, but nothing will stop Master Bruce! All he wants is a meeting, and before he can be pushed aside by the figurehead in charge of the foundation, Batalski pipes a message through to the banquet hall. He begins to pump the drug into the hall and Gordon, sweet dumb Gordon, blasts Batalski in the face with his own drug – and before he jumps off the roof, he tells the detective to check out warehouse 39.

At the warehouse, Gordon finds nothing. Bullock isn't surprised, his cynicism rewarded yet again. In a car discreetly parked outside, the chairwoman that Master Bruce spoke to is on the phone with the makers of Venom, saying something ominous.

Outside the casino in a getaway car, The Penguin, Maroni, and Frankie (Maroni's main man) oversee the robbery, which goes well. So that's good!

Fish and the Eastern European Mobster are getting down to a loop of an Arctic Monkeys intro while they discuss how to take down Falcone – it may be the least sexy thing I've ever seen. Speaking of the aging Mobster, as he feeds the birds in Gotham Park (?) he approaches Fish's young sexy man killer as she hums Ave Maria, Falcone's "favorite aria." He's such a basic mobster. Wouldn't he be more interesting if his mother sang him something less mobstery? Whatever, the stage is set for Fish's revenge that everyone with a working knowledge of the DC universe knows will backfire.

A quick afterthought: Why, after taking Viper, did the first victim speak like a Greek god? No one else seemed to be on a "Don't vex me mortal" kick. Even if the drug increased your cognizance, it doesn't mean that you would speak like a theater kid.

NEXT WEEK! Will Master Bruce and Alfred open their own branch of the Mars Detective Agency? Will Bullock show us where to get the best tacos in Gotham? How will Cobblepot endear himself to Maroni? I bet it has to do with being a snitch.
​