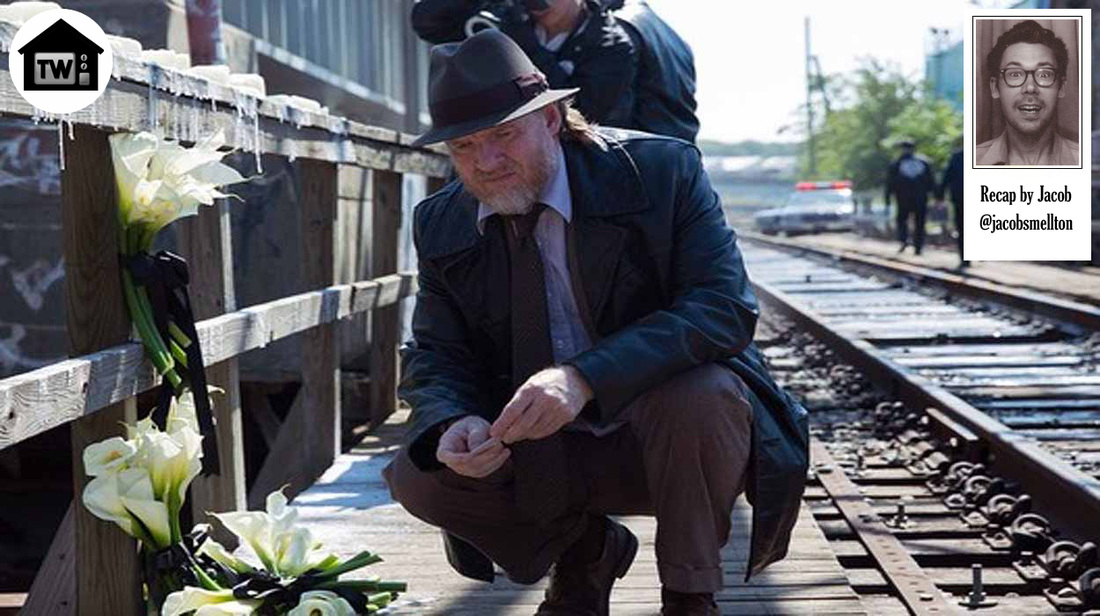 Hey Halloweenies! I hope you're ready for a spooktacular recap of Gotham! <insert lighting flashes, MUHAHA/evil laugh sounds, and "Chiller" font, if possible>
We open 10 years ago in Gotham where a spoooooooky dude is chanting that he is "the spirit of the goat" into a dirty mirror; he puts on a proto-Batman mask (or a really awful black leather goat mask) and punches the dirty mirror. I guess they didn't have Resolve back in the day of The Goat.

After punching the mirror, he kidnaps a woman named Shelly. A fresh-faced Bullock and his partner (Detective Dix) head down to Cannery Drive to rescue the girl, or Bullock does and Dix admonishes him for playing the hero. Inside the lair of The Goat they find Shelly TV-14 crucified and surrounded by religious candles that were more than likely smuggled from the Gotham branch of Fiesta. The detectives find The Goat and he's gone full crazy go nuts. He kills Dix and then Bullock shoots El Cabrio.

Back in present-day Gotham, Bullock has been called to the scene of a crime that mirrors that of the murders perpetuated by la chèvre. The Goat kills the firstborn of a wealthy family. Bullock is incensed that he's on the scene before goody two-shoes Gordon, who is in the middle of a very deep relationship sesh with Babs. All she wants is to be Gordon's sweet lady who knows everything that he knows about the Gotham underworld.

So far Gotham hasn't gone out of its way to create any heavily layered characters – the bad guys are VERY BAD, Gordon is a Boy Scout, and the few people in between (Bullock, Selena Kyle) mainly serve at the whims of whichever particular episode they appear in. If the episode calls for Bullock to cut corners and look the other way, he does. If he needs to be a gruff yet humble member of the police force, he is. Knowing this, it's still painful to watch a female character on this show be as one-dimensional as Barbara. Not only is she okay with Gordon being mad at her for dating a woman, she'd like him to dump all of his police problems on her so she can act as his Portrait of Dorian Grey (so to speak). It would be fine if they were both sharing the burden of adult responsibility in a mob-ruled city like Gotham, but to have a female character's sole purpose be to comfort the protagonist and look fantastic while doing so is not only sexist but lazy. Did I mention that I'm dressing as Betty Friedan for Halloween?

MCU is canvassing the docks, doing research on the Gordon/Cobblepot murder case and they have a lead! A homeless Russian man has fingered Gordon. OH NO! I guess? It's fine.

At the scene of the Goat copycat case, Bordon goes to interview the parents of the deceased and they aren't taking it well (who would?). The Hastings family therapist (that's definitely a thing) rubs Bullock the wrong way; he's trying to solve a case and she's giving out sedatives!

At the Police Station, Nygma is researching the Goat murders and flirting with the record keeper (?) Christen Cringle, a by-the-books nerdy girl who just needs to take off her glasses and let her hair down. Who knows why that was a scene. Is Cringle coming back in the episode to be killed by The Goat? Nope! Nygma reorganized Cringle's files without her consent and she's steaming mad. In a scene straight out of I Love Lucy, Cringle stamps her feet and throws a tantrum until Nygma leaves her alone with her files.

Bordon goes to the autopsy, where they find that the body has been desecrated in the exact way that Randall Milky desecrated his victims 10 years ago, by sewing an 1813 Liberty penny into the heads of each of his victims. The police never released that detail but here it is, a fancy penny in the head of a dead lady.

Bullock goes to visit his old partner, Detective Dix, who is basically a prototypical Detective Bullock. Dix is under the impression that The Goat wasn't just Randall Milky, but that The Goat is actually a conspiracy to kill the children of the rich.

In a cut scene straight from an early 2000s spooky video game, Ember Copley is kidnapped from her palatial estate. The detectives call in Nygma (who's drinking out of a question mark coffee cup, no less) to help solve the case. He narrows the suspects down to four regular Joes and points Bordon in the direction of the abandoned warehouse where Milky was shot 10 years ago – ON THIS VERY NIGHT!

Bullock gives chase to El Cabrio Nuevo and leads him straight to Gordon, who wallops the copygoat and saves the girl. I'm glad to see that these two are starting to work so well together.

Master Bruce is asleep and Selena catwomans her way into Wayne Manor to be a total creep.

In the interrogation of the new goat, something is up. Bullock doesn't like what he's seeing. He doesn't believe Dix's conspiracy theory but believes something isn't right. He sends Jim home and after witnessing the new suspect act like a weirdo, something clicks.

Back at Barbara's, Jim is arrested by MCU for the murder of Cobblepot – he agrees to go along quietly.

Bullock goes to visit the family therapist from earlier in the show and we found that she's a hypnotist (!) who worked with Raymond Earl (the new Goat suspect). Bullock has discovered that the therapist/hypnotist/very sexy lady has hypnotized multiple mental patients into being murdering goat-themed villains in order to eat the rich. Over and over Gotham has tried to show that what the city needs is not the police, but a vigilante who can combine creepy night-themed clothing with a hatred for the crooked 1% of America. Even at this early point in the series, a montage could be created of Master Bruce taking newspaper clippings of each Baddie of the Week and combining them into a rough Batman costume/manifesto. This episode was a bit too on the nose with The Goat's silhouette being so similar to the early Batman comics. Is there anyone watching this series that needs their hand held so delicately?

Anyway, the therapist uses her magic hypnotism powers to order her patient (Mr. Hastings from earlier in the show) to attack Bullock. Fortunately, Bullock ain't no sucker and saw this coming from a mile away. He fights off Hastings and shoots the hypnotist lady, which is admittedly hard to explain to the chief. Are there no iPhones in Gotham? Most of the problems on this show could be avoided by recording a voice memo or taking an Instagram of a confession. It's not like most of this show doesn't have the X-Pro II filter on it already.

As Gordon is being whisked away by MCU, Cobblepot appears to save the day/drop jaws/cause like a million billion problems.

NEXT TIME! Detectives Gordon and Bullock solve their personal problems with a GCPD Fight Club! Barbara cooks a pot roast! Nygma pays out of pocket for riddle-themed pocket protectors! And Cobblepot gives a 10-minute monologue about how much he loves his mother!
​