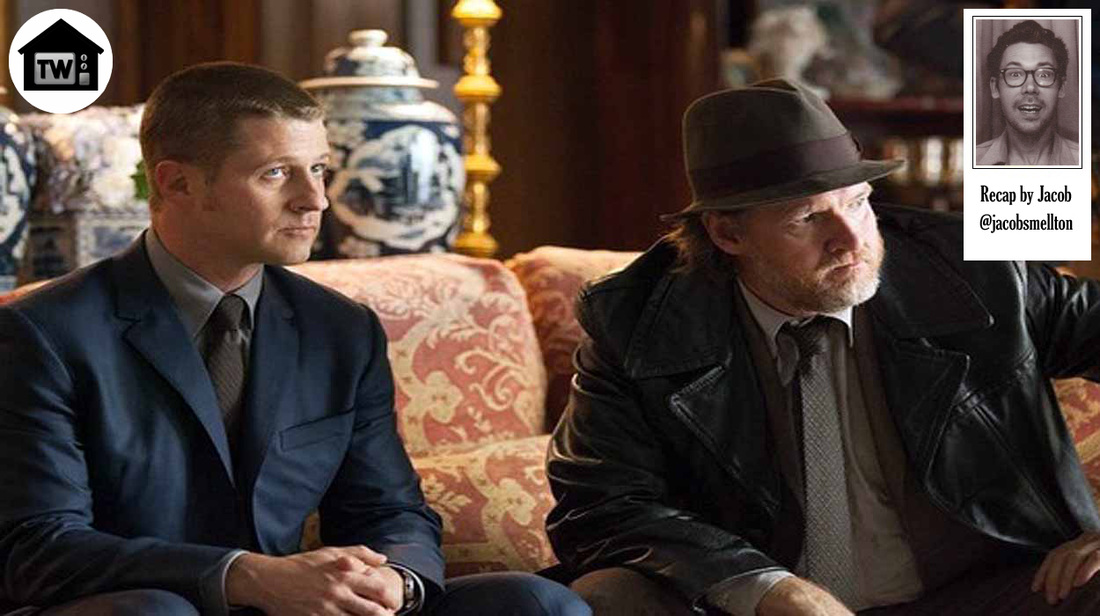 Picking up immediately where the last episode left off (Gordon and Bullock are at each other's throats! MCU thinks they've cracked a big case!), Cobblepot is back in town and he's turning heads everywhere he goes! Look at that walk, check out his talk, his umbrella makes him a fine fella! Those are lyrics to my new song called "The Cobblepot Waltz."

Even though Cobblepot is #EMPOWERED, everyone else is REALLY MAD at Gordon. Bullock tries to execute Jim in the police station while Barbara is being harassed by Fish's goons (who are very #YESALLMEN) until Gordon finally mans up and takes out the mooks in stunning fashion. He shoots a guy in the kneecaps and hits a guy in the face with a gun! Wow! After Gordon saves his lady from the creep squad, he sends her away on a train, probably while he quotes
Casablanca
in his head.
Gordon does what no one expects him to do and marches back to the GCPD, grabs a stack of blank warrants, and begins to draw up arrests for the mayor and Falcone. The Chief of Police tries to persuade Jim to leave town and drop his Rambo act, but he says "No way, lady José," as Victor Zasz (a Falcone minion who has a penchant for carving a line onto his body for every person he kills)
Dead Poet Society
s up onto the desks of the GCPD and calls out Gordon.
Zasz is very much a new media anti-hero who acts super crazy and says please and is just begging to be a Halloween costume. I love Heath Ledger's portrayal of The Joker from
The Dark Knight
, but it may have been the worst thing that ever happened to Halloween costumes (I saw at least 10 The Jokers on Friday night) as well as gritty antagonists. The new shortcut for writers trying to spice up their villain is to give him an absurd idiosyncrasy along the lines of quoting Shakespeare or saying "Woah, momma" when the protagonist fights back. In the middle of the precinct, Zasz shoots Gordon, who escapes to a police car park and is almost gunned down by the oldest Hot Topic employee and his sexy leather-clad babes before being saved by MCU.
While all of this Zasz malarkey is happening, Fish Mooney tries to extract Cobblepot from Maroni but he doesn't want to give up his golden goose. After Falcone steals guns from Maroni, he decides to hit back immediately under Cobblepot's tutelage.
Gordon takes up a hiding space at Wayne Manor and discovers that Master Bruce is more grown up that he had originally believed. (Kids grow up so fast these days! It must be all the hormones in the milk and the parental homicides.) Gordon gathers all the good guys at Wayne Manor (Master Bruce, Alfred, MCU) and gets his crew of bad asses together to take war to the mob – err, decides to continue with his plans of arresting everyone in town by himself.
Luckily, Cobblepot has decided to take on the mantle of coolest guy in Gotham by blowing up a bunch of Nico's men before Maroni's jealous boy toy decides to be a baby and kill Cobblepot. Fortunately for the viewer, Cobblepot has had his eye on Frankie (the vaguely mobbish name of Maroni's #1) and has paid off Frankie's men to help him murder the right-hand man. After the cold-blooded murder, Cobblepot does some textbook quirky bad guy stuff (quoting Terry Gilliam, kissing a dead body on the head, etc.) and begins to take up the mantle of Gotham's #1 mob boss.
After Penguin's very dramatic murder of Frankie, he scoots away to a meeting at The Harbor with Falcone, Maroni, and Mooney. PHEW! There's a lotta names in this episode.
Weekly Ranking of Stuff That's Happening on Gotham
Names
Cool Guy, Anti-Hero Posturing (kissing dead bodies on the head, spouting monologues on top of desks, quoting out-of-context bible verses, etc.)
Very nice suits!
People being shot in the kneecaps
Expository dialogue
Characters making honking sounds
Characters showing up "just in time"
Dropping out of the top seven is "Master Bruce doing research" and "Selena Kyle sneaking around Wayne Manor."
At the harbor meeting, Falcone asks for the violence to stop and promises to leave Cobblepot unharmed in exchange for a "warehouse on the river." Whether or not that's a euphemism is beside the point. Cobblepoint counter offers with "Indian Hill," a "radioactive swamp on top of an Indian burial ground" according to Fish. HOLD UP. I understand not wanting to own radioactive property. If the Japanese offered me Fukushima, I would have to confer with my people regardless of the fantastic property and all the free dying old people, but the superstitious conflict of not wanting to own property built on top of an Indian burial ground is ridiculous. First of all, it's a Native American burial ground, you sociopath, and also, ghosts don't exist dum-dum. Unless this is a big buildup to The Scarecrow, and in that case I'm all for a guy who spooks people out in a Native American burial ground.
At Barbara's apartment, Jim is preparing to go to war with the mob. He's cocking very large guns and probably listening to The Black Album when Bullock knocks on the door and saunters into the apartment with a
lady of the evening
and asks to join Gordon's assault on the mob. After admitting that Gordon's plan is very Boy Scoutish and probably kind of dumb, he has sex with a prostitute in Gordon's bed while Gordon continues to clean guns or something – what an awful way to spend what may be your last evening alive. Bordon decides to get in the cool guy, anti-hero game and arrests the mayor, who then takes them to visit Falcone, whom they sort of kind of try to arrest. Falcone pulls his one card and reveals that Zsaz is going to kill Barbara if Gordon arrests Falcone.
Meanwhile, Zsaz is BAKING MUFFINS (See? He's a quirky anti-hero that's begging to be a Halloween costume) with Barbara and the girl that Fish hired to kill Falcone. Gordon gives up his crusade to save her life and possibly get a free muffin out of the deal.
Falcone makes everyone believe that he's going to kill everyone but then lets everybody go (classic bad guy swerve). The episode ends with (mostly) everyone alive and (mostly) everyone happy. As Falcone checks on his chickens, Cobblepot approaches and gives him a hug! In a flashback we learn that Falcone and Cobblepot had a secret agreement where Cobblepot would become a snitch for Falcone if Falcone had Gordon kill Cobblepot and they both knew that nothing was going to happen and all of a sudden the last five episodes of
Gotham
don't amount to a hill of beans in this crazy world. Here's looking at you, Jim.
NEXT TIME ON GOTHAM! There's a sexy new bad guy with a funky haircut that wears a bow tie and reads Proust! Falcone quits the mob and starts selling eggs wholesale! Bullock eats out of the garbage.