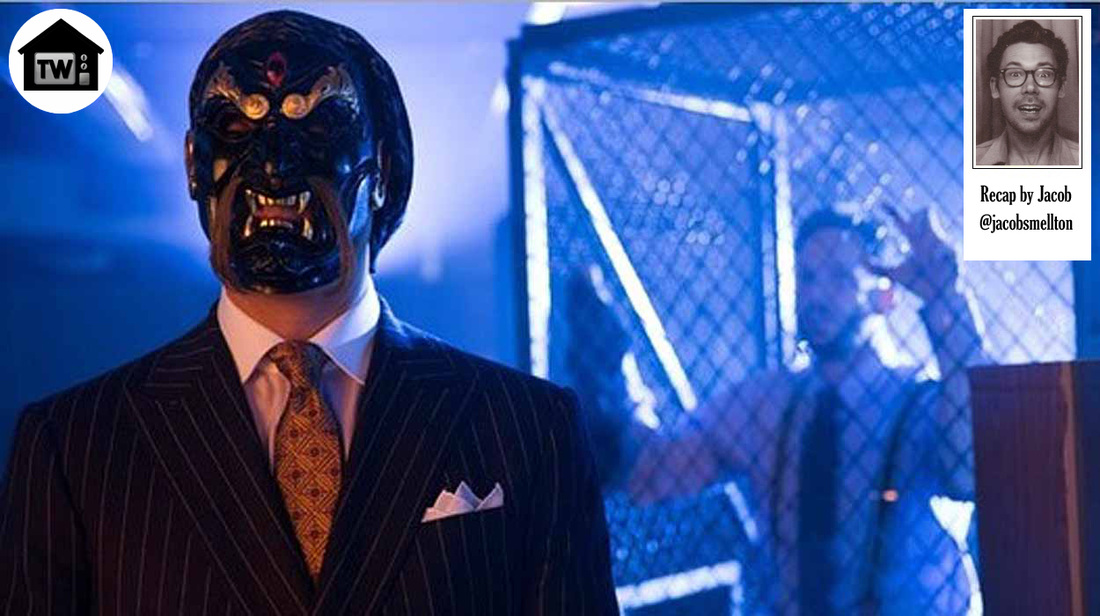 It's Fight Club, Gotham style! Meaning everything that made Fight Club great, except for the drama, intrigue, broadly drawn characters, dialogue, social commentary, plot twists, and Tyler Durden.
The episode opens with a squirmy nerd cowering through what looks to be a level from Area 51 (exploding computers, flashing fluorescent lights) wearing one of those cycloptic ski masks that's all the rage with teens on Instagram. Another ski mask-adorned guy in a suit raises his fist to an unnamed watcher after he beats the cowering nerd to death. If Bullock and Gordon aren't placed in a battle to the death against each other by the time this episode is over, I'll be sad forever, or sadder forever. How about sad till lunch?

Bordon is on the scene with Nygma trying to solve the very usual murder when Nygma finds a FINGER in the dead nerd's mouth. If you're keeping score, please note that Nygma informed the investigators about the finger in the weirdest way ever: "Should I run all the prints? Even this one?" he asks as he pulls a finger from the corpse's mouth. Ugh. Nygma, you are the worst.

Out on the street, Cobblepot is robbing rich white women for gifts to offer up to Fish in an act of contrition. After discussing the terms of their mob stuff, Fish stabs Cobblepot in the hand with the brooch he stole for her. If this were NBA Jam, a voiceover by Marv Albert would have said, "There's no love lost here!" Then the show would go into Big Head Mode and I would switch out Gordon for Bill Clinton.

Master Bruce returns to school despite his desire to be home schooled like the rest of the weirdoes in Gotham, but Alfred knows that the world's youngest billionaire needs to be conditioned to hate the rich rather than be cloistered in a monument to his parent's death.

The dead nerd's mom reveals that the dead nerd was on a job interview when he was murdered. (Duh guys, everyone wears suspenders on their BIG FINANCE job interviews.)

Bordon visits a black market surgeon to find the thumbless man, and after getting a tip to check out an investment firm, Gordon locks up Doctor Gothamstein, much to the chagrin of the rest of the force. Bullock insists that he play by the rules, but Gordon can't do it. Maybe he had some bad dental work done in Mexico, or maybe it's that whole revenge on the mob thing – either way, Gordon is out for blood.

After a tense day spent pissing off the GCPD, Gordon returns home to find Barbara putting a gun in his face. Understandably she's still freaked out about the whole Zsasz thing. Gordon bends his iron will and tells her that everything is going to be fine, although as a reader of '80s-era DC comics, I know this is pretty much a wash. The next morning, Gordon leaves his gun for Barbara (who's already shown a problematic penchant for drinking and waving shooty bangy things at people), meaning that by the end of this episode someone is getting a cap in they ass.

Nygma performs a way-out wacky autopsy on the nerd body found at the beginning of the episode, complete with a riddle! Remember that he's going to be The Riddler? In the middle of the autopsy, the real coroner shows up and kicks Nygma out of the room. Bad move, unnamed coroner. What do Jimmy Hoffa, Amelia Earhart, and you have in common? I think you get the picture.

Back at school, Master Bruce puts up with castoff characters from The Chocolate War who want nothing more than to tease him for having dead parents. Stupid orphans. After the watered-down Archie Costello makes a crack about Master Bruce's mother, he loses his WASPy shit and slaps the boy with the weird eyebrows, but is outnumbered and then beaten up like the sweet Gotham baby that he is.

Fish meets with her secret sexy lady, Liza, in a Catholic confessional. She's given a vial that contains magic TV sleep juice and told to retrieve a secret file from Falcone. What could be in that file? Probably his prescriptions.

Bordon arrives at the investment company and all of the Wolves of Wall Street look like they've been in a street fight. The big boss's office is adorned with Asian war paraphernalia, or "warrior bologna" as Bullock puts it. Gordon, the vanilla member of the duo, points out all the masks and then we get a psychology lesson about how masks hide our faces but show who we really are and yadda yadda yadda. After Gordon slips on some blood outside the restroom, he finds the thumbless perp who cold-cocks him and takes off.

Cobblepot takes Fish's number-one man and beats him up in an abandoned meat factory, before discovering that she has someone on the inside of Falcone's group and then grinds his bones to make his bread or something.

Bordon interrogates the thumbless man, who admits to fighting two other office dudes to the death. Nygma confirms the story and then a lawyer shows up to put a gag order on the man with no thumb (and now no voice, I suppose). Barbara calls Gordon to say hello and he gives her a total James Spader (as in he's a jerk and hangs up on her, not as in he crashes into her with a car and has sex with her).

In a complete non sequitur, Selena Kyle is arrested for stealing fur coats.

After school, Alfred takes Master Bruce by the rich jerk's brownstone and allows him unleash his WASPy rage on the boy. After almost beating the kid to death, Alfred takes him for pizza.

Gordon wakes up in the abandoned office building from the beginning of the episode to the sound of the warrior investment banker offering a job and a million-dollar signing bonus to any of the men that can slay THE GORDON. The investment bankers watch the fight on closed circuit TV and cheer like characters from aHunger Games parody.

Gordon takes out the weenie bankers and then has a pretty fast BOSS FIGHT where he single handedly takes out Warrior Boss and his samurai sword. His fellow cops show up just in time to see THE GORDON standing tall over Warrior Boss. Why does Gotham need a Batman when they have Jim Gordon? Can we give him a Gordon Signal and a Gordon-Mobile?

Liza retrieves whatever is in the back of Falcone's ledger and gives it to Fish after listening a lengthy backstory about how Fish's mom was murdered and how she'll never let another man have power over her again. The mom thing was a lie, by the way; her mother was busy hiding in plain sight as an old soul singer.

After his big BOSS FIGHT, Gordon makes an eight-episode summarization about how he has to protect the city before he calls Barbara, who leaves a note by the phone before disappearing into the night in a sexy black outfit (and hopefully with that damn gun).

At the end of the (I assume) initial eight-episode order of the show, we have semi full backstory for Gotham. Gordon is a bad ass who works too hard and inspires his partner, Harvey Bullock, to be a better detective. Master Bruce has gone from a Muppet Baby to a crazy munchkin who wants Alfred to teach him to fight like an animal-themed super hero, and Cobblepot has stolen our hearts. Who will the rest of the season introduce us to? Hopefully more characters from Batman, and maybe also Batman. What I'm saying is that I would rather watch one of the many Batman movies that isn't Batman and Robin.

NEXT TIME! Alfred teaches Master Bruce Gracie Jiu Jitsu take downs. Selena Kyle appears onscreen for seven frames, prompting migraines from some and Fight Club-themed conspiracy theories from others. Barbara finally bends to Chekov's will and uses that damn gun.
​