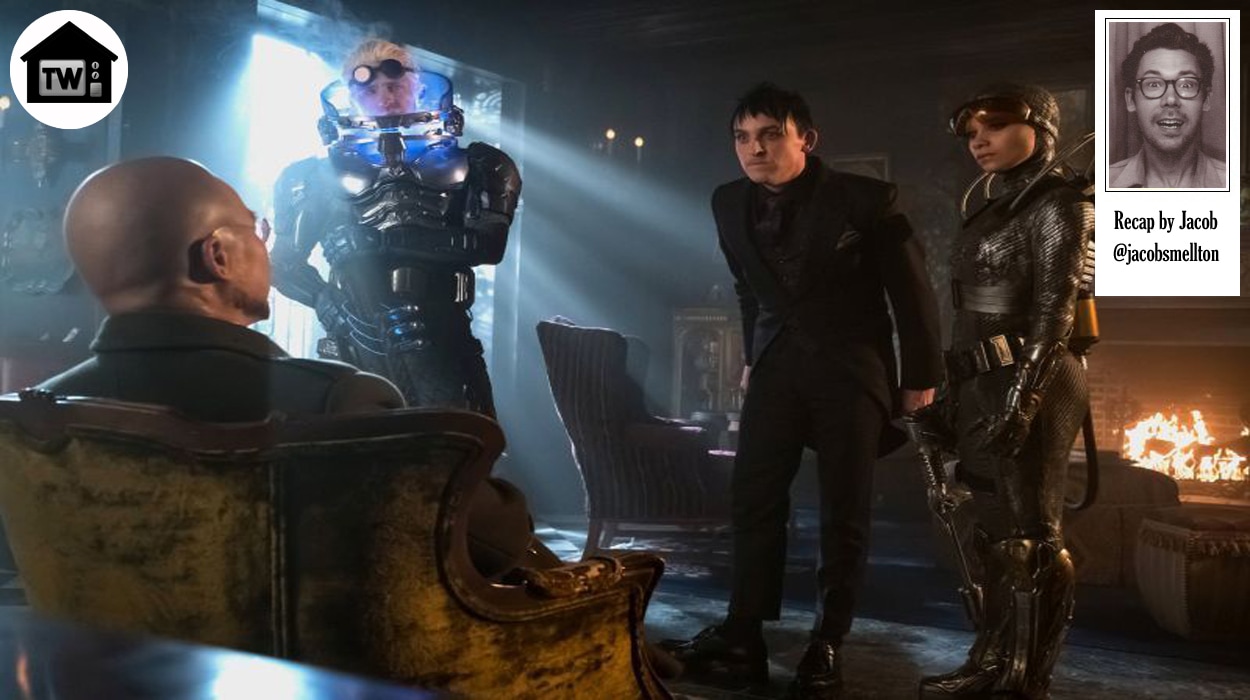 Here we are, born to see the finale of the third season of Gotham, we're the princes of the universe. Sorry, I've been watching a lot of Highlander lately. But it is the finale of Gotham. Penguin is hanging with Fish again, Bruce ignited a bomb to give everyone angry brain, and Jim injected himself with the Tetch virus. I guess we need an hour and a half to wrap this narrative nightmare up.

As the episode opens, Gotham is on fire. An old woman robs a bank, a train is on fire, and someone is beating a bicycle with a bat – that seems like the least cool thing, if I'm being honest. Also, there's graffiti everywhere because you can't have a bunch of people acting crazy in Gotham without random graffiti.
Gordon seems to be doing fine despite someone repeating the phrase "killer" in his head over and over again so he goes to get some exposition from Bullock, Alfred, and Lucius, which is always what you want to do after sucking down rage virus. The big news is that Strange might have an antidote, and that Jim actually has a special version of the virus which will make him even angrier. And you wouldn't like him when he's angry. Or depending on how you feel about this show, when he's a regular character.
Strange bumps into Fish at a train station, and she asks him to speak in a faux English accent. Just kidding, he does that on his own. Fish just wants more of the virus from Strange, and as soon as she whisks him away, Jim and Bullock arrive at the station to take a phone call from Lee. She taunts Jim while drinking his old detective booze and tells him to meet her at his old place before saying she's going to "have some fun." That doesn't make sense! Is she going to wait for him or have fun? Maybe she's going to play a bunch of Wii Tennis.
While the city burns, Barbara tries to convince Ed to help her consolidate power, which seems ridiculous because of the whole city on fire thing.
Bullock and Jim track down Fish, who reveals that she's working with Mr. Freeze. Strange is very excited about this whole "angry Jim" thing, and Jim pulls a pipe off the ceiling when Freeze tries to freeze him and they make an ice wall. Damn you, water!
Alfred tries to get through to Bruce with tea, and by offering him a trip to Switzerland, but this isn't an episode of
The Price is Right
, this is Baby Batman and Bruce has gone full bad boy. He teases a new character – seems like a bad idea in a show that's this overstuffed – and he forgoes the tea.
Strange wakes up to Mr. Freeze and Bridgit Fire Girl arguing over which parts of his body they'd like to respectively freeze or burn. But that's a dream compared to having to listen to Penguin monologue about how they can rule the city if they sell the antidote for millions of dollars or whatever. Who is buying an antidote for millions of dollars? One person? A group of people who pool their money? This is a terrible plan. When Strange won't tell Penguin where the antidote is, he's made to wear his machine from Season 2.
Back at the precinct, Alfred uses his butler word-fu to remind Bruce about love or something? Or maybe it's pain. Alfred keeps using those words interchangeably and it seems like he doesn't know what either of them mean. Mid-speech, Alfred leaves the interrogation room for no reason whatsoever and gets into a fight with Alvarez, who now has the virus. He and Lucius defeat the cop and discover that Bruce has escaped. Because of course he did.
Lee turns up at Barbara's club and starts trouble with Butch. When people find out that she has the virus, the room clears and she announces that she wants to see Barbara so they can have a fight to the death. Oh no, you guys, I don't think this show passes the Bechdel test.
Bruce, now alone on the streets of Gotham, witnesses some people get shot by the military or something, but it's okay because Alfred and Lucius are hiding behind a trash can and watching him like they're in an episode of Scooby-Doo.
Strange survived the whole helmet thing, and he's well enough to show Fish and the gang where he was keeping the antidote. But before they can carry out their coo-coo bananas plan of selling the antidote, a bunch of ninjas rappel from the ceiling and start kung-fu fighting. However, their sword kung-fu is no match for Freeze and Bridgit's power-specific guns, or Jim Gordon's anger-fu, which he uses liberally when he arrives at one of the many abandoned meat packing plants that make up Gotham and kills everyone, including Fish, who drops all of the antidote to the ground, where all of the vials except for one (duh) smash. Before she dies, Fish gives Penguin his Yoda talk. It's hard to care when she may or may not come back to life at some point next season. The GCPD shows up and arrests everyone, and Strange dispels any and all tension by saying that he can make more antidote, he just needs Tetch.
CUT TO: Tetch is kidnapped by Barbara and Nygma, who somehow know everything that the audience knows, despite having been looking for Tetch so they can enact a plan that's similar, yet slightly better, than Penguin's.
Bruce discovers an ancient temple in the back of a Chinese restaurant and finds himself walking through an ancient corridor flanked by ninjas. Alfred follows and somehow doesn't decide to fly back to England immediately upon realizing the kind of super racist cliché he's found himself in. The ninjas are kind to Bruce and direct him toward a hot tub in the back of the restaurant where he finds Ra's al Ghul. Ghul, who I guess has been standing there for weeks, gives a very long introductory monologue. I can only imagine that he's been practicing that for weeks while his ninjas stand around and practice their karate or whatever.
Ghul is disappointed in Bruce for sort of detonating the bomb, but not really detonating it, and he asks Bruce to prove himself by killing Alfred and sending him back to a life of appearing in BBC procedurals. Alfred finally gets to perform a monologue after three seasons about how he loves Bruce so much that if Bruce needs to kill Alfred he should. And then Bruce stabs Alfred in a way that suggests that he's very dead. Afterward, Bruce realizes that he probably shouldn't have killed his only friend, has a sort of showdown with Ghul – who legit magically disappears – before Bruce uses some hot tub water to cure Alfred of his major injury.
Lee calls Gordon at the station and tells him to leave with her on "the evening train," and he agrees. Fine. Season 4 should just be Lee and Gordon hoboing around the country and punching people through walls. After his phone call with Lee, Gordon has to figure out how to get Tetch from Nygma and Barbara. I say they just let Gotham burn to the ground and start over. Maybe move to Metropolis or Central City. While Gordon calls Nygma to offer Penguin for Tetch, Butch and Galavan's sister plan to kill both Nygma and Barbara. It's like a Shakespearian play but much dumber.
Speaking of dumb stuff, Gordon and Bullock meet Nygma at one of Gotham's many abandoned warehouses to swap Penguin for Tetch. Before the exchange can happen, Barbara and friends show up and a gun battle breaks out that I would say cost a bunch of money if it didn't involve a maximum of five people and so many abandoned buildings. Rather than hide with Tetch, who is admittedly super annoying, Jim decides to slit Tetch's throat and steal his blood in order to make the antidote.
Penguin and Nygma have a smarm-off in a cop car while Nygma breaks out of a set of handcuffs. After getting out of the car they get into a fight on the now-empty street. Did the production run out of money?
At the GCPD, Bullock celebrates about 27 minutes early when a random police scientist says that an antidote has been created. When the scientist offers to cure Jim, he has his arm broken for his trouble because there isn't a single shot antidote for Lee. He's not in his right mind so that's fine, but then he takes the antidote so he can cure Lee (still fine), and locks Bullock and the scientists in the room with the antidote by breaking the handle to the door. WHAT? That's not how locks work, Jim.
At the suddenly empty hospital, Selina (the best character on the show) tries to comfort Bruce, but she's pushed away by the boy billionaire.
Jim meets up with Lee and they make out, but they don't take the antidote. Instead they put on cool guy sunglasses and go to the train station to leave forever or something? I'm not sure what their plan is. Harvey pulls a gun on lovesick Jim, who reacts accordingly by throwing Harvey into a train. Harvey drops a version of Alfred's monologue about family before giving Jim his old badge with some antidote strapped to it. On the train, Gordon antidotes Lee before curing himself. They both pass out on the train and I assume they're promptly robbed.
Meanwhile in the E story, Barbara shoots Butch in the head before he can cut her with a straight razor. But there's no time to think about that because we have to jump over to the pier where Nygma killed Penguin the first time, because he's going to kill him again. They reenact the scene from whenever that happened, but it's a double twist! Or a triple twist? I don't know. Anyway, Nygma tries to kill Penguin, but there are no bullets in the gun because Penguin did a bunch of Bill and Ted work that ensured that he would live. Fine. Freeze and Ivy show up and turn Nygma into an ice statue. I don't know why Ivy had to be here for this, but hey, I'm glad she was paid for the day.
Speaking of best friend fights, Barbara and Lady Galavan destroy each other in an abandoned shack, but just when it seems like Barbara has the upper hand, LG uses her whip to shock Barbara to "death." Normally I would be upset about the best character in a show being killed, but she also suffered a similar fate at the end of Season 2, so I'm not worried about it.
Back at the hospital, Alfred wakes up after being infected with hot tub water and tells Bruce to find something he loves and turn into Batman. While one mentor lies in a hospital bed, another friendship is formed when Lady Galavan takes Selina under her wing and allows her use that famous Cat Woman whip for the first time. They're now the very best of crime friends. I guess this show does pass the Bechdel test. The episode ends with about six different endings ala Return of the King: One is a voiceover from Lee telling Jim that she had to get the fuck out of Gotham because that place is a nightmare. Oh and Butch might be Solomon Grundy. Oh, and the Penguin is opening the Iceberg Lounge. Oh and Jim is a day drinker now. Oh and Bruce saves a family in an alley and he's sort of Batman now. If I didn't already know there was going to be a fourth season, I would say that this is a perfect place for the series to end.
We did it! The season has come to an end and Gotham is saved. What the fuck even happened this season? What was the narrative arc? Jim is a detective again (although that happened at the midpoint of the season so whatever), Baby Bruce is now Bat Bruce (or Battish Bruce) and all of the characters are living as their best selves.
Gotham
has come a long way from being the boring cop procedural that limped its way through the first season, it's incredibly weird, and full of characters who are at a constant 10, but it still suffers from the problems of the DC film universe. It's a complete mess, with characters dropping in and out of storylines to simply remind the audience of their existence, and editing that turns your brain to mush. That's never going to change, so hopefully you like that kind of thing.
Stray Observations:
Gotham may have killed Barbara (for now) but at least she got off one more A+ line: "I asked you to do one thing – watch a man tied to a chair!"
"Haven't you ever seen a mason jar full of blood?" If there's one thing Gotham does well, it's create throwaway gags, and this might be the best of them.
Next Time! Everyone kisses.