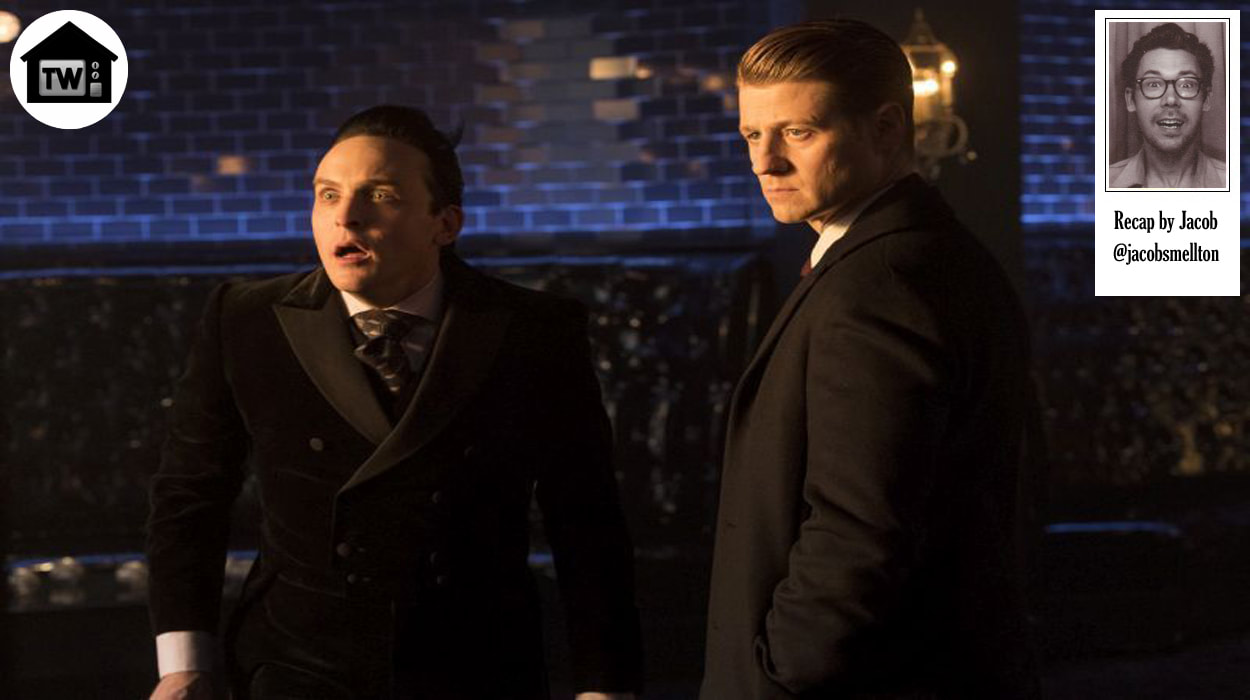 Woof, sorry about the super-late Gotham recap. I know you were on the edge of your seats, dying to know what pithy thoughts I had about Nygma's next mirror conversation. I'm sorry, #life got in the way. The final episode of the first half of Season 4 literally ties up every loose end while introducing a couple of new plot points that are probably going to be burned through in the first episode of 2018. Let's get on with it.

The episode starts with the baddest girl gang in Gotham fucking up a bunch of guys in the Iceberg Lounge on a search for Penguin. But they're not the only people on the hunt. Gordon and the GCPD are looking for the Pyg. They find a doctor bleeding out in an emptied out pool. He points to a goodbye message from Pyg. He says that it "was a gas." If my comic book knowledge tells me anything, it's that there's going to be some kind of laughing gas used on the city at the end of the episode. Or he's going to feed everyone steamed broccoli.

The baddest girl gang tortures some of Penguin's guys but no one knows where he is. Then Sofia Falcone gets a mysterious call. Back at the GCPD, Gordon is trying to keep all of the storylines from converging but he's already too late. Daddy Falcone is back in Gotham and he's upset. He doesn't care for the way that Sofia fucked up her whole plan and he really doesn't care about saving the city. And then he slaps his daughter to the ground, which is just awful. But it's not as awful as the reveal that Daddy Falcone has been WORKING WITH PENGUIN for at least the last episode. Or maybe there was some kind of in-between-episode email to Cuba or wherever Daddy Falcone was staying.

Bringing Carmine back into fold of Gotham feels like a bit of a cop-out at this point in the story. It's as if the writers don't want to get too far away from the established canon when it comes to the characters in Batman Prime – which is obviously the Batman animated series. Anyway, Carmine and Gordon have a terse standoff. Sofia is once again sent back to Cuba, this time by car and not by train. I'm beginning to believe that Falcone was never on a tiny island in the Atlantic.

Before Sofia can leave, a black van pulls up and machine-guns everybody. Sofia's hit in the gut and Carmine is actually murdered on camera. So I guess he's really dead. I believe this is a literary conceit known as deus ex-machine gun.

In some kind of high-rise teenage opium den, a third (or possible fourth) storyline emerges. Alfred has come to take Bruce back to his humble abode/giant mansion. But that's about as much time as we spend with the young ward.

Everyone in Gotham is pretty sure that Penguin had Falcone killed, but no one can prove it! At the funeral, Zsasz shows an unusual amount of remorse for the slain don before removing a bullet from his gun, placing it in the casket and walking out of the church. Bullock arrives at the funeral and wants to know why Gordon hasn't arrested Penguin. Instead of offering any sage advice, Bullock suggests that he let Gotham go to war with itself. Thanks Harvey, now get back to the bar. Jim seems to take these words to heart because his heart has shit for brains.

As Gotham prepares to go to war for the 50th time, Penguin storms into the GCPD to face off with Jim – he wants Sofia, but Jim wants her too! The police just decide to kick Penguin and his goons out of the station, which seems like the correct idea. Why didn't they do that before? After a brief speech from Gordon, the GCPD goes to war with Gotham's underground. It's like that murder montage from Tombstone but with fewer cowboys. After Sofia tells Gordon about Penguin killing that little mute kid that he didn't actually kill, Gordon goes to arrest Cobblepot. Rather than help his boss, Zsasz insists that Penguin killed the kid and offers to testify to that fact in court. He then pledges his allegiance to Sofia while Barbara, Selena, and the Galavan whom I always forget watch. It's a really weird scene.

In a post-Penguin Gotham, things begin to go back to normal. Barbara has her club back and Alfred is preaching to Bruce about pain and beating him up in order to convince him to go on an overseas trip, and Nygma is screaming at himself in a mirror. It's like we're in Season 2 of Gotham all over again. Apparently he's in love with Lee but he's not going to let that get in his way of screaming at himself and muttering like a crazy person. After watching Nygma face off with himself, Grundy is drawn to a recording of his name and falls prey to the oldest trick in the book – sleeping gas. Thank god someone was gassed in this episode or I would have felt like a real asshole.

Tabitha (?) Galavan kidnaps Grundy and ties him up in a warehouse. She tries to jog his memory about their old life together. When Grundy doesn't remember Tabitha (?) she decides to beat his head in with a steel pipe. Makes sense.

Gordon goes to Sofia to beg her to stop uniting the gangs and she not only says that she's going to form the gangs into one big Falcone gang, but that she's been working with Pyg for the entire first half of the season. She brought him to Gotham and let him kill a bunch of cops while she put all the gang stuff in place. Then she let him kill Carmine. After she explains the whole plan, she kills Pyg and further explains her Bond villain plan. Apparently it all stems back to Gordon killing Mario Falcone. WOOF this is complicated. I feel like a lot of the machinations of Gotham (the show, not the city) come from a desire to pull in some of the same fans as Game of Thrones and shows with a dense mythology. Admittedly this kind of reveal is as comic booky as you can get, but it's exhausting. Gordon calls the GCPD, and instead of turning in Sofia, he claims that he shot and killed Pyg.

In the final moments of the show, Bruce fires Alfred. Bullock retires from the force. Butch remembers who he is. And in Blackgate Prison, the Penguin runs into Jerome, who's gone full Joker.

So that's it for the first half of Season 4. Hopefully the next half is just a buddy comedy with The Penguin and Joker trying to run the city the best they can. Maybe Alfred can get a job working for them.

​