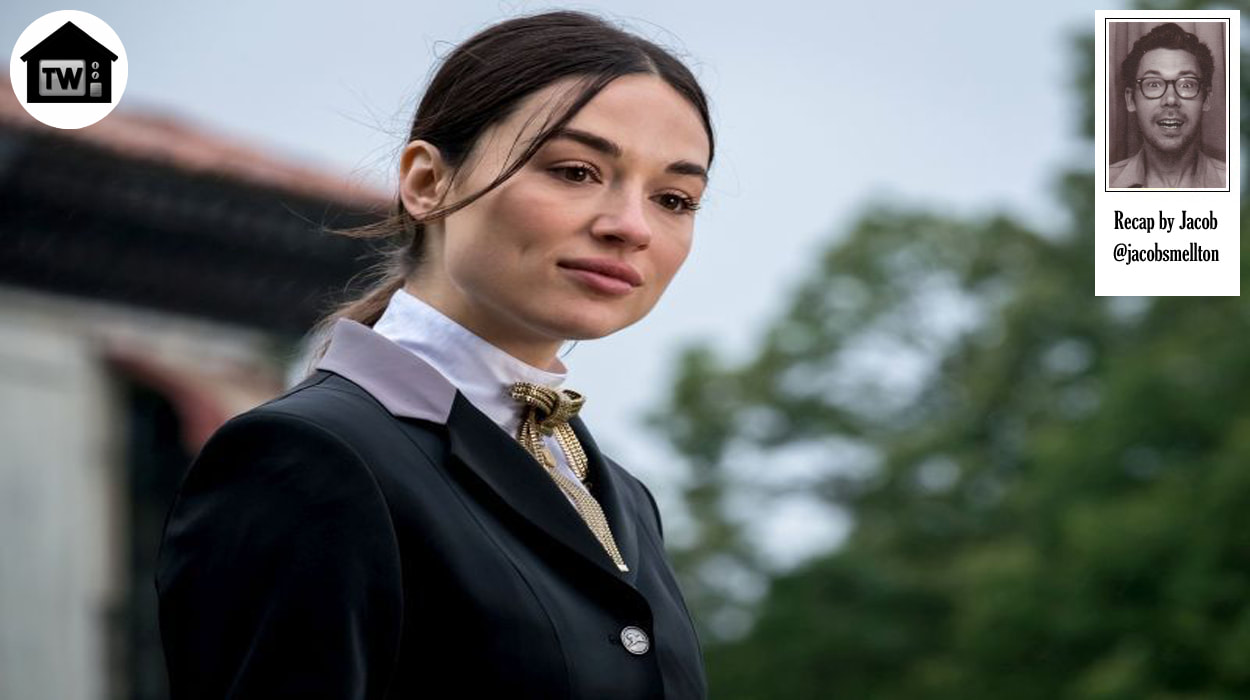 When we last left Bruce and his Gotham buddies, the Penguin was sprayed in the face with fear juice, Selena had joined up with a gang, Barbara had transformed into a small business owner, and Bruce was well on his way to Yung Batman status. Oh, and Gordon was going to try and start a gang war.

We begin in a flashback. The guy who sell gizmos and Hellraiser cubes finds Ron Al Gool dead on a battleground and throws him in the Lazarus Pit for some reason, then he spends some time playing with a fancy gold knife . After waking up from his dip in the pit, Gool seems to have a renewed purpose in life, and that purpose is to get a towel.
In the present (or possibly a more detailed flashback) Bruce and Alfred are staking out a ship that's carrying a shipment of maguffin. Before Bruce can stop the shipment of MDE 23, he sees Selena sneaking onto the ship so you know he's got to go stand awkwardly near her. Bruce is caught by some thugs with machine guns but manages to karate his way out of the situation.
Meanwhile in Cuba, Gordon has come to find Falcone, but instead he finds a sexy lady in stirrup pants, and also Falcone. Sexy Stirrup Pants is actually Sophia Falcone and everyone is on edge because of that whole "Jim tends to kill all of Falcone's kids" thing. Jim asks Falcone to come back to Gotham, but Falcone doesn't want to start a gang war because he's dying, but Sophia is keen to add a new character to the show and muddy up the plot a bit more, so the camera lingers on her face and we cut straight to a debriefing with Bruce and Alfred. Bruce is sorry that he rushed into a dumb situation, but also he's not going to stop rushing into dumb situations.
Just like in the last episode, Penguin is having a big party at his club. It's going to be some kind of auction for nefarious items, and as long as everything goes to plan and doesn't turn into a complete clusterfuck like in the last episode, his evil auction should be a huge success. After he leaves the main room of his club, a mystery fan rushes into the room with a blow torch and starts to thaw out Edward Nygma. After the commercial break, Penguin discovers the missing Nygma and freaks the eff out.
So where did Nygma get off to? Obviously he was taken to the home of Myrtle Jenkins, his number-one fan who's been following his rise to evil prominence. She's thawing him out and providing plenty of exposition. Thanks Myrtle!
Back to the shipping yards and now Bruce is in character as "Gotham newsie." He throws on a poifect tough guy voice and convinces the dock workers to let him walk around the ship. He finds the ship's manifest and sees a name that gives him pause, but there's no time to explain what that name means because he's been caught by the boat toughs! Alfred pops up – in character as a street tough – and saves Bruce. I really enjoy this relationship.
What was Selena trying to steal from that boat for Barbara? Why, it was that fancy knife from the flashback at the beginning of the episode. It would seem that she's in the employ of Rozz All Glue, and he wants that dang knife.
Nygma wakes up to the sting of tens of needles jammed into his body to stimulate his muscles and Myrtle showing off her "Riddlette" costume. She asks how he would have planned his escape so they can compare their evil planning skills and Nygma discovers that he can no longer think of evil stuff! It would seem that after five months of being frozen his noggin is no longer what it used to be. Oh well, I guess that's it for The Riddler. It was nice while it lasted. In order to get Nygma's brain back to what it was, Myrtle has worked out some simple riddles to help him get his groove back and boy is he bad at guessing stuff. It would seem that The Riddler is no longer The Riddler, he's now only the laying in bed-er.
Before leaving for Peguin's evil auction, Alfred puts the finishing touch on Bruce's Batman training. He tells his young ward to start acting like a real asshole in order to not draw suspicion when he ends up buying Rage Owl Guuuls knife, and that's exactly what Bruce does. So, the boy billionaire buys up all the art in the place, and gets into a
Price Is Right
-style bidding war with Barbara over the knife, and it's easily the most entertaining thing on this show since the Joker cut his own face off.
Bruce wins the knife for $2 million and holy shit, how much money does Bruce have? Penguin warns Bruce that Barbara is probably going to come for the knife. That knowledge, along with the thought that Rodge Ailse Gahool is probably going to pop up to get his gold "embalming knife" definitely sets up the whole dual Batman villain thing that the movies love so much. It also raises the question of what does the knife do? When Alfred was resurrected last season there was no knife in sight. Is the knife just the prop all the bad guys want? Or does it serve another purpose? Speaking of Le Knife, Selena pops into Bruce's house to steal the knife and provides some helpful exposition about Barbara's business plan. She asks Bruce to hand over the knife as "a solid," but Bruce tosses her out before grimacing over the knife like a real Bat Man.
Back at the Gotham Police Department, Gordon is introduced to a Detective Harper before quickly leaving that part of the scene to talk to Sophia, who has changed from the beach-walking bae that Gordon made out with in the water and now she's here to turn the town upside down. Jim is not happy that he was tricked by yet another babe. DAMN THESE SEXY WOMEN!
Nygma's arms are moving again. How do I know? Because he takes a children's riddle book and smashes Myrtle in the head with it after he fails to guess yet another riddle. After Myrtle wakes from her book-induced stupor, she goes to Penguin and fesses up to her "crime." She explains that Ed is dummy now, and even then Zsasz shoots her in the face. It is a very weird scene and I'm sad to see Myrtle go.
Barbara's just trying to have a glass of Scotch when she gets into a karate match with Rawls Owl Ghoul. He wants the knife, but when he finds out that Bruce has it, he's pretty cool with the whole thing. He gives some exposition about bringing her back to life and teaching her karate before they presumably fuck in a room full of guns.
Stray Observations:
The shot of Ed's needles going into a jar of alcohol was surprisingly artsy-fartsy for this show.
Nygma incorrectly guessing riddles was surprisingly entertaining, specifically his guess of "a deformed baby" to the question: "I have a face and two hands but no arms, what am I?"
Gordon's time in Cuba sure felt like a place holder for about 7 minutes that could have been dedicated to literally anything else in this episode. Why not 7 more minutes of Bruce and Alfred doing character work? Or 7 minutes of Selena robbing people? Even 7 more minutes of weird Stepford Barbara.
Penguin and Zsaz > Penguin and Butch.
"I love art!" – Billionaire Bruce Wayne
What are we meant to take from a character like Myrtle? That any woman in Gotham who doesn't act like Barbara and Selena (i.e., like men) or Ivy (a 12-year-old in the body of a barely legal femme fatale) is simply meant to die? Before Zsasz pulls the trigger on her, it seems like even she's decided that she deserves death. It's a strange scene that was probably written for laughs, but it's hard to view in the context of a goof off scene when the punchline is a guy shooting a woman in the face.
I know that I've come down pretty hard on Gotham in the past, but now that the show is 90% Yung Batman and 10% Gordon does paperwork, I have to admit that it's a lot of fun. It feels like the writers have finally started writing the show that they wanted to write, instead of a grim police procedural about the least interesting people in Gotham.
NEXT TIME! Bruce's billionaire boy ruse catches up with him when he's caught fixing the Gotham cherry pie eating contest! Victor Zsasz takes a day off but can't seem to stay out of trouble. And Mamma Mia! Alfred starts his own pizza restaurant!