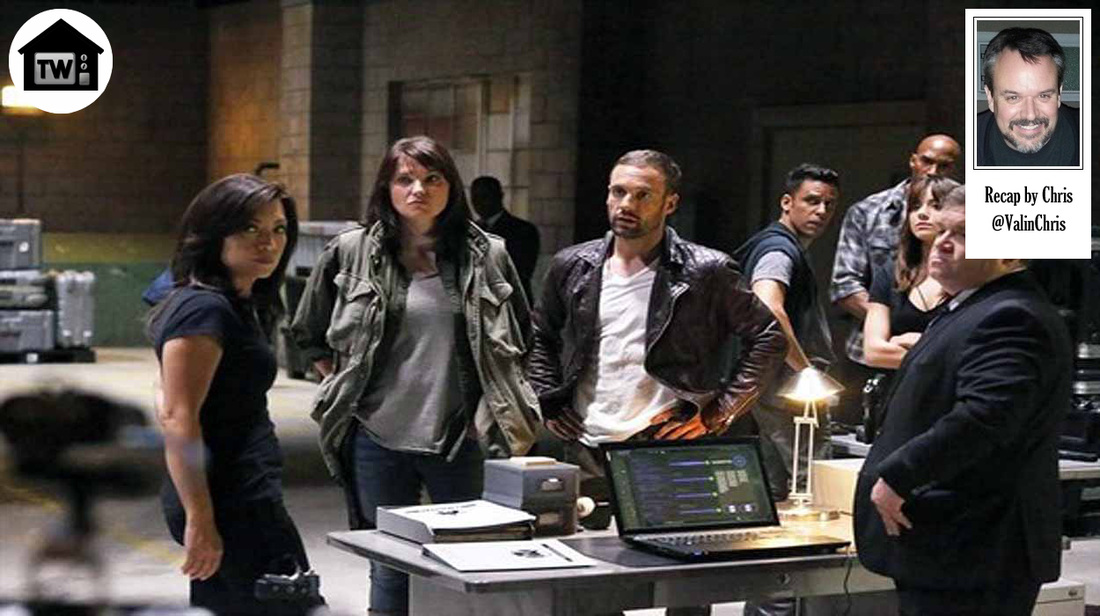 "I swore an oath ... we all did ... to protect the world against a much weirder world." And that world includes a guy who can turn into anything. At least he's a major Marvel villain!
Okay, for the LAST TIME: Not only do these reviews contain spoilers for Agents of SHIELD, there may also be spoilers forCaptain America: The Winter Soldier. But, at this point, I have to say if you're watching this show and haven't seen that film, what the hell is wrong with you?

Previouslies: Along with some badass Coulson quotes, we see what happened last season on Disney's Marvel's Agents of Strategic Homeland Intervention, Enforcement and Logistics Division, Based on Comics Created by Stan Lee and Jack Kirby, or as I like to call it, DMAoSHIELDBoCCbSLaJK. This ends with HYDRA taking over SHIELD at the end of the season, and Coulson and company ending up at a new base after Nick Fury made Coulson the new director.

Austria, 1945: Agent Peggy Carter (soon to have a show of her own), Jim Morita, and Dum-Dum Dugan (fun fact: played by the same actor who played Lt. Hawk in Star Trek: First Contact) take down the last known HYDRA facility, led by that one guy who always plays an asshole cop, and capture some cool stuff, including The Obelisk. It gets crated, numbered ("084" – get it? The ORIGINAL 084!) and shipped off to a safe place where "it will never see the light of day" (yeah, right, until we need a MacGuffin for this episode. Am I right?). We cut to ...

Arlington, VA: Where, in the present day, our favorite Disney employees are spying on a deal going down between an ex-SHIELD agent and Xena: Warrior Princess. What is it she and her men are buying? Intel on where to get the Level-10 item in the box (in other words, The Obelisk). Or, as one buyer puts it, "A picture of a box you don't have." She comments on the traitor bringing more than two guards, which surprises him because he really did only bring two guards. The "third party" doesn't belong there, and tries to grab the intel but the team busts in and they shoot him ... only it turns out he's bulletproof. As he gets away, we find out Xena – sorry, Izzy – and company are working for the good guys, and we head on over to ...

The Playground: They're welcomed to their sparkly new base by Patton Oswalt (Agent Koenig, but wouldn't it have been SO awesome if they just had Patton playing himself as a SHIELD agent?), and we find out the new additions with Izzy are named Hunter, Idaho, and Mac. They're mercenaries working with SHIELD, and Coulson trusts them for some reason. Talbot, now a brigadier general, is on TV talking about how SHIELD and HYDRA are done, but he has a duty to hunt down the fugitive remnants of what he considers a single organization. George Stephanopoulos himself (really, ABC? A crossover with your news shows?) mentions that Talbot has the artifacts and SHIELD personnel locked up in a "secure facility." Coulson calls in May alone, and then other agents, and he really seems to have everything together now after becoming kind of a wreck last season.

Unfortunately, the same can't be said of Fitz. At first it seems like he's just having some problems remembering words, and he's getting a lot of help from Simmons. Then it turns out, Simmons left a long time ago, and the one he's talking to is a figment of his imagination. He's not just injured as a result of, y'know, DYING last season and being brought back, he's apparently completely lost it.

They figure out that the bulletproof baddie is none other than Crusher Creel, known in the comics as the Absorbing Man, who can absorb any material and make his skin into that same material. Oh, and apparently he gets off on the process. They also find out from Ward, who's now locked in the basement Hannibal Lecter style, that HYDRA messages are piggybacked on SHIELD frequencies. He also swears to Skye (the only person he'll speak to) that he'll only tell her the truth from now on. They better not turn him into a rehabilitated good guy this season. His villainy was his only redeeming quality.

Washington, DC: It looks like the plan is to capture Talbot's wife and son, then force him to tell where the secure facility is. So Coulson has Triplett slip him a phone and warns him, but General Stick-Up-His-Ass won't listen and gets attacked by Creel. The soldiers that show up capture Creel with the help of the SHIELD team, but May captures Talbot himself as the army takes Creel into custody.

The Playground: Coulson interrogates Talbot and tries to get him on their side, but he won't budge, even when Coulson explains that Creel wanted to get captured so he could get near The Obelisk. They do manage to get his prints, however, and then zap him out cold. When Talbot wakes up in a car without his uniform, he immediately calls for help and gives his access code, but Koenig intercepts the call. They trace the number he tried to call to a ...

Secret Military Base: Using Triplett in Talbot's uniform, Skye hacking into the system, and Talbot's code, the team and the mercenaries get into the base, where Creel has just tricked the soldiers and escaped. Izzy gets a hold of The Obelisk, but Creel attacks her and she picks it up, which messes up her arm really badly. They run off Creel, and Coulson makes the ruthless decision to keep the mission going despite this, but Hunter helps Izzy to the escape vehicle driven by Idaho while the usual team heads off for the second objective: to steal a quinjet (which has cloaking abilities, which Fitz is supposed to be working on but can't seem to get right). Creel shows up again and takes out the vehicle just after Izzy talks Hunter into cutting her freakin' arm off (!), and she ends up dying in the accident anyway. He gets a hold of The Obelisk and takes it to ...

HYDRA (Epilogue): Some henchman tells our new big bad that they have The Obelisk in their possession, and he knows how long he's been searching for it. The big bad, revealed to be Dr. Whitehall (the HYDRA/Nazi from the flashback, looking exactly as he did in WWII) responds, "You have no idea. Hahahahahaha." Okay, he didn't really do the evil laugh, but it felt like he should have.

Finally, I have a very important question that needs to be answered. How come characters like Triplett, Talbot, and Hunter are being allowed to keep their facial hair now that they work for the House of Mouse?
​