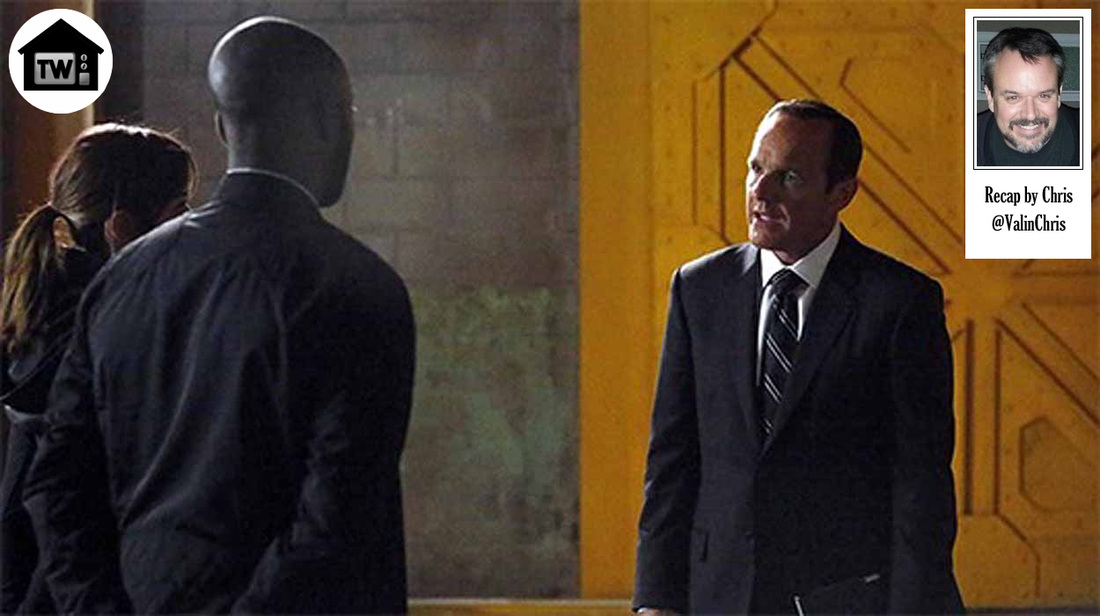 We're not done with the Absorbing Man yet! While he tries to get the Obelisk to HYDRA (should it really be that difficult?), he's pursued by Talbot's military men and what should now be called "Marvel's Remnants of SHIELD."
Previouslies: Yeah, whatever, we all saw last week, now let's get on with it so we can see what's going on in ...

Washington, DC: Where Lance Hunter, mercenary extraordinaire, tries to extract himself from the wrecked car to no avail. So he's hanging out with his two recently deceased mercenary friends, Izzy and Idaho, until May shows up to save him. But he doesn't want to be saved! He wants her to go after Creel before he gets too far. Luckily, May has a spare mini-blowtorch hidden in her ... uh ... I don't know, it's a pretty tight costume there. She hands it to him so he can cut himself out just in time to be captured by Brigadier Butthole Talbot's men. May takes off on her motorbike (do they still call them motorbikes?) without a helmet, because her middle name is probably "Danger." Or maybe "Futuremassiveheadtrauma." She has a clear shot at Creel in his stolen pickup, but over her radio, Coulson says to stand down because he wants to find out for whom he's working (uummmmm ... just a guess here, but HYDRA? Maybe?). I wonder what's going on with Hunter now? Oh, look, he's being dumped off in ...

A Field Somewhere: Where Talbot picks him up in a copter (do they still call them copters?) and makes him an offer he can't refuse: turn in Coulson or end up dead. Hunter, being a mercenary, tells him to throw in a hero's funeral for Izzy and two million bucks and he has a deal. While this is going on, May follows Creel to ...

A Diner: Where Creel's arm is starting to turn into the Obelisk, or something like it, even infecting the waitress who touches it. Her entire body turns to stone (ash? I don't know ... ) like Izzy's arm did last week, and she dies, freaking out everyone, and Creel takes off before May can catch him. Before we go too far, let's check in back at ...

The Playground: Trip and Skye show up with the stolen quinjet, which allows Mac to start figuring out the cloaking device and get the one on the Bus working. He tries to get help from Fitz, who's still hallucinating Simmons, but even Fitz starts to get suspicious of himself when Mac starts asking him how he's been doing since Simmons (whom he acts like he's never met, because he hasn't) left. Fitz also decides that he's going to start working on a way to destabilize Creel's powers, so he steals the DNA results from the other, saner, scientists. Coulson is worried about Hunter talking to Talbot, but tells Skye she can't go out to help May, and instead should pack up Izzy's stuff because she's, y'know, dead now. Hunter shows up and Trip brings him in to talk to Coulson, who knows he made a deal with Talbot. According to Hunter, he has forty-eight hours to deliver Coulson, "or else." But Hunter still wants to get Creel, who is back at his ...

Van in an Alley: Where he's turning his arm into different substances, trying to fix the Obelisk infection, with no success. He gets a call from the HYDRA dude working for Dr. Nazi, telling him to make the drop. Outside the van, Raina (formerly known as Flower Dress Lady) tells Creel she really, really wants the Obelisk, and she's willing to give him a substance three times as hard as diamond in trade. Creel, being the untrustworthy criminal that he is, just takes it from her (but, of course, she knew he would). So now Raina calls up Coulson back at ...

The Playground: Where she says she has a tracking device in the thing she gave Creel, and she'll let him have the signal because she doesn't want the Obelisk to fall into HYDRA's hands, since all they want to do is take over the world (yawn). Coulson can't wait to take out Creel and get the Obelisk. Hunter wants to go, and says he'll be good, "Scout's honor" (guess who was never a Boy Scout?). Fitz says he can create the tech to stop Creel. And Skye says Creel is "jacked," plus he can turn any part of his body into any material. Yes, she went there. They all head over to the ...

Drop Location: Where Creel sits on a bench and talks to Mr. HYDRA Henchman while the SHIELD team prepares to take him down. Except Hunter was full of shit, and he zaps everyone with a freeze gun and tries to take out Absorbing Man himself, which we all know is a mistake of epic proportions. Before Creel can pulverize Hunter, Coulson himself shows up with Fitz's new thingamajig and attaches it to Creel's back, which causes him to switch among several different substances before turning to stone and becoming incapacitated. Coulson tells Hunter he knew he'd betray them that way, and also he wants Hunter to deliver him to Talbot. Okay then. But first a short scene at ...

The Playground: Where Skye tells May there's something wrong with Coulson, and May denies it, and then goes to Coulson and confirms that there's something wrong with him ... big time. It's time for him to have another "episode" where he goes all "Beautiful Mind" like Bill Paxton's character did and carves weird symbols into the wall. Now he's ready to meet Talbot, but not until we quickly stop off at ...

Some Apartment Somewhere: Raina checks out the Obelisk before talking to Skye's father, who turns out to be Agent Dale Cooper from Twin Peaks! He tells her to go ahead and touch it (I'm talking about the Obelisk!), and it comes to life, symbols flying everywhere, and doesn't kill her. Now it's time to wrap up the story at ...

A Field Somewhere: Coulson stands alone next to a van while several black SUVs show up and Talbot pops out to arrest him. Coulson tells Talbot that Creel is in the van in cryo, but the juice is going to run out in less than an hour. He can take him as long as he keeps him locked up this time, and gives SHIELD some freedom. When Talbot refuses the deal and says Coulson doesn't have any backup, The Bus and the new quinjet decloak in a very Star-Trekky manner, guns aimed at Talbot. Coulson tells him this is just the tip of the iceberg and disappears.

Now we're done with Absorbing Man! At least, until Talbot screws up again and we're not.
​