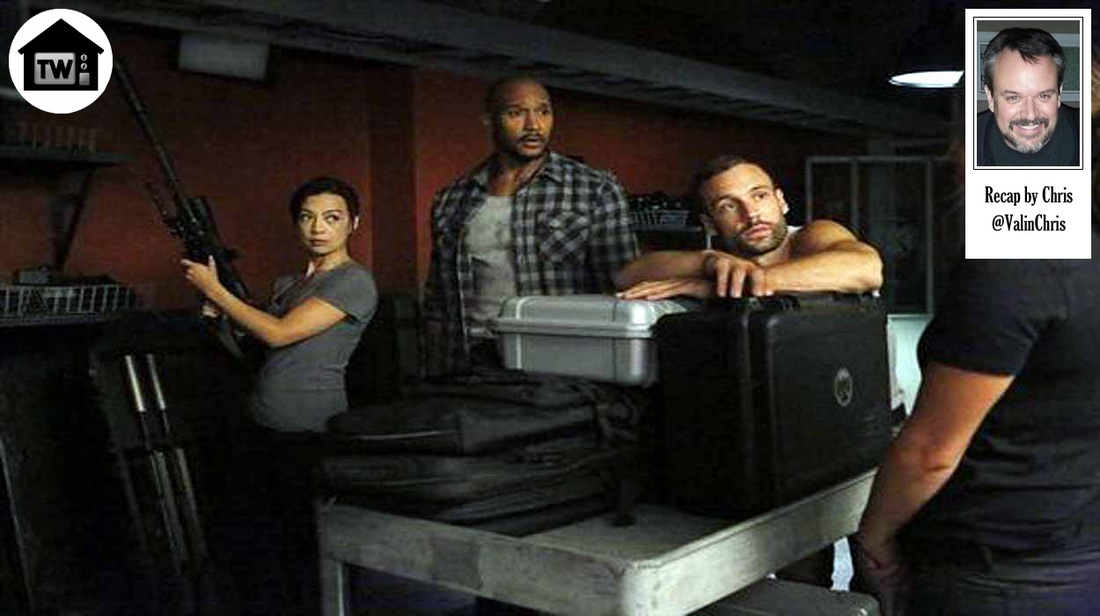 Can you say, "Let's find out what's been going on with Simmons?" Because the writers have obviously been saving up, and this is the episode where they blow their wad.
Previouslies: A lot of Simmons-heavy scenes from last season, which can only mean one thing. Well, not really. It could actually mean a number of things. But my guess is ... Simmons episode?

HYDRA HQ: Dr. Nazi brags about buying a case of cheap wine in WWII for ten bucks that's worth a fortune now, while brainwashing Agent 33 of SHIELD. She says she'll never go over to HYDRA, but who does she think she's kidding? An apparently immortal Nazi supervillain has her eyes pried open Clockwork Orange style ... there's no way she's not gonna break. So let's go ahead and begin checking in on ...

Simmons' Apartment: Where she seems to be having a very nice life, or at least an extremely pleasant morning routine. She cheerily strolls to her new workplace, which happens to be ...

A HYDRA Laboratory! Which we discover thanks to the giant skull-and-tentacles logo plastered on the wall. Not everything's rosy, though, because we immediately find out her boss is a real tool. Switch to ...

The Playground: Where Skye's training with May is interrupted by an arguing Mack and Hunter, who have a bet on whether Skye went to the SHIELD Academy. But what Hunter really wants to know is if Skye has ever taken out a target. Coulson shows up after trying to recruit Agent 33 himself and failing (see two paragraphs ago), and tells her HYDRA's gone from stealing property to stealing talent. Speaking of which, we're already back at the ...

HYDRA Lab: Because Simmons has only appeared in Fitz's imagination so far this season, and we want to know what's up with her, right? Did I already say this might be a Simmons episode? Aforementioned boss wants some test results even though they aren't ready, and then she looks at the file folder he's holding and spots a photo of Donnie Gill from last season, whom we're told is a "new acquisition," but apparently he doesn't know about it, because the next scene is ...

Donnie's Hiding Place: Where his waiter (host? I'm not sure) asks him a question that gets his ass frozen ('cause Donnie is the Disney's Marvel Cinematic Universe version of Blizzard, 'member?). Two agents in black suits (HYDRA, I assume) "just want to talk," but Donnie isn't interested and freezes the first guy, scaring off the second. Back at ...

Simmons' Apartment (I did mention ... oh, never mind.): She hears someone in her kitchen and pulls a gun. It turns out to be Coulson asking, "Did you really think I wouldn't find out?" Oh, no! Did he – oh, phew, it turns out she's a mole working for Coulson, and he's there to debrief her over the dinner he's going to cook for her. Turns out the thing he was disappointed in finding out was that she hasn't been eating well. Simmons fills Coulson in on Donnie Gill, and the powers she thinks he has after last season's show where he got struck by lightning while holding the device that caused storms. Coulson tells Simmons she needs to make friends so she can move up in the organization. Then he fills everyone in back at ...

The Playground: Where Fitz is a still an almost-worthless mess, and they're worried that Donnie Gill is going to be HYDRA's new weapon. Skye interviews Ward in his basement prison, and he tells her HYDRA will see a "gifted" like Gill as a threat and take him out if he refuses to join. He also says that's why HYDRA is going to win: they don't worry about things such as "right" and "wrong" like SHIELD agents do. And, speaking of HYDRA, guess who we're going to see next, back at the ...

HYDRA Lab: Simmons tries to make friends with Mr. Tool, but instead she's told to go with the security guys up to Dr. Nazi's henchman's office, where he says she's been lying. After a commercial break, we find out she's in trouble for not revealing that she knew the subject whose samples she's been testing for "Project: Blizzard." She tells him she just found out the day before, but he still questions her loyalty, to which she responds that her loyalty is to science! Yeah, he didn't seem like he bought it, either. Meanwhile, Dr. Nazi is still working on Agent 33, and henchman asks permission to bring Simmons to help capture Donnie Gill, who has frozen a cargo ship in the Middle East to get HYDRA's attention. Some of which we also hear back at ...

The Playground: Where Fitz is getting paranoid despite Mac trying to calm him down. He decides to go down to the basement to find out who the "asset" is down there (which they've been keeping from him, since Ward is the one who tried to kill him, resulting in his condition). When Fitz gets down there and sees who it is, he freaks out, even though Ward is pretty nice to him (WAY nicer than the last time they saw each other and he tried to murder him). Ward claims he was trying to save him and Simmons by not putting a bullet in their heads and giving them a chance to find a way out. Fitz lowers the oxygen level in Ward's cell so he can feel what it's like to go through what he did. But when Fitz slips and lets Ward know Skye and the others went after Donnie Gill, Ward says they don't know what they're walking into. Speaking of Skye, May, and company, they've been beaten by HYDRA to ...

The Ship: Henchman sends Simmons in to get Donnie to trust her, and has her repeat some phrases that are going to activate the brainwashing they implemented earlier. Fitz lets the team know that over the radio, and Coulson orders Hunter to take out the HYDRA agent who's doing it ... which happens to be Simmons! May realizes this and shoots Hunter. This makes Donnie realize what's happening, and he chases her through the ship. Henchman stops Gill and closes the hypnotism deal, then tells Blizzard Boy to stop the SHIELD agents who are after them. Donnie traps the team and is about to freeze the whole ship, when BLAM! Skye takes him out, sniper-style. Skye is still upset back on ...

The Bus: But mostly about Simmons being in danger. Coulson tells Fitz that he saw the tape of him and Ward, and that he's sorry he had to keep it from him. He also lets him know that Simmons is on an assignment, and Fitz doesn't say anything about thinking she's been there all along. Once more to ...

The HYDRA Lab: Dr. Nazi has a new secretary – a thoroughly brainwashed Agent 33 (toldja!) – and Henchman asks if he can bring Simmons upstairs to work with them. When asked if he trusts her, he says he does now, but if he's wrong, they can always brainwash her. Mmmmwahahahahha. And finally, back at ...

The Playground: Skye visits Ward again and asks about the brainwashing. He says they usually only use it for high-value targets, and he wishes he could say that's what they did to him, but it isn't. He also finally tells her about her father being alive, and says he'll take her to him one day.

I can't believe they didn't end with the shot of Simmons from the previous scene! Can you? Wait … I just realized. No Patton Oswalt! What a rip-off!
​