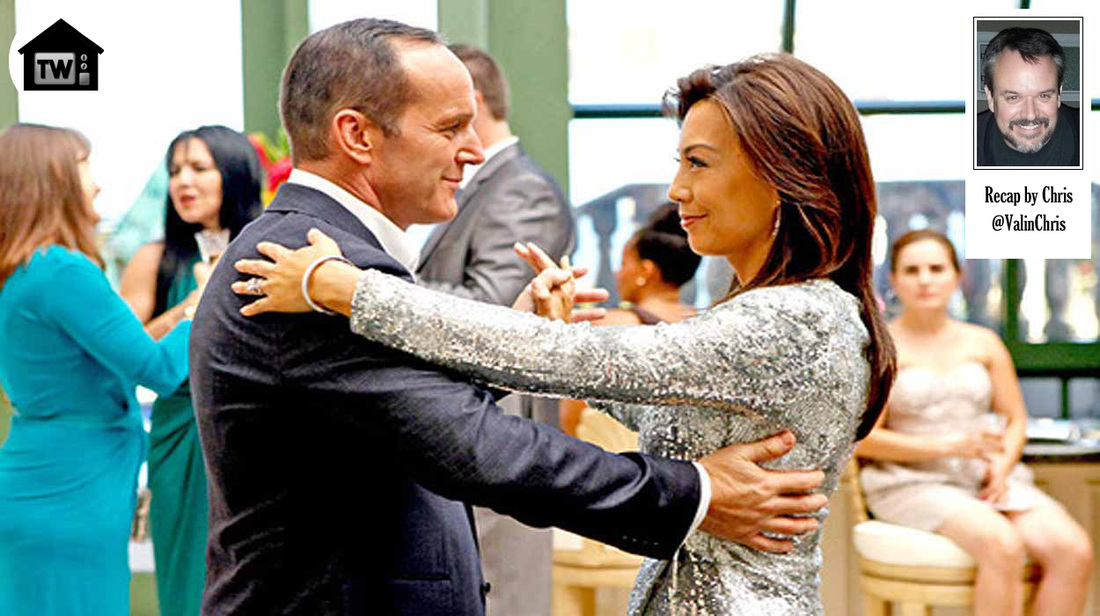 "Laser grids. Why is it always laser grids?" That's the least of your worries, Coulson. How about HYDRA agents who can make their faces look just like other people? But who can complain when you have May in a negligee and fake May in a fancy dress in the best fight in the show's history?
Previouslies: Standard fare, not single-character heavy like last week. Maybe this week, we'll get a more well-rounded (non-Simmons-obsessed) episode, starting in ...

Miami, Florida: Some bigwig from the Catholic Church shows up at a burned-down church, where he's shown that a 15th-Century painting was the only thing to survive the fire. But on the back of the paintings are the strange alien symbols that Coulson now enjoys scratching onto everything, Garrett-style.

Meanwhile, Hunter "distracts" some secretary so he can steal something from her purse and hand it off to a passing scooter driven by Skye. She takes it back to The Bus, where she uses it to somehow get free tickets (worth $25,000 each!) to a party showing off the miracle painting at the home of the secretary's boss, Mr. Rich Guy Soto. Next we're at ...

The Soto Mansion: Where Coulson and May, in black tie attire, arrive in a Rolls Royce and get into the party. The rest of the team freaks out back at The Bus as they listen in on May flirting and laughing (which Fitz finds "alarming") before Coulson cuts off the microphone on their comms and we discover that "This time ... it's personal." Because, y'know, Coulson is acting like Garrett did and writing weird alien symbols all over everything. And ... duh duh duuuuuuuuhhhh ... his hands are shaking. (NO! The humanity!) So maybe this painting's symbols will ... um ... actually, I'm not sure they ever explained exactly what the plan was for that.

After some fun recon on the dance floor (are they trying to cross over with Dancing with the Stars now?), they spot General Talbot. Yeah, that General Talbot and his moustache, which other General Talbot would it be? Coulson confronts Talbot and asks why he hasn't raised the alarm, to which Talbot says, "Because alcohol," or something equally as ridiculous (and this doesn't raise any flags?), and they get to finish their mission as long as Talbot doesn't sober up soon or ... something.

Since Talbot's there, they move up their timeline to steal the painting, which is where the laser grids come in. Coulson prepares to show off his flexibility to get through the grid, but May says, "They already know we're here ..." and walks through, setting off the alarm. They get to the safe room, and discover the painting isn't there, and Skye lets them know (just in time!) that General Talbot confiscated it that morning because national security. Now it's just Coulson and May trying to escape the mansion, which becomes the most unbelievable scene in the whole episode (which is saying A LOT when you consider the shit that goes down later), because May and Coulson hide from what are probably just expensive rent-a-cops. The woman who took down SO many HYDRA agents single-handedly last season is afraid to tackle these guys? Really? And speaking of HYDRA, General Talbot reports in to ... Dr. Nazi? WHAT? That doesn't seem right. I know he's a dick, but a HYDRA flunkie? Meanwhile, back on ...

The Bus: Fitz is still trying to fit in, but mostly just talks to his hallucination of Simmons while the others reminisce about exes. Also, Skye is still trying to find out what Coulson is hiding from her, and Trip's new role on the show is apparently to ask other characters "What's up? Let me know if I can help." Let's head back to Miami, specifically ...

Outside the Soto mansion: Where Coulson and May are almost out of there, except General Talbot, who isn't surrounded by a thousand soldiers for once (again, set off any light bulbs, Coulson?), stops them. Talbot makes a deal to show them the painting if Coulson can tell him what the symbols mean, but Coulson needs an hour to talk to his team first, so they're going to meet back at Talbot's hotel. After Talbot leaves, Coulson sends May to the hotel to check things out. At ...

The Hotel: She sneaks into the room, and sees Agent 33 with dossiers on herself and Coulson inside file folders plastered with the HYDRA logo! (Wait ... aren't they supposed to be a shadowy organization?) May confronts her and asks what she's done with Talbot, who shows up behind her and punches her. She takes on both of them, but her shock at pulling off Talbot's "face" to reveal Dr. Nazi's Henchman gives 33 a chance to taze her. Now they make a "mask" of May, and 33 heads over to ...

The Bus: I'm not quite sure how she knew where The Bus was parked, but Coulson and "May" seem to only be back there so that Agent 33 can plant a virus in the computer. On the drive back, Coulson asks about May's plan in case "things get bad" with him because of the alien influence. He says she not only needs to take him out, but also take over as Director of SHIELD. They get back to ...

The Hotel: Where Coulson is suspicious of May, and says they should get a cup of coffee afterwards. She agrees, and he immediately punches her in the face, because "May hates coffee." (It's a good thing it wasn't the real May assuming he was speaking generally about a casual date.) They get into a big fight in the hallway, while real May manages to escape from the Henchman in the room and knock his ass out with electricity. May and "May" battle it out while Coulson retrieves the painting, and back on ...

The Bus: Shit's about to get blowed up thanks to Agent 33's sabotage, and everyone has to work together to stop it, including the on-the-fritz Fitz and Hunter, who, by his own admission, has no technical skill whatsoever. Solution: Fitz does his stuttering, "please-finish-my-sentence" technobabble explanation of how to save The Bus from exploding, while Hunter acts as his hands and actually fixes it. They succeed, and then it's Miller Time, except SHIELD agents don't drink crappy-ass beer, so they enjoy some tasty microbrew, while Fitz actually joins in and finally feels like part of the team again. But first, at ...

The Hotel: May kicks "May's" ass, with an epic "face-slam-into-the-coffee-table" finishing move.

The Playground: Coulson informs the real Talbot about what happened for some reason, and then again attempts to have "the conversation" with May about coming up with a plan in case he goes all whack job like Garrett did (although, wasn't Garrett kind of a whack job before the whole alien thing?). She says she doesn't need to come up with a plan, because she already has one ready to go: she'll take him off to a cabin the in the woods somewhere to make sure he doesn't hurt anyone. Yeah, that seems like it'd work out well. Coulson doesn't like the idea, and says, "Thanks but no thanks, you still need to put a bullet in my head. And soon." Well, maybe not those exact words, but close enough. Also, shouldn't he be worried about Skye, since she was brought back from the dead with the same alien technology?

Also also: Coulson doesn't seem concerned that Agent 33 can now inform HYDRA that he's the new Director of SHIELD? Because he sure as hell doesn't act like it. Oops, I almost forgot ...

The Coda: In which Dr. Nazi (okay, his real name is Whitehall) threatens Raina and tells her she has 48 hours to get him the Obelisk, or she dies. Painfully.

Next week: Less dancing, more Simmons. Yay?
​