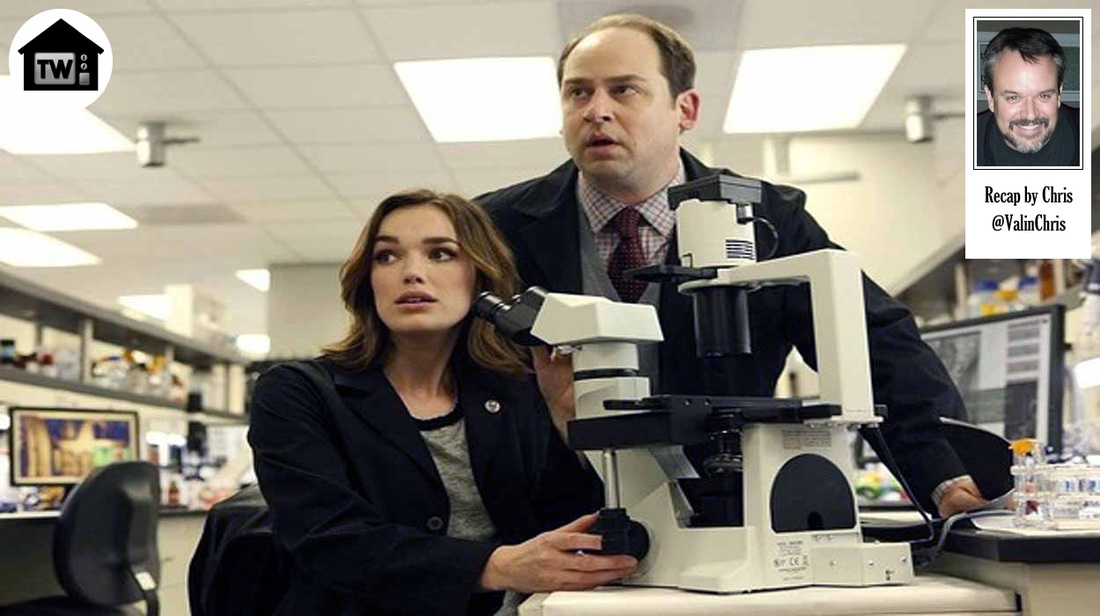 Hey, it's been two whole weeks since we had an episode focusing on Simmons! Who's ready for another one?
Previouslies: You'd think this show was called Marvel's Agent Simmons of SHIELD. But it's not, in case you weren't sure. We start this episode at a ...

Wedding Reception: Where a bunch of Navy people and their guests drink some Champagne and end up dead or dying as if they swallowed the Obelisk. The wait staff takes off in a van, being the HYDRA agents who caused it and all (I hope the hotel fires them, 'cause that's some poor service there). Then we're off to ...

The Playground: Where a briefing on the wedding reception turns ugly when Skye spots the weird alien symbols carved into Coulson's desk and doesn't like him skirting her question about them. After she leaves, May tells him that hiding it from her isn't going to end well. Now we get to see Skye's dad, whom (because I don't know his name, and Twin Peaks was awesome) I'm going to call Cooper for now ...

The Hideout: ... operating on some crook to take out a bullet, while his friend crook looks one. Raina shows up and asks for the Obelisk back because she's scared of Dr. Whitehall, and Cooper doesn't like that she fears someone else more than him. Because he's a MAJOR asshole. As he chokes her with what appears to be super-strength, she warns him that he'll never get Skye back if she sees him that way, so he backs off. (Damn, are we really only five minutes into the show at this point?) But he won't give her the Obelisk, and tells her to go beg Whitehall for her life. When she mentions Skye again, he says, "That's not her name." Huh? Then why have they been calling her that? Raina leaves, and the friend crook gives Cooper a hard time, which probably isn't a good idea, based on what I – oh, yeah, there's the look. He's toast. Now it's time to visit Simmons at ...

The HYDRA Lab: Where she's called into a meeting with her boss, a bunch of scientists, and Dr. Whitehall. He asks her opinion on if it's possible to weaponize the Obelisk (if they get a hold of it), and she says she thinks it's possible. Her boss is jealous that Whitehall knows her name, but very excited that they're going to be able to kill millions of people. Remember how I called her boss a tool before? Definitely confirmed. Next, we get to see the "fake" Simmons back at ...

The Playground: Where Fitz admits to her that she's his subconscious, and then she disappears. Skye grabs the painting from last week and takes it to her quarters and looks at the alien symbols on the back. Then she heads down to visit Ward, who still claims he can take her to her dad. He knows that Raina knows where he is, but she's still in denial and says her parents are dead. She asks Ward about the symbols, and he says Garrett did the same thing and started to go crazy. She confronts Coulson, but he claims he's fine. But, more importantly, she didn't have the same reaction when she got the GH formula, so he suspects she might be an alien. Geez, you drop that kind of news on a girl out of the blue like that? Then he gets a call from Raina, who saw Skye leave a message for SHIELD on a flex-screen, and she says she wants to meet because Simmons is in trouble back at ...

The HYDRA Lab: Where Bakshi the Henchman and the thoroughly brainwashed Agent 33 are looking for a mole, and it looks like Simmons is gonna be SO busted! Agent 33 is apparently the first one to notice that Simmons was an exemplary SHIELD agent and never showed any loyalty to HYDRA before it fell. But Simmons managed to plant the flex-screen evidence in her tool boss' desk, so they club him in the head and drag him away instead (if ever someone deserved it ... ). Now we zoom over to ...

A Restaurant: Where Coulson meets with Raina, who claims they want the same thing. She brings up Simmons and shows a picture on her phone of Simmons with her flex-screen message to SHIELD in her hand. She wants to take Skye with her to meet her dad, or she's going to email the pic to HYDRA in two minutes. Coulson says "No deal," and Skye (who's listening in) freaks out, but May stops her from interfering. Meanwhile, back at ...

The HYDRA Lab: After Coulson's meeting with Raina, the pic shows up on everyone's screens, and they all look at her like it's Invasion of the Body Snatchers and she's the only human left. She tries to run, but Bakshi and his goons chase her until she ends up trapped in a hallway with Agent 33 and a couple of other HYDRA goons. Oh, crap! But wait ... Agent 33 pulls out a couple of batons and kicks the goons' asses instead. I guess she wasn't so thoroughly brainwashed after all! Simmons asks who she is and what the hell's going on, and 33 introduces herself as Bobbi Morse, a mole who was sent in by Coulson to spy on HYDRA. "Bobbi Morse?" shout thousands of Marvel Comics fans across the nation who avoid spoilers on the Internet. "But she's ... Mockingbird." Yeah, that's exactly what Joss Whedon's brother and sister-in-law wanted to happen, trust me.

For those who don't know, Bobbi Morse started out in some Ka-Zar stories way back in – screw it, Google her yourself! We need to get back to ...

The Restaurant: Where Coulson gets Raina to admit that she's being forced to get the Obelisk by that Nazi bastard, Whitehall, and that she's more scared of him than even Skye's dad (and she makes it clear that Skye's dad is one mean sonofabitch). She begs Coulson to take her in so she won't get killed by either of the evil monsters who now want her dead, but he laughs her off, and Hunter shows up just in time to make some quips in his British accent and inject her with a tracking device so they can follow her when Whitehall captures her. He says they might try to save her once that happens, depending on if she cooperates, starting with telling them where Cooper is. Meanwhile, back at ...

The HYDRA Lab: Mockingbird and Simmons (sounds like a new buddy cop show) get chased up to the roof by HYDRA soldiers, and then jump off the roof, only to land on a cloaked quinjet driven by Triplett. While they're flying back, Coulson notices Skye is missing so he goes after her at ...

The Hideout: Where Skye discovers that her dad has cleared out, leaving only a framed picture of him holding her as a baby and the corpses of those crooks from earlier. She realizes he really is a monster, and Coulson gives her a hug, while Cooper watches them on a hidden camera. Uh oh, he's looking pretty pissed, that can't be good. Let's all regroup back at ...

The Playground: Where practically everyone is good friends with Mockingbird. Except for Hunter. You know that hellish ex-wife he's always going on about? Yeah, that would be her. Skye confronts Coulson again about hiding stuff from her, and he promises not to anymore. He shows her the latest alien carvings on his wall, and she guesses that it might be a map. What kind of map? Tune in next – oh, hold on, there's one more scene, back at...

The HYDRA Lab: Where Cooper comes in, casually murders a couple of HYDRA goons (those guys did not have a good episode), and shows Whitehall the Obelisk, offering to teach him how to use it if they can kill their mutual hated enemy, Phil Coulson (oh yeah, and everyone else in the world, too).

My current theory: Skye's dad really is Agent Dale Cooper and he's still possessed by Bob. Am I right?

Next Week: HYDRA agents pull some messed up crap disguised as SHIELD agents to give them an even worse rep. So they turn to ... oh, no no no please don't turn Ward into a good guy. Please?
​