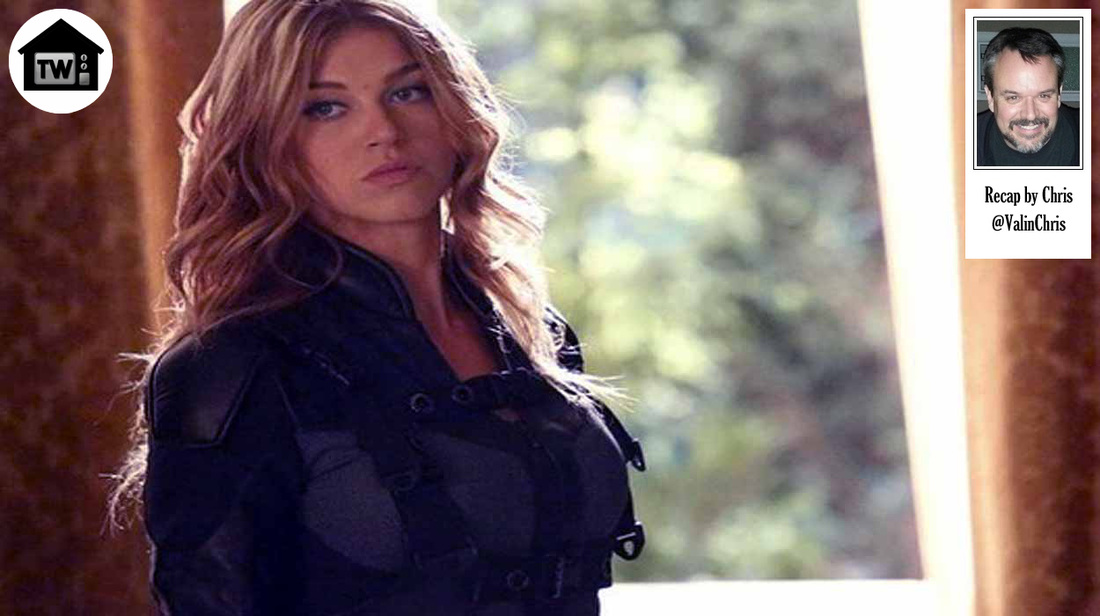 Wherein we discover that Ward's evil brother works for an organization even more vile than HYDRA: The U.S. Senate! Who knew they were going to have a scary Halloween episode?
Previouslies: Ward is being featured a lot. Does that mean – noooooooo! Keep him in the basement. Please! Well, we can only hope, while at ...

The United Nations: As Talbot talks about how evil and dangerous SHIELD is, a bunch of HYDRA agents come in pretending to be SHIELD agents, and start killing people with Obelisk technology (apparently it works now, thanks to Cooper). Let's see what SHIELD thinks about this back at ...

The Playground: Where Hunter is really upset that he has to be on a team with his ex-wife. (Oh, and YES, Disney/ABC, we did notice that Bobbi Mockingbird was wearing a Star Wars t-shirt. That reminds me ... I need to watch Rebels – wait! That's exactly what they want, isn't it? I believe they're six for six on promoting other Disney properties during episodes this season.) Skye and Simmons talk about how important Ward's intel is even though he's such a dick, etc., while they watch him work out without a shirt on. Speaking of Ward, let's meet his infamous brother over in ...

Washington, DC: As it turns out Christian Ward, the evil older brother we heard about last season, is a senator (which, if you think about it, makes total sense). Talbot actually defends Coulson and SHIELD, saying they wouldn't have done that attack on the UN. He tells Talbot he's done playing around and he's going after SHIELD for real! Seriously! He means it! Back at ...

The Playground: Coulson talks to an "Agent Walters," who I thought might possibly be Jennifer Walters, a.k.a. She-Hulk. We'll see. Ward warns Skye to stay away from his evil brother, while Simmons tries to get some help from Fitz, but it ... uh ... doesn't go well. Coulson sends other SHIELD agents off in ...

A Quinjet: Namely Bobbi, May, and Hunter, who decide to go with Plan B to get the HYDRA weapons from a guy named Toshiro, which consists of hoping he doesn't know Bobbi wasn't really a HYDRA agent so she can go in undercover, rather than Plan A (firefight). When Bobbi kisses Toshiro, Hunter doesn't look too happy, even though he says she's a hellbeast. Toshiro immediately asks her about the rumor that she's a SHIELD agent, but she changes the subject to his new "splinter bombs" used at the U.N. Hunter detects something is wrong, and he and May go in and shoot the place up, including killing a guy who was about to shoot Bobbi in the head. They amusingly kill Toshiro together while they're still arguing. They're not the only ones arguing, as back at ...

The Playground: Fitz accuses Simmons of abandoning him because she thinks he's "useless." She denies it, but she can't tell him the truth: that she was uncomfortable about his profession of love to her. Because we all know she has the hots for Tripp, right?

I'm just happy that so far this isn't a Ward-heavy episode like I feared, although I do like Coulson's little meeting with Senator Ward back in ...

Washington, DC: Where Coulson casually strolls in and informs the senator that nobody's going to checking on him for a while, and yes, his phone is out of commission at the moment, so he damn well better listen to him. When Ward says he doesn't give two craps about who's SHIELD and who's HYDRA because the American people want a simple enemy to hate, Coulson asks how the American people would feel about knowing his brother is HYDRA. When the senator asks if he's threatening him, Coulson replies, "No. I'm telling you I have your brother in my basement." At which point we cut to Grant Ward in the basement of ...

The Playground: Where he tells Skye they can't trust his brother because he's a master manipulator. Which could be very true, based on the stories the senator is telling Coulson, which don't match up with Grant's. Back and forth, they both say they're the one telling the truth, and that the other one is lying. Grant also tells Skye that her dad killed people, but he also did everything for her. The Vietnamese villagers he murdered were actually HYDRA agents who had found Skye and her mom, and he was getting revenge for destroying his family. He also says they can find him together, to which Skye replies that he's getting out of there all right, but he's being delivered to his brother's custody. Coulson is back, telling everyone that Senator Ward is going to reverse his anti-SHIELD stance in exchange for his brother.

Simmons is jealous that Fitz is able to communicate with Mack, and they figured out that the grandson of a guy who worked for the Red Skull, Julian Beckers, is a HYDRA agent. After Coulson makes it clear to a delusional Grant that he's not "building trust" or "part of his team," we jump across the pond to ...

Bruges: Where Agent Walters (not She-Hulk at all, sorry) is confronted by Beckers and then murdered by the HYDRA Mohawk dude who was in charge at the UN slaughter. Hunter shows up and does a dog-and-pony show about being a merc hired by HYDRA, throwing off the hit team so that May and Bobbi can crash through the window and take them out. Mohawk dude does some pretty impressive, uh, chain spinning, but he's fighting May, so, hello, we all know how that ends ... with a flying kick to the chest. They report in to Coulson back at ...

The Playground: Where Coulson says "get back soon," Simmons thanks Mack for helping Fitz, and Mack confirms what Simmons already knows: the thing that makes Fitz worse right now is Simmons. Which is sad, because they used to finish each other's sentences, right? In the basement, they begin Ward's transfer, and march him through the building while his brother gives a speech at the U.N., revealing that Grant is HYDRA. In Bruges (had to get that in), Talbot thanks May and shakes her hand. And they actually acknowledge the SHIELD red shirts who were killed! Wow. I wonder if it's because they're running out of them so quickly. Speaking of which, they lose a few more when ...

Ward, of course, escapes from the SHIELD agents taking him to his brother, but let's be honest: we all saw that coming, didn't we? At least he didn't become a good guy like I feared. The only good Ward is an evil Ward, I always say.

And we end at ...

A Tattoo Parlor: Where a guy walks in with a design on a piece of paper, and pulls off his shirt to reveal that the tat he wants finished is the alien symbols Coulson's been drawing. Uh oh!

Next Week: Marvel's 75th Anniversary Special. But in two weeks: More on Coulson's secret!
​