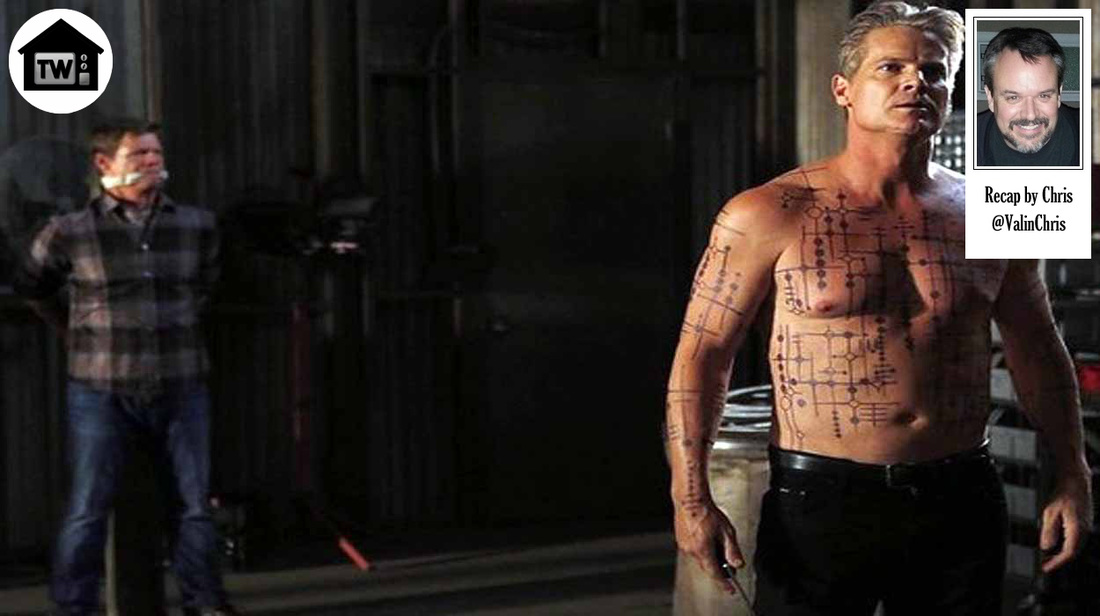 While half the team tries to get the escaped Ward back into custody, the other half tracks a serial killer who's carving the alien symbols into people. In a bad way, in case you weren't sure.
Previouslies: It's all about the alien symbols and TAHITI. Let's assume this episode is about … the alien symbols and TAHITI? Starting with …

An Apartment: Where the guy who was getting the glyph tattoos earlier murders a woman by carving some into her body. Yes, it's as gross as it sounds. And there's a reason they recognized one another in the bar, but we're not going to find out until later. First, we're taking a trip to ...

The Playground: Where Coulson is carving the same symbols into his wall (his new hobby), and Skye is giving us all kinds of exposition about how everything is connected to her dad, etc., but she can't figure out what the symbols are a map to, blah blah blah. Coulson says that the fits that cause him to carve them are getting worse, and she nervously asks about May, who is flying ...

The Bus: Where she tells Skye nobody is looking for Ward except them. May then talks to Tripp at ...

A Bus (an actual bus) Station: Where he's watching Ward pick up some cash and supplies from a locker. Ward spots Tripp and shows him that he has C4 strapped to himself and a dead man's switch. Damn! Luckily, Bobbi is on his bus to follow him, but – oh! – he makes her immediately and gets on a different bus. Luckily again, Hunter is on THAT bus, and apparently Ward's not quite THAT good. We'll see. Meanwhile, Coulson and Skye check out the murder victim's ...

Apartment: Because it turns out she was a SHIELD agent. What a co-ink-a-dink. Skye says how there doesn't seem to be any connection to SHIELD or Coulson, until they find that her bedroom is full of paintings of the alien symbols. Back at ...

The Playground: They do an autopsy on the victim, and it turns out she had GH serum in her blood, and so did the DNA sample from under her fingernails that belonged to her assailant. Simmons asks if either Coulson or Skye has had a compulsion to write, and they (of course) lie and say no. But Coulson gets out the memory machine from the TAHITI project and they use it on him to find out that Coulson himself tested several SHIELD agents for the TAHITI project who were already dying. They all got better and felt great, but then started to have mental breakdowns and started writing down the symbols, so they implanted false memories to help them and gave them new lives. He gives Skye all of their names, and it turns out they're all dead now except for two, the serial killer dude and (presumably) his next victim. While this is happening, Hunter follows Ward to ...

A Boston Tavern: Where Ward meets up with HYDRA Henchman Bakshi. He pretends to be ready to rejoin HYDRA and give Bakshi a face-to-face with Coulson in exchange for a meeting with Whitehall. But when May, Tripp, and Bobbi show up and they go in, all the HYDRA agents are dead except for Bakshi, who's tied up in back with a note that he's a gift for Coulson. Speaking of Coulson, back at ...

The Playground: He tricks Skye and escapes after they try to lock him up after he freaks out. But not until after he tells Skye that the killer, Sebastian Derrick, was an assassin for SHIELD. Coulson goes to the home of the other TAHITI survivor to get the "missing piece" of the alien puzzle, but Derrick is already there and captures them both. He's about to start carving the symbols into them, since that's what helps Derrick himself, but the other guy, Thompson, frees himself and saves his family and Coulson.

Coulson sees the model train setup that Thompson has created, and realizes it's a 3D model of the glyphs they've all been writing and carving. Just as Skye and Mack show up, Coulson gets Derrick to look at the model, and he stops fighting. It's the missing piece of the puzzle, and now none of them need to continue their uncontrollable writing: it's a city. They figure out that the alien host they got the GH serum from left a "psychic imprint" on them, which acted as some sort of homing device they didn't understand. So all that's left is ...

The Stinger: In a hotel room, Ward shaves his beard, cuts his hair, and prepares to go after his senator brother.

Next Week: Dr. Skyedaddy is back (what the hell am I supposed to call him?), and apparently an agent might die. Aren't we supposed to worry about that every week?
​