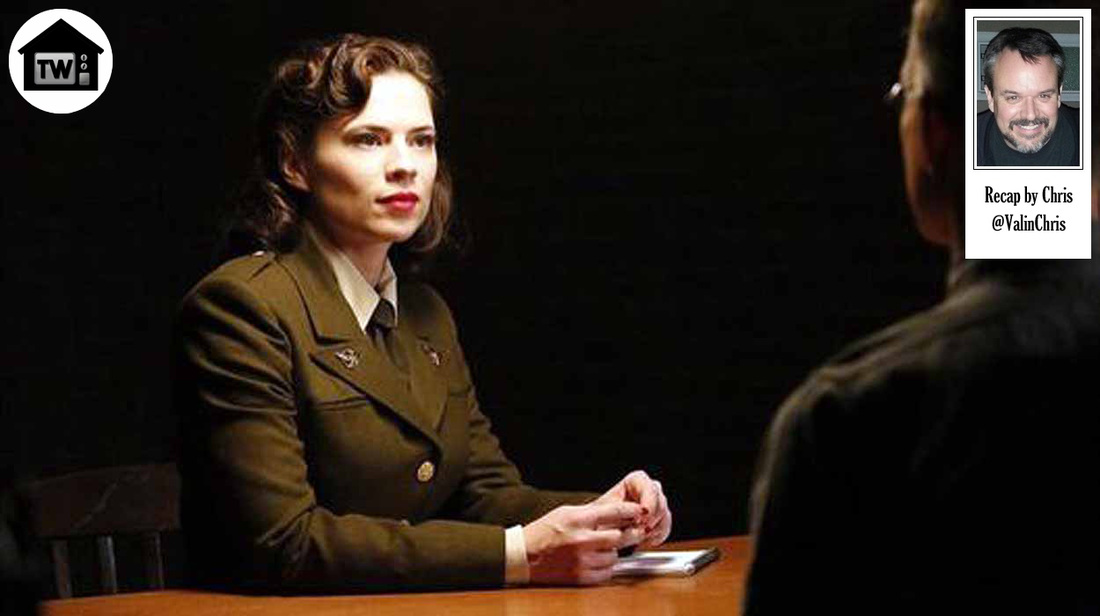 Ward digs up, then buries, his demons (or at least his family), Skyedaddy and Coulson meet face-to-face, and Whitehall proves himself to be even more of a Nazi jerk than we thought.
Previouslies: Ward's past, Doc Skyedaddy, and last week's reveal of the magic city they're going to search for lead us into a flashback to ...

Austria, 1945: Dr. Nazi Whitehall interrogates one of the Chinese guys who dug up the Obelisk, and tells him to touch it, which turns him to ashes. They bring in the next subject, a woman who refuses to touch it. So they press her face against it, but instead of killing her, it glows with symbols like it did when Raina touched it. Before they can experiment on her, however, an underling comes in and informs them that the Red Skull has fallen. Presumably that leads into the first Whitehall flashback from early in the season, and we jump forward to the present day at ...

HYDRA Lab: Where the accent-less Whitehall wants Doc Skyedaddy to prove he's an expert on the Obelisk, but the Doc doesn't take any crap from him. He even makes fun of him for thinking it's just a weapon, and for fumbling around with it like a monkey. I think I like this guy, and not just because he used to be Dale Cooper. Next we jump aboard ...

The Bus: Where Ward talks to May, whom he left back in charge of the base while the field team of Skye, Trip, and Fitz flies to Hawaii. Skye and Trip deliver a watch and a tie, which will eventually be used by a general and a guy in charge of a satellite base, and work in conjunction as a Trojan Horse to take down the systems at the base. The team will be ready in Australia, where the backup base is located. Meanwhile, back at ...

The Playground: Mack is freaking out about Coulson's behavior last week, but for some reason he's waited until now to mention it to Hunter. Bobbi questions Bakshi, Whitehall's weasel of a henchman (whom they captured last week), and tries to convince him that he doesn't really like HYDRA, he's just been brainwashed like they tried to do to her. They get suspicious about the way Bakshi talks about Whitehall's relationship to the Red Skull and dig up some old files of Agent Carter's (yes, the one who's going to have her own series soon ... why the hell did you think they were bringing her up every week?). They figure out that Whitehall DID know the Red Skull personally, back when he was Werner Reinhardt and fought for the bad guys in WWII. What's that? You're wondering about Ward? Well let's check in on him at ...

The Ward Family Summer Home: Where Senator Christian Ward, his brother, has his men taken out in seconds by his little bro. Grant makes him dig up the old well where they almost killed their littlest brother together. Ah, good times, good times. Christian finally admits that he persuaded Grant to try to murder their brother because their mom loved him so much and was the only one she didn't torture. Grant says that's all he needed to hear, and takes him back home. Now it's flashback time again, as we go back to ...

The Playground, 1945: Where Peggy Carter tells Reinhardt/Whitehall to screw himself because he's too evil to recruit for the government with a deal, so he's going to rot in a cell forever. We see him get really old over the years, until 1989, when he's released by none other than Undersecretary Pierce (remember the big bad inWinter Soldier played by the Sundance Kid? Yeah, that Pierce) and given his own HYDRA lab. He proceeds to bring in some new subjects, and one of them happens to the same woman who made the Obelisk glow! Crap, I think that poor lady's in trouble. Yep, sure enough, he removes all of her organs and blood and (I guess?) has them implanted in himself, which makes him younger. Then he tells his goons to dispose of the remains. In the present, they figure out that Reinhardt disappeared in '89 and Whitehall appeared in 1990 (without the accent). When they inform Bakshi that they're going to let Whitehall know that he gave them all that intel, Bakshi slams his face against the table, which cracks open his jaw and releases some cyanide hidden there. Yeah, pretty hardcore. They try to save his life, while the field team arrives in ...

Australia: At that satellite base, where something's not right. And that something happens to be that HYDRA agents, led by Doc Skyedaddy, have beat them there. While they try to hold off the HYDRA baddies, Fitz attempts to connect his tech to the system in the very limited amount of time they have, and Trip gets shot protecting him. Doc says he can save Trip and starts operating on him right then and there, but accidentally calls Coulson "Phil" and gives away his identity. He tells Coulson how to save Trip, but in order to do it, he has to let Doc get away. But not until after they have a conversation about Skye ("That's NOT her name!"), the City, and the Obelisk ... as well as the best exchange in the history of the series, where Coulson asks Doc if the Obelisk has Tesseract-level power, to which Doc replies, "Sure! (beat) I don't know what that is." Coulson gets Trip back to ...

The Bus: Where he's going to be okay, but Skye knows something else is up (and nobody wants to say, "Hey! So, funny thing ... we just met your dad ... "). Before they reveal anything, Skye's program reveals the location of the City! And back at ...

The Playground: They hear that Senator Ward has apparently killed his parents, then himself, and burned their house down. And left a convenient recording, which was actually edited together by Grant from the conversation they had at the well. Sneaky bastard!

Oh, and Hunter and Bobbi have a big argument, which somehow leads to them having sex in a car.

HYDRA HQ: Ward shows up to offer his assistance to Whitehall and Doc Skydaddy, since they all hate Coulson now. Doc says you should look your enemy in the eye, then looks Whitehall in the eye, which leads straight into ...

A Jungle: For the stinger, Doc Skyedaddy, heavily CGI'd to look like he did in Twin Peaks (which is right around the time this flashback takes place), comes across the body of the woman Whitehall killed ... and it looks like it was his wife! And now we know why the Doc is all kinds of batcrap crazy. He vows to tear apart the man who did this to her on the fade out.

Next Week: The show's not on. Enjoy some turkey.

In Two Weeks: They find the City, and there's an extra May again (or she's turned traitor?), and I'm not sure why. I'm just happy to see Patton Oswalt back, even if it is just over Skype. Plus we're supposed to find out who the "blue angels" were who came from the sky (and whose blood saved Coulson and Skye's lives), but if you haven't figured that out between this show and Guardians of the Galaxy, then you seriously need to invest in some damn comic books.
​