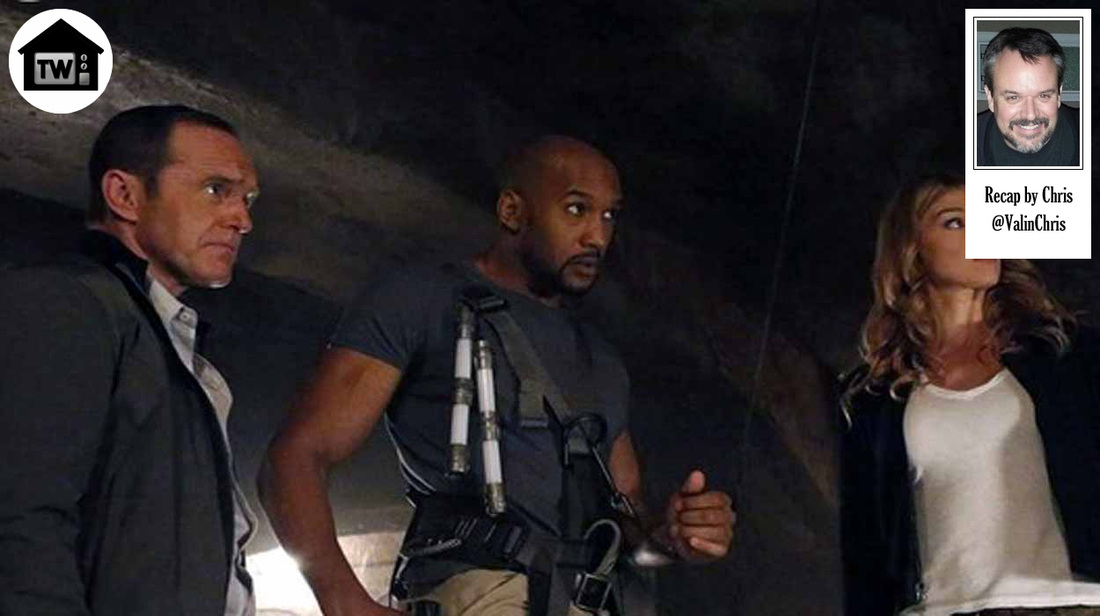 The team finds Raina. And the alien temple! And, best of all, we get TWO Patton Oswalts!
Previouslies: The Obelisk, the temple, and Bobbi and Hunter making out lead straight into ...

The Bus: Skye has a weird dream about May telling Coulson they have to give up a baby he's holding (Skye maybe?). "Poison tree, poison fruit," she says (whatever that means). He puts her down, and the baby watches as Skye touches the Obelisk and her arms turn to stone. Coulson wakes her up, and they go to a meeting about going to blow up the temple in Puerto Rico before HYDRA finds it. Next, we find ourselves in …

Vancouver: Where Raina spots May in a coffee shop and tells her she's being too obvious. Except it's not May, it's Agent 33, who still looks like May and has a bad scar on half her face due to her fight with the real May. She runs away, and gets rescued by TWO Agent Koenigs, Billy and his (newly introduced) brother, Sam (who informs her that she'll need a lanyard). Billy calls Coulson at …

The Bus: Where Coulson sends May, Hunter, and Skye to extract Raina (and also to keep Skye away from her dad). But not until after May and Skye watch a report about Ward's family being killed, and realize Ward himself did it. Bobbi and Simmons have a heart-to-heart about Fitz and how Simmons should have a talk with him. When they're alone, Mack asks Bobbi if she's let Hunter in on "the other thing" now that she's back together with him. Without letting us know what "the other thing" is, she tells him no, and she wants it to stay that way. Uh oh … secrets. I have a feeling that won't be good. Coulson, Bobbi, Mack, and Fitzsimmons head off to Puerto Rico in a quinjet, while the extraction team arrives at …

A Vancouver Hotel: Where Skye somehow manages to go toe-to-toe with Agent 33, who almost beat the snot out of May herself a few weeks ago. Huh? Skye was just a tech geek until a few months ago, and now she can nearly defeat seasoned agents? Okay, then. I guess that Kree blood transfusion had some other effects. At least she's not good enough to actually beat her, and when Agent 33's finally about to take her out, Hunter has to save her. Meanwhile, at …

A San Juan Plaza: Bobbi voices her concerns about the fact that they're destroying the weapon rather than capturing it like Fury would. Coulson emphasizes that he's not Fury, and asks if she has a problem with that. She meets up with a politician named Diego who knows about the entrance to the underground city, which is under an old fortress, and gets a map from him. But he's afraid to enter the temple himself because of a legend about people vanishing who go in there.

The Bus: Mack leaves Fitz and Simmons alone to talk about the issues between them, and Fitz says he's going to quit the lab and work in the garage with Mack, which upsets Simmons. Awww.

A Vancouver Street: Where Raina tells Skye she can touch the Obelisk, and according to Daddy, so can Skye. Skye lets slip that HYDRA has the Obelisk, and suddenly Raina tries to turn herself in to some nearby HYDRA agents. But May and Hunter show up and run the HYDRA agents over in an SUV, then grab the women and take off. But Agent 33 is nearby, and calls Whitehall to tell him she overheard Raina say she had a tracker implanted. Nooooo! Why does everything have to have a catch?

The Bus: Sam and Billy talk about how creepy it is that Agent 33 has May's face, which Mack finds funny, since they look exactly like one another, as well as their dead brother, Eric. He asks them how many brothers there are, and they answer "13" simultaneously, and then laugh about it when it freaks him out. Raina and Skye talk about Skye's dad, and how he took in people who were "special," including Raina. She also talked about the legend of the "blue angels," who were Kree aliens that came down to earth. Do I sense a Captain Marvel (the Marvel version, not Shazam!) plotline brewing? Skye tries to warn Coulson not to go into the temple, but the call is jammed, and Whitehall's voice comes on just as HYDRA quinjets surround the Bus. He tells them to hand over Raina, or else!

The Fortress: Fitzsimmons seem to be more in sync now, and figures out how to open the entrance tunnel to the underground city, but Fitz's "dwarf" devices fry when he sends them down into the ominous darkness. Mack lowers into the underground city, but when he touches a symbol on the floor, the same symbol appears on his hand and he falls to the ground, screaming.

The Bus: May says she isn't going to risk all of their lives to keep Raina. Ward shows up and says if any shots are fired, the Bus will be destroyed and they'll all die. Then he says Skye has to go too, and that he's keeping his promise to her about meeting her dad. Skye agrees to go, and nobody gets shot. Phew.

The Fortress: They pull Mack up, but he talks in a demon voice and acts like he's possessed, throwing Coulson around with super strength. Bobbi tries to fight him, with no luck, and the Icer doesn't even work when Coulson shoots him with it. Then he almost tosses Simmons into the tunnel entrance, but Coulson grabs her. The only one left to stop Mack is Fitz, who's holding a gun on him, but he can't bring himself to shoot his friend. Bobbi recovers and zaps Mack's neck with her electrified batons. ZAP! He falls into the tunnel, and when Bobbi says they need to rescue Mack, Coulson says, "That wasn't Mack." Cue the scary music, then all that's left is the stinger in …

A Car: Whitehall meets with Agent 33, who informs him that Ward took Skye as well as Raina, and that he didn't shoot the Bus down. Whitehall tells her to fix it, and she calls up the quinjets and tells them to fire. Another catch! Nooooooooooo …

Next Week: The mid-season finale, so you know it's gotta be good.
​