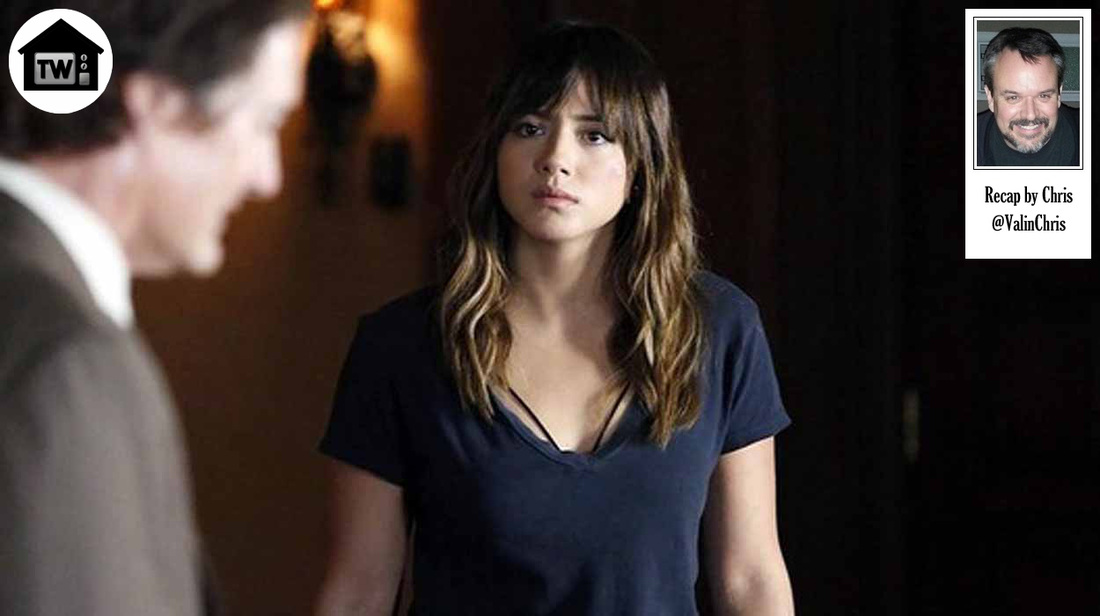 Revelations galore in the mid-season finale! We find out who Skye really is, who her dad really is, and what Dr. Whitehall looks like as a cadaver.
Previouslies: Pretty much a recap of last week's ep, but if you missed it, I'm sure you
read my recap
already. Let's jump right on to ...
The Bus: Where May's fancy flying and tactics allow them to escape the missiles from the HYDRA quinjets, but make it look like they blew up in the clouds. They cloak and head straight for ...
Puerto Rico: So that May can give a face-to-face report to Coulson on why Ward was able to take Skye as well as Raina, but Coulson says she saved six members of the team, so it's cool. Simmons and Fitz continue their awkwardness as they try to figure out if Mack could have survived the hundred-foot fall into the underground City because he was possessed, and if the City itself will have defense mechanisms. Bobbi has a secret flash drive that she tries to hide from Hunter, but he isn't fooled, especially when he gives her a big hug. Let's see, who are we forgetting? Oh, yeah! Skye and Ward, who are arriving at ...
HYDRA's Puerto Rico HQ: Where he tells her that bringing her there was his own plan, so that he could keep a promise. He opens a door, and there's Doctor Skyedaddy, who introduces himself as "Cal," which I will now start to call him, and her name is "Daisy." By the way –spoiler alert! – Calvin Zabo, also known as the supervillain Mr. Hyde in the comics, has a daughter named Daisy, also known as "Quake." Cal explains to Skye/Daisy what we already saw in flashbacks: that his wife was an immortal Chinese woman, who was experimented on by Whitehall and dumped in a ditch. Skye actually seems to feel a little bit sorry for him once she knows some backstory, but she still thinks of him as a monster. He tells her now that Whitehall has tracked her down, he's finally going to get the revenge he's wanted for so long. But Whitehall has figured out that Skye is Cal's daughter, and makes her touch the Obelisk (get your mind out of the gutter!). He also manages to incapacitate Cal before the good doctor has a chance to rip him apart. Along with Cal, he ties up Ward and Skye, whom he plans on experimenting on like he did her mother. Meanwhile, back at ...
The Bus: Coulson hears from Bobbi that her "friend," Diego, has revealed where HYDRA is hiding out in San Juan, and Fitzsimmons informs them that they can easily get down to the underground City from there with a plasma drill. Duh. Like, who wouldn't know that, right? Coulson sends Trip and Fitzsimmons down to the Temple with mechanical explosives and torches (I'm not being British here, they don't have flashlights) because electronics don't work down there. Sam tells Trip his brother is "recharging his batteries," which makes fanboys the world over say, "Life Model Decoys! Life Model Decoys!" (
Look it up
.) But he's just messing with Trip. Or … is he? Coulson and May head over to save Skye at ...
HYDRA's Puerto Rico HQ: Where the bad guys are already drilling down to the Temple ... in fact, into the chamber they're all trying to get to. Cal frees himself and takes off to tear Whitehall into little tiny pieces, then Ward manages to free himself and Skye. In return, Skye shoots his ass – not just once, but FOUR TIMES (which, of course, he totally deserves). Whitehall spots Cal coming for him, and holds him at gunpoint, which doesn't seem to concern Cal a whole lot. But Coulson appears and shoots Whitehall in the back, which enrages Cal, who has been looking forward to getting his revenge for a very long time. Cal begins to beat Coulson mercilessly, and the only thing stopping him is Skye calling him "dad" and threatening to shoot him. He promises to go away, but says he'll see her again after she transforms (oooh, that sounds ominous). Ward escapes with the help of Agent 33, who now has no purpose with Whitehall dead.
Meanwhile, Raina escapes into the City with the Obelisk and Skye follows her. Trip and Fitzsimmons, also down in the City, split up, and Fitz manages to set the bombs, then they escape. But they find out Coulson went down after Skye, and Trip heads back down again ... probably not a great move. Raina finds Mack, who leads her to the chamber (presumably because she's "special"), and Skye ends up there as well. Trip arrives at the chamber , and Raina places the Obelisk on a pedestal, where it opens up to reveal some crystals. It zaps the two women, and they turn to stone while Coulson has to fight Mack outside the chamber. Trip kicks the Obelisk off the pedestal to try and stop it, but he turns to stone as well. Skye and Raina "hatch" from their stone cocoons, but Trip just crumbles to dust like every "normal" person has before. Skye has some kind of quake power (get it?), and the place starts to come down upon everyone. In another comic book callout, it appears they're working the Inhumans into the Marvel Cinematic Universe – people whose dormant powers get awakened. But what happened to Raina?
In the Stinger: Some dude with no eyes – like, skin where his eyes should be – freaks out that his own Obelisk is glowing, and makes a mysterious phone call.
Next week: No episode for a long, long time. Until March, in fact.
​