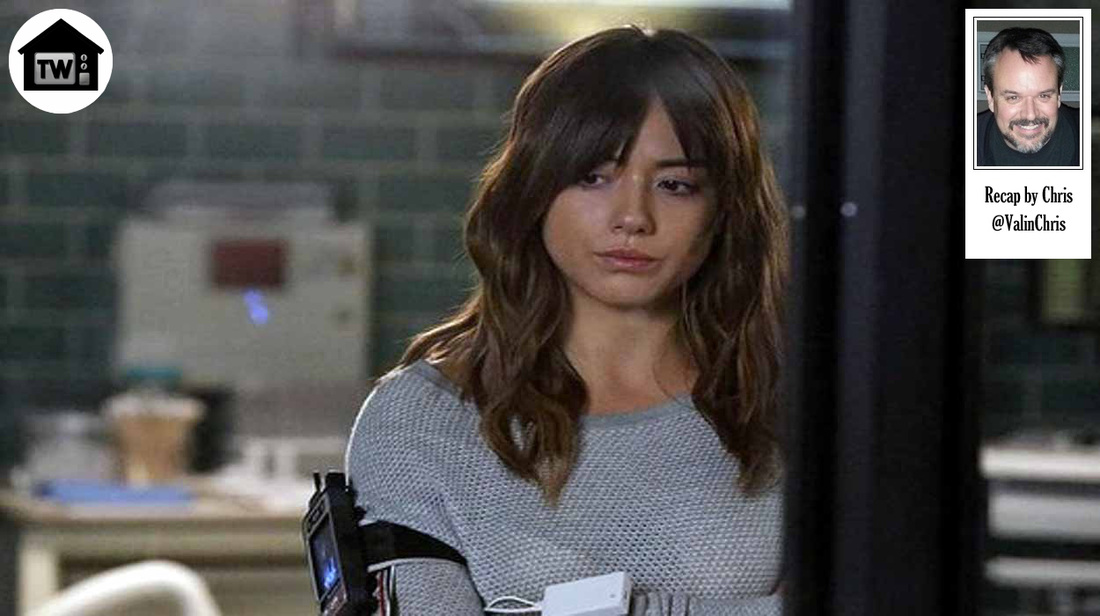 While Skye tries to keep her new powers a secret, Simmons is ready to lead the super-being holocaust and wipe them all out. Meanwhile, Coulson stops playing around with Hydra and heads start to roll. And no Ward (yay!).
Previouslies: Mostly a recap of the mid-season finale, especially the end where Skye gets her powers while Tripp gets killed. Let's teleport into ...

A Flashback: In which we see the Inhuman dude with no eyes as a teenager, teleporting around a room (uncontrollably) like Nightcrawler (or, probably more accurately, Lockjaw. Don't know who that is? Look it up! You carry a supercomputer around in your pocket!). Skye's mom comes in and calms him down and tells him he's beautiful. She then speaks to some others about how he'll be able to control his powers eventually, and it's a good thing she's around to help him or it'd be a real bitch. And, as she says this, we transition to ...

The Playground: Where Skye is in quarantine "for her own safety" and because everyone is scared of catching super powers from her. Or something. They pack up Tripp's things while Gemma hauls away his broken, petrified body back at the Hidden City. Skye is upset because they "lost" to Hydra, and Mack is even more upset that Tripp was killed because of Skye and Coulson's obsession with the alien stuff. Coulson decides to go after Hydra for reals and makes a deal with Talbot to hand over Bakshi in exchange for backup from the U.S. military. So they load him into an SUV and hit ...

The Streets: Where May and Coulson give a bunch of exposition about Whitehall being dead and their plan while Bakshi sits in the back seat and listens to everything. Then a truck smashes into the side of the vehicle, pushing it into a warehouse. Some Hydra goons get out of their SUVs and shoot at them, and Coulson and May are both killed. That's right, they're both killed. Except they're not. It was all part of Coulson's plan to take down Hydra, and the only goon that survived is actually Hunter doing an American accent. He pledges his loyalty to Bakshi, who makes a call to one of the heads of Hydra and asks to meet. Hunter pretends to be working for one of the other heads of Hydra and acts like he's going to kill Bakshi, but Bakshi thinks he talks Hunter into going over to his side and taking him to the meeting at ...

A Mansion: Where Baskshi tells Hunter to stay in the vehicle while he talks to the Hydra honcho who lives there, who is played by the guy who used to play Hunter in the old TV series by that name. Which means I can't use "Hunter" as my nickname for the guy, because it would be too confusing, especially when Hunter from this show comes in with Bobbi and kills Hunter from the old TV series by shooting him in the head. But not until after he's ordered the deaths of the other Hydra honchos, whose murders we get to watch in quick succession. So, apparently, Hydra is now crippled, but we all know what happens when a Hydra's head is cut off, don't we? Meanwhile, at ...

A Dock Somewhere: Raina, who's been changed into some ugly, spikey creature, catches up to The Doctor (Hyde), who's trying to disappear. She demands he help her, but he says too bad, so sad, you got your lifelong dream, and now you're stuck with it. She tries to kill herself, but Hydra shows up to take her in, and at the last second, Mr. No-Eyes teleports in, tells her she's beautiful, and takes her away.

The Playground: Fitz is upset because he figured out from Skye's biowatch that her heart was at 300 bpm when the quake hit, which is INHUMAN (get it?) and also means the reason Skye wasn't injured in the destruction is because she caused it. She causes the lights to burst, and he freaks out and runs out of the room, and May and Simmons come in and question her about why she's bleeding. But Fitz comes back in and, having had a change of heart, covers for Skye by switching the results of her blood labs to make it look like she's the same old hacker we met last season. While everyone sits around holding a wake for Tripp, the mini-Lola that Mack made scans Coulson's office and finds the "toolbox" Nick Fury gave to Coulson to run SHIELD. Mack tells Bobbi he found it, but we still don't know why. Are they bad guys? Are they working for Fury? If not, then who? Why am I asking so many questions?

Next week: After one long episode, Skye/Daisy's secret is revealed! And one of my favorite actors whose political views I have to ignore guest stars.
​