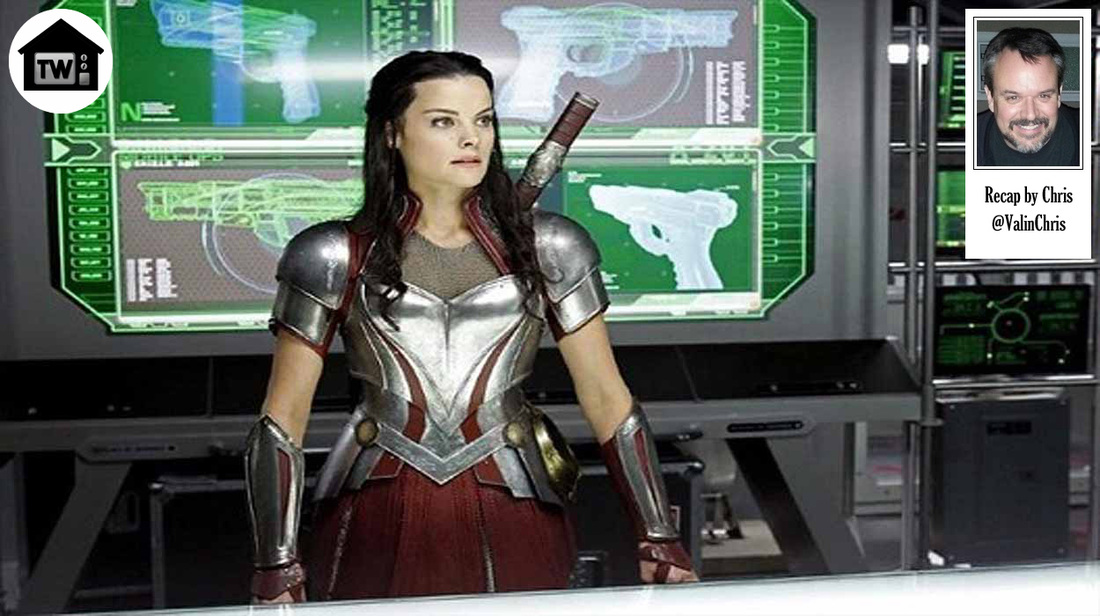 Lady Sif and a Kree warrior battle it out in Portugal, and as a result Skye's new powers are revealed to everyone. Trust me, it makes sense if you watch the episode.
Previouslies: Mostly a bunch of clips of Skye getting her powers and the aftermath last week. Then it's off to ...

A Beach in Portugal: Yes, Portugal, where Lady Sif shows up with amnesia and says she's looking for "Kava." Luckily someone thinks to get a hold of SHIELD. Speaking of which, at ...

The Playground: Fitz worries about Skye, as well as keeping it a secret from Simmons, who is now on the warpath concerning meta-humans after Tripp's death. 'Cause she had the hots for him, see, and now he's gone. Hunter is thinking about joining SHIELD full-time now, especially now that his relationship with ex-wife Bobbi is heating up. But Mack says it's a bad idea to let him in on their secret – whatever the hell it happens to be – and tells her she's better off breaking up with him before he gets hurt when he finds out what they're up to – whatever the hell it may be. Coulson also asks Mack to be a field agent, and he agrees despite his allergy to violence, and his first mission is to go along with the team to ...

Portugal: Where they find Sif and show her some social media videos of a fight she had with a warrior played by the guy from Warehouse 13. He hits her with his "truncheon," which gives her amnesia, but he's injured and goes to a nearby hospital – but not for treatment. He needs chemicals to fix his technology, and OH YEAH he happens to be Kree, as indicated by his blue skin (when he isn't camouflaged) and the old Star Trek giveaway that someone's an alien: forehead prosthetics. The team tracks him down there and he escapes after he has a big fight with Bobbi and Skye, who starts another earthquake when she gets nervous. Once they figure out he's Kree, Sif realizes "Kava" means "keys," which is also the English translation of a town in Portugal, so – ta-da! They're able to find him. They find him digging up a big alien trunk and find out his name is Vin-Tak as they take him on ...

The Bus: Where he offers to use his truncheon to give Sif her memory back (I swear that's not code for something dirty), and tells them he's there to help ... really he is. He was digging up a bunch of obelisks to get the Terrigenesis crystals inside of them and make sure no more Inhumans are created. Apparently, the Kree used to use them to turn humans into weapons back in the old days, and now they're trying to rectify that, especially because – oh, yeah, did I forget to mention? – a Terrigenesis crystal was activated. But we already knew that, didn't we? Then the Bus lands back at ...

The Playground: And Vin-Tak restores Sif's memory. Suddenly they're on the same page about making sure they destroy any Inhumans because they're so freaking dangerous. This, of course, makes Skye nervous, since she was one of the recently created Inhumans, and that makes her cause another quake and everyone else finally puts two and two together as well. Coulson immediately rushes to defend Skye when he realizes Vin-Tak and Sif are going to kill her, and May takes Skye down to the basement cell to hide her and try to calm her down. But Sif follows them and slices through the grid wall, and is about to do the same to Skye, but Skye shoots herself with her icer and stops the quake. Coulson tells Sif that taking her away from the people she loves will make her worse, not better, and Sif agrees to trust SHIELD to take care of the situation. She also zaps Vin-Tak with his own truncheon, and tells him she'll take him home now that he's completely forgotten why he was there in the first place.

When Simmons realizes Fitz knew about Skye and was keeping it a secret, she gets pissed and says she wouldn't have hurt Skye because she's her friend. But Skye overhears Mack saying they all need to be protected from Skye, and she goes off to sulk in her room. Finally, Hunter confronts Mack and tells him he knows he and Bobbi are keeping something from him, and Mack panics and knocks him out with a chokehold. How he's going to get out of that situation, I can't imagine.

Next week: Looks like some really weird stuff is going to go down as Doctor Cal Hyde puts together a group of Inhumans to take on Coulson and his crew.
​