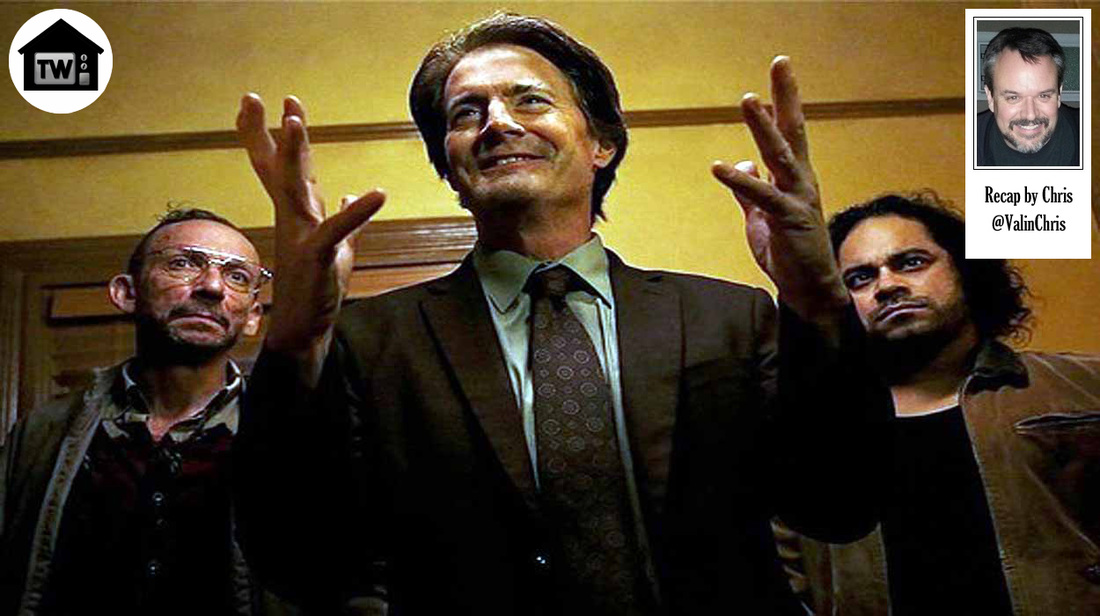 Skye's dad, Cal "Mr. Hyde" Zabo, goes "bat guano crazy" and puts together a team of not-so-super-villains to get Coulson's attention and draw him out. And birds. Lots of dead birds.
Previouslies: Are all about Skye's powers and not being able to control them, except for that teensy bit about Mac knocking out Hunter because he knows Mac and Bobbi are hiding something. Then we're on to ...

An Apartment: Belonging to one Karla Faye Gideon, a minor Daredevil character in the comics who, in the MCU, has had razor-sharp claws attached to her fingertips in order to kill her abusive beau. Because knives and guns aren't messy enough, apparently. But SHIELD has attached some prosthetics of their own and rendered her somewhat harmless ... that is, until Cal shows up with a strong guy and a tech guy, and they remove them for her. She agrees to join their crew and help Cal get revenge for what SHIELD did to Skye/Daisy. Who cares if Skye is fine with it? Speaking of which, back on ...

The Bus (parked at The Playground): Skye is happy that she's apparently learned to somewhat control her powers. But she's still being "indexed" by SHIELD, and part of that process means her having a psych eval. And who better to do that then May's ex-husband, Dr. Andrew Garner, since he's connected to, but not part of, SHIELD, and is fully aware of the process? Following an in-person meeting at a university, Garner agrees to follow May back to ...

The Playground: Where Garner interviews Skye, and also reveals to her a little about his own relationship with May. He tells Skye she isn't really turning off her powers, just stalling them until they build up to be more powerful. As Skye naps, May and Garner talk in the kitchen and May even laughs a little (!), which freaks Fitz out so much that he actually goes and gossips with Simmons, who is so interested in hearing about May and her ex that she forgets she's pissed at Fitz for keeping Skye's powers a secret.

Suddenly, there's an earthquake, and it turns out Skye is causing it in her sleep. But then there are even more important things to do, since Cal and his people broke into a high-security psych ward where a couple of very dangerous patients are held in a secret basement by SHIELD. Kind of like Hannibal Lecter minus the awesome acting skills. While they head over there, we find out what happened to Hunter, whom Mac is holding in ...

A Bathroom: Chained to a sink on the floor (although he does get some pizza and beer). Mac apologizes and says he'll find out what's going on soon enough. When a copter shows up, Mac throws a hood over Hunter's head and they take off. Guess what? Hunter isn't enjoying this. Then it's on to ...

The Psychiatric Hospital: Where Coulson and company go in looking for Cal, his people, and the two really dangerous patients. In addition to seeing the message "Fight On" painted on the wall, they fight one of the patients, but discover the other one, David Angar (a.k.a. Angar the Screamer, another Daredevil character) has been taken away by Cal. This is scary because this dude can knock people unconscious with his scream, and Cal takes him to ...

A Football Field: In Coulson's hometown, where Cal has Angar scream and knock everyone out, including a whole lotta birds from the sky. They wait for Coulson to figure out Cal's clue and then show up right away in The Bus (over Garner's strenuous objections), and then pretend to hold Skye hostage with a gun to her head. Cal asks Skye/Daisy what her "thing" is, saying he was hoping it'd be wings.

The team gets into a knock-down-drag-out fight with the enhanced baddies, and they manage to take them all down before they do much more damage. Because, as super-villains go, they're pretty lame. However, before anything can be done about Cal, the no-eyed Inhuman dude teleports in, then teleports back out with Cal in tow. They end up in a facility somewhere, where no-eyed guy tells him he's not "one of us," he's just a science experiment, since that's how he got his powers. And then he takes him to talk to someone. They ain't saying who yet, but I'm guessing it isn't Inhuman leader Blackbolt, since he can't, y'know, talk. Back on ...

The Bus: They tell Skye that she broke a bunch of bones in her arms and hands by holding back her powers, because she's really just turning the energy inward. They're going to make some special gloves for her (and then she'll match her comic book counterpart!), but Garner suggests she get away from SHIELD. May says no, because they're the closest thing she has to a real family. Speaking of which, Garner has to get back to his, to May's apparent disappointment. And, finally, at ...

Some Base Somewhere: Hunter has the hood removed from his head, and he asks Mac where they are and who he and Bobbi work for. Mac points to a sign with a familiar eagle logo and says they work for the "Real" SHIELD.

Next week: Commander Adama as a member of the newly-revealed "Real" SHIELD. WHAT?

​