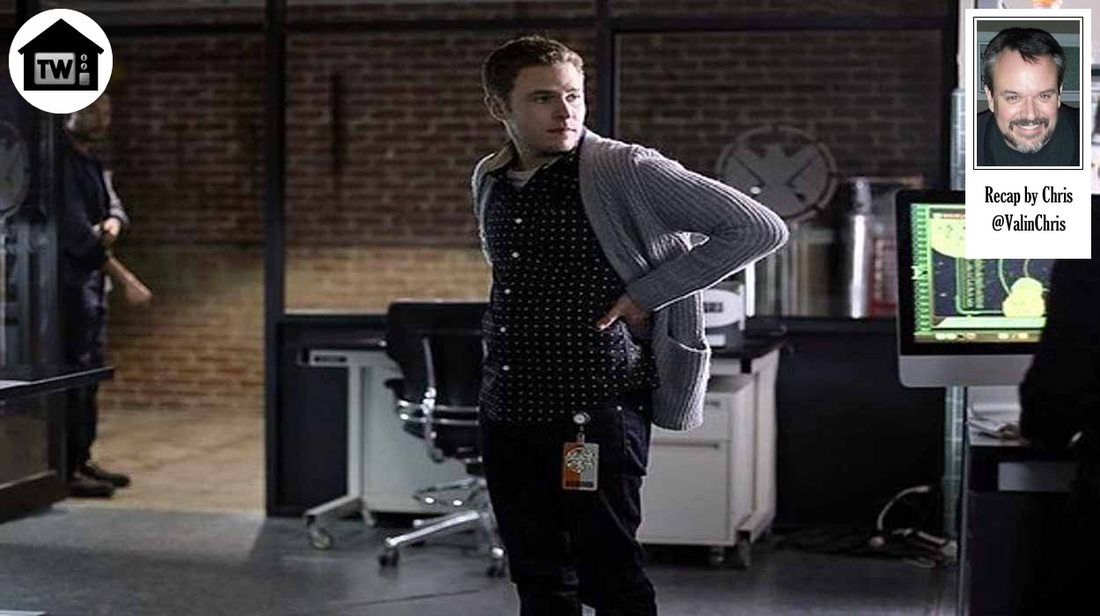 Mostly setup here, as Coulson takes Skye to a hiding place, Bobbi and Mac reveal the "Real" SHIELD to Hunter, and Ward and Agent 33 steal Bakshi right from under Talbot's ass.
Previouslies: Mostly what happened with Skye last week, with a bit of Agent 33 getting her fancy copycat mask burnt to her face and saving Ward thrown in. Then we're at ...

A Diner: Where there's a conversation between Ward and 33 about pumpkin pancakes before they go all Pulp Fictionand pull out their weapons. But they're not there to rob anyone. Instead, they're kidnapping the dude who invented the mask gizmo so he can fix it for 33. And speaking of fixing, Simmons is taking a look at Skye's arms back at ...

The Playground: And letting her know that it's healing, but something's going to have to be done about the way her powers are jacking up her bones. The no longer portmanteau'd Fitz and Simmons then square off verbally on whether Bruce Banner becoming the Hulk is a good or bad thing (but they're really talking about Skye), which upsets Skye enough that the place starts to shake. In Coulson's office, May says she agrees with her ex that Skye needs to leave SHIELD for everyone's good, including Skye's own. Meanwhile, in ...

A Hotel Room: The scientist dude fixes 33's mask so that it no longer shows her burn mark and can reset to other faces, although if she turns it off, her own face is still looking like Harvey Dent on a bad day. On Ward telling the guy about "revealing the truth," we jump to ...

"Real" SHIELD HQ: Where the leader, Adama Escalante Gonzalez, tries to play nice with Hunter, who isn't having any of his BS about SHIELD having to be out in the open after what happened with Hydra taking over. Except this new version of SHIELD is even more secretive than Coulson's, to the point that nobody knows it exists, so what he's saying makes no effing sense whatsoever. They hold a secret meeting in a secret room in their secret headquarters, where people whose names aren't revealed to us continue to try to convince Hunter how bad it is when SHIELD acts secretively.

While Agent Weaver from SHIELD Academy grills Hunter about Coulson, the dude from Fringe who always looks like a bad guy but always plays a good guy does his usual hardass routine. Plus, there's a dude who never talks, who I can only assume is a leftover Life Model Decoy of Orson Welles from the '60s. Just as Hunter says Bobbi would never be a part of all this, Bobbi walks in and tells him she's a part of all of this. Not only that, but she tells him she thinks that Coulson's been compromised because he was injected with the alien DNA. Speaking of Coulson, back at ...

The Playground: He gets some new gauntlets from Simmons that are supposed to keep Skye's powers under control, then takes Skye away on a trip where he explains how she's like his Corvette, Lola (don't ask). He takes her to ...

A Cabin: In the middle of nowhere, where Captain America himself stayed after being defrosted. Coulson tells Skye it's for her own good, and leaves her there by herself. But you know who aren't by themselves? Ward and 33, back at ...

The Hotel: Where she realizes the one Ward really has the hots for is Skye, so she somehow manages to change her face to look like her and makes out with him. He's uncomfortable with this particular brand of crazy, and claims he wants the real her, burns and all, but she's not ready for that. So instead of jumping in the sack, they discuss their plan to kidnap Bakshi from General Talbot. Back at ...

"Real" SHIELD HQ: Gonzalez discusses what to do with Hunter, so Bobbi has a talk with him, during which he decides to escape and takes out a few Real SHIELD agents before discovering that he's on an aircraft carrier in the middle of the ocean. But, Hunter being Hunter, he steals a submarine and manages to escape anyway. Meanwhile, at ...

An Air Force Base: Agent 33 manages to get past security disguised as Talbot's wife, then lets in Ward. When Talbot figures it out, he fails miserably at tracking her down through a not-so-funny comedy of errors, while Ward and 33 kidnap Bakshi with very little trouble. They take him back to ...

The Hotel Room: Where they start brainwashing Bakshi the way he did to 33, and she reveals her true face to Ward. And, finally, at ...

The Playground: Talbot Skypes Coulson to let him know Bakshi escaped, and May and Coulson decide to finally confront Mac about the fact that he's been lying to them. And so it begins ...

Next week: Bobbi and Mac have some 'splainin' to do. At gunpoint.
​