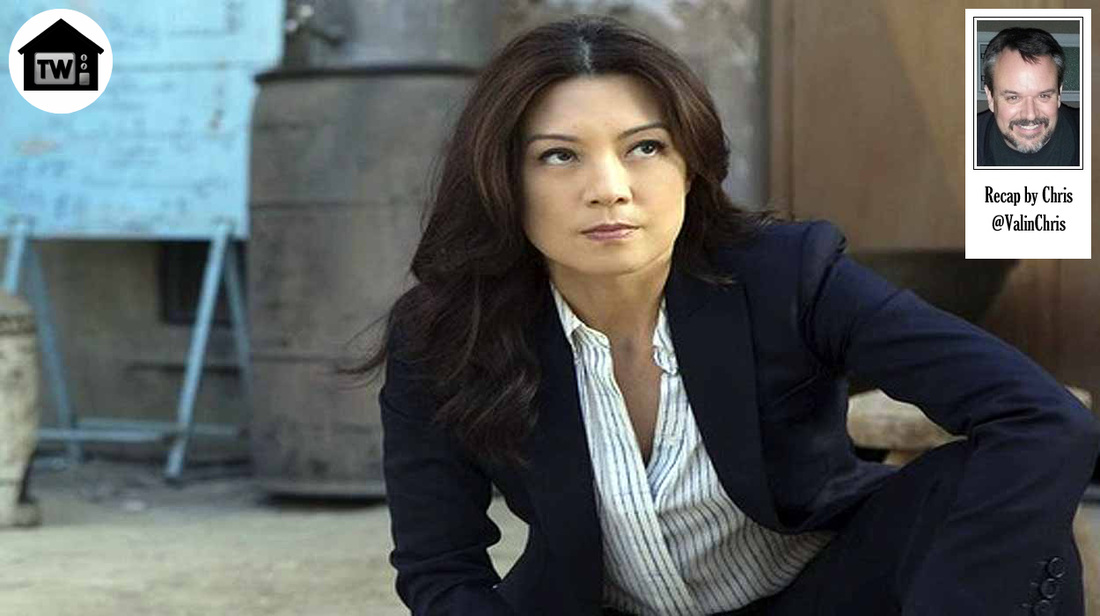 Melinda May's origin as "The Cavalry" is finally here, and it's not what you think. Plus, Skye finds out her real birthday once she figures out Jialing is her mom, and she's actually a year older than she thought she was.
Previouslies: Really quick recaps of Skye meeting her mom (but she doesn't know it yet ... shhhhhh) and people talking about May being called "The Cavalry."

May's House (7 years ago): Where her husband, Andrew, joins her in the shower because "They got a kid to make." Then they complain about Coulson showing up early to pick up May for a mission to bag a new super-powered individual. Coulson tells May that Fury has a new initiative to collect super-powered people and make them into a team (sound familiar? If not, you must not be seeing any Marvel movies). They're heading to Bahrain to talk to a Russian strongwoman to try to get her on their side. Then we jump forward to ...

The "Real" SHIELD Carrier (present day): Where Agent Weaver asks May to tell them everything she knows about Project: Deathlok, which she thought was over with, and then the Theta Protocol, and she's like, "Sorry, never heard of it." May is obviously disturbed by all the secrets they say Coulson has been keeping, including gathering powered people all over the world for something big. So she talks to Simmons about opening Fury's Toolbox ... except Fitz stole it last episode, remember? And speaking of Fitz, he's in ...

A Restaurant Restroom: Because he's being followed by some "Real" SHIELD agents, and he figures out how to open the toolbox, then uses it to Skype with Hunter and Coulson, who tell him how to lose the guys tailing him so they can meet up. Then there's Skye, who's at ...

The Afterlife: Still learning how to use her powers. She finds out Jialing is her mom, and they have a Hallmark moment, but she warns Skye that the other Inhumans can't know about their relationship, because there are rules about who gets to get powers, and Skye kind of broke them. She also tells Skye her birthday, which she never knew. Cue the violins.

Meanwhile, Hipster Lincoln tries to help Raina, but Raina just complains about all the nightmares she's having, like the one about Skye having a happy dinner with her dad, and him giving her daisies. Then Jialing convinces Skye to have dinner with her dad, and he gives her daisies ('cause her real name is Daisy. Get it?), and Lincoln walks in and is like, "Holy $#!+, Raina's effing psychic!" (I'm paraphrasing here.)

Also, Jialing tells Skye what went wrong seven years ago when a Russian woman tried to use the mists on her daughter to give her powers, which we get to see in another flashback to ...

Bahrain, 7 years ago: Where the talks with the strongwoman don't go so well, and some local dudes all grab a little girl and take her hostage along with some SHIELD agents. Except it turns out the little girl is her daughter, and when May goes in to save everyone, she ends up having to kill the strongwoman, then discovers everyone (the Russian, the locals, and the SHIELD agents) is actually being controlled by the little girl, who is batshit insane from getting powers too young. After the girl kills the locals by simply willing it to happen and is about to kill the agents and May as well, May has to put her down with a bullet.

When Coulson and local law enforcement bust in, they find May cradling the little girl, and the SHIELD agents are unable to recall what happened when they were being controlled. Everyone assumes someone else shot the little girl, and that May took down all the locals (whom they mistakenly thought were bad guys), which earns her the nickname "The Cavalry." And, instead of correcting any of this, May simply goes home, turns into the stone-cold bitch we met in the pilot, and ends up transferring to a desk job and divorcing her husband. Fun stuff!

Apparently, Adama Escalante was busy teaching calculus to inner city youths, or maybe off fighting some Cylons, because he sure wasn't in this episode. How is all of this leading up to the Avengers: Age of Ultronmovie? Hell if I know, but they're running out of time.

Next week: Grant Ward is back. Is anyone happy about this? Because I'm certainly not.

​