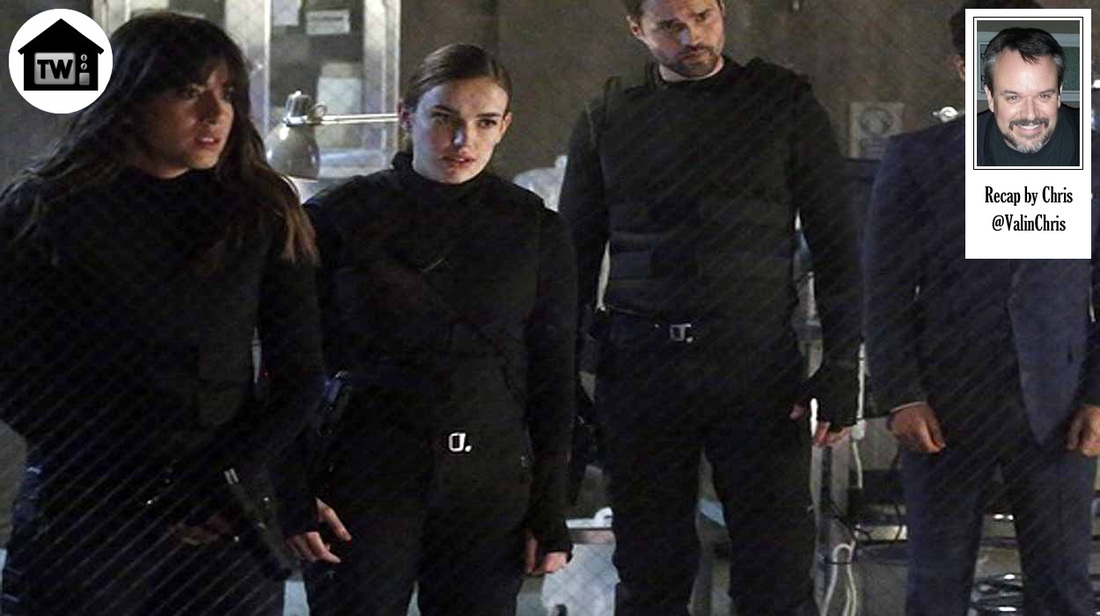 The original six-member team is reunited on a mission to eff up Hydra and save Deathlok and Lincoln. But Coulson has a secret mission of his own.
Previouslies: Pretty much a recap of last week's episode, which, of course, you read
here
. Then it's on to ...
The Afterlife: Where Raina dreams about Skye and Coulson on a mission and wakes up to find Jialing watching her. Then Gordon bamfs back with Skye and Cal, who goes all crazy on Jialing for trying to banish him, and he basically lets the whole place know that they were married and Skye's their kid ... exactly what she had been trying to avoid by banishing him. Gordon teleports away to try to save Lincoln, but he's almost killed in the process and comes back immediately. Raina overhears everything and realizes her dreams are real.
Skye tells Jialing that she has to let her go try to save Lincoln. Jialing doesn't want her to go, and Gordon refuses to teleport her anyway, but then Raina overhears and says Skye is going to save Lincoln on a mission with SHIELD. So Gordon agrees to teleport her to ...
The Bus: Where Adama Gonzales questions Coulson, who makes a deal to open Fury's Toolbox for him if he lets him go in with a team to save Deathlok and take out the Hydra base where Baron Strucker and Dr. List are experimenting on powered people. And, at that very same ...
Hydra Base: Deathlok talks to Lincoln about trying to escape. Lincoln says Gordon won't try to save him because it will put his people at risk, to which Deathlok replies that his people are stupid enough to try it anyway. Dr. List and Lapdog Bakshi discuss experimenting on them, and how much they miss their psychopath friend, Dr. Whitehall, then they zap Deathlok and Lincoln with some kind of ray to knock them out. Back at ...
The Playground: Ward and 33 land the Quinjet along with Fitz and Hunter, and everyone makes it clear that Ward will be shot immediately if he pulls any BS (oh, please, please please!). Coulson and the SHIELD "council" watch as Deathlok's cyber eye is removed, and the feed is cut off. When they take Coulson's plan to a vote, Coulson is shocked to find out May is a member now, and she wants to speak to him before she casts the tie-breaking vote (Gonzales and Bobbi say "yes," Weaver and Orson Wells say "no").
Coulson explains why he was hiding things from May, especially the fact that he was talking to her ex without her knowing. She's satisfied with his answers – for now – and votes "yes" for his mission.
In the lab, Fitz and Simmons talk about Ward, and Simmons says they should attach one of those bombs that disintegrates people to his back when he's not looking. When Fitz realizes she's not joking, he gets a little worried. Simmons volunteers to go on the mission to help out Deathlok, since he's injured. Hunter talks to Mack, and says he forgives him, but there's a lot of making up to do first. Meanwhile, Ward convinces 33 to stay and "reconnect with her past" as a SHIELD agent while he goes on the mission. Just as they're about to leave, Skye teleports in and says she wants to join the mission. Next, they're on board ...
The Bus: Where Ward starts to brief the team on Bakshi's intel, but he feels weird and tries to address the "elephant on the Bus," claiming that "mistakes were made." And out of all his mistakes, including lying to his teammates, murdering SHIELD agents in cold blood, and dropping FitzSimmons into the ocean, the thing he regrets most is breaking up their original team. Yeah, he's still a sociopath, right?
Coulson tells everyone what part they're going to play on the mission, and Ward's all excited about having the team back together, but everyone still hates him and wants him dead. Hydra shoots missiles at the Bus and destroys it – but don't worry, because IT'S ALL PART OF THE PLAN. The team is actually in the Quinjet, which May pilots in a drop to make it look like debris. They sneak into ...
The Hydra Base: Where Skye immediately shows off her new powers, but apparently blows the rest of the special effects budget for the episode doing it, because she doesn't use them anymore to take out bad guys and instead does her best May impression (seriously, how did she become Miss SuperAgent so fast?).
They meet up with Bakshi, who's actually been brainwashed to follow Ward's orders, and he takes them to rescue Deathlok. While Simmons helps Deathlok, Skye looks for Lincoln and finds him dead on an operating table. She uses her hands like defibrillator paddles and brings him back (because apparently she can do pretty much ANYTHING with her powers now). Simmons tries to attach one of her special bombs to Ward, but Bakshi stops her and ends up getting disintegrated instead.
May finds Coulson in an office stealing intel, and isn't very happy about him hiding stuff again. She tells him they have to go, and as soon as they're in the air, SHIELD jets take out the base. Then, they're back at ...
The Playground: Where Coulson gets a call from Ward, who says he doesn't want to end up in a cell or with his mind erased, but asks Coulson to give 33 a chance. FitzSimmons tell Deathlok they need to send him to another base to fix his cybernetic parts. Coulson opens the Toolbox for Gonzales, then tells him Fury's probably going to want it back – which is the first anyone else hears that Fury is still alive. Maria Hill calls Coulson just then, and he tells her he found Loki's scepter. Then he tells her it's time to bring in the Avengers! And, finally, at ...
The Afterlife: Raina has a new vision of a scepter and metal men destroying cities ... and our world will be changed forever. So, in other words, they're trying to shoehorn in one last
Age of Ultron
reference before the film comes out.
So, for a supposed tie-in to the new Avengers movie, we got a couple of references to "the twins" (Quicksilver and the Scarlet Witch) and Baron Strucker, Loki's scepter being found, and a vision about metal men. Okay, then.
Next Time: It's SHIELD vs Inhumans, and Skye's caught in the middle.