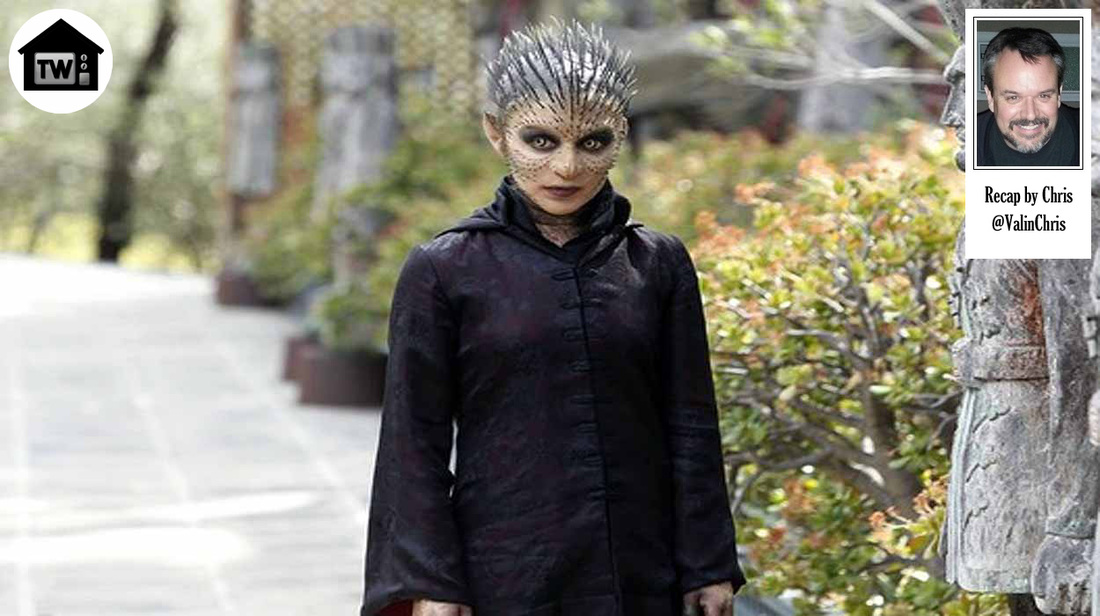 Patton's back (in a flashback anyway)! SHIELD discovers the whereabouts of the Inhumans! Think the confrontation is going to go well? Think again!
Previouslies: Pretty much a recap of last week's episode, which, of course, you read here. Then it's on to ...
Sam Koenig's Bedroom: Where, asleep on his Star Wars sheets (don't forget: Disney owns ABC, Marvel, AND Star Wars now!), he gets a call from his twin, Billy, saying Coulson' s arriving early at their secret base. Then we find out this is a flashback to a year ago, and Sam shows him the "Theta Protocol": a secret helicarrier that survived the Hydra takeover.
Flash forward to today, and Adama Gonzalez agrees to allow Coulson to continue as SHIELD director under the council's advisement. FitzSimmons tell Agent 33 she's free of Hydra's brainwashing now, so she can live happily ever after (uhhhh ... somehow I don't see that working out). And Lincoln wakes up and freaks the hell out because he's not back at ...
The Afterlife: Where Raina tells a happy hipster dad that his kid is going to have powers someday, then she tells Gordon about a vision she had that Gordon and Jiaying realize means they could be destroyed by the Kree. So Gordo bamfs her over to ...
The SHIELD Aircraft Carrier: Where they find the Kree artifact (a giant, shapeshifting ... rock?), but Bobbi, May, and Hunter find them. They bamf away before they're captured, but Gonzalez and his people track Gordon's signature and figure out where to find ...
The Afterlife: Where Jiaying is getting suspicious of Raina, who appears to have convinced Gordon to help her. She asks Cal about Raina's history, and they even have "a moment" together. Gordon takes Raina to Jiaying, but he ends up arguing with Cal about whether Raina can be trusted. They also talk about Skye and Lincoln being in custody at ...
The Playground: Where Coulson tells the Council he wants to go to The Afterlife with Skye, who isn't really sure if she's still a SHIELD agent any more. He talks to Skye about his plan, and she reveals that the Inhumans' leader (whom he wants to meet with) happens to be her mom. When May suggests the Inhumans may not be good people, Skye says she heard what happened with the little Inhuman girl in Bahrain (and May finally 'fesses up to Coulson about it).
While Skye and Lincoln head back to The Afterlife to prepare Jiaying for Coulson's arrival, Gonzalez, Weaver, and Hipster Orson Welles tell Coulson that he ain't going on the trip. Instead, Gonzalez is going in his place. Coulson, who's a little mopey because Mack just quit SHIELD because he doesn't trust his judgment, lets them overrule him. Simmons admits to Fitz that she tried to kill Ward, and only regrets that she didn't succeed. Meanwhile, aboard ...
A Quinjet: May and Bobbi are on a recon mission, but it turns out to be 33 wearing her May face. She attacks Bobbi, and after they land in a field, Ward shows up and shoots her. I guess we need to stay tuned as far as that goes, because that's all we get before cutting to ...
The Afterlife: Where Skye tries to convince her mom that Coulson is a good guy and that a meeting with him is a good idea. Gordon looks like he's going to help Raina with her coup, but instead he brings her to Jiaying and busts her. Raina warns that they're gonna regret not listening to her just as Gonzalez, May, and the rest show up.
Gonzalez walks in and asks why Cal is there, and Jiaying says she's handing him over to SHIELD. She asks Skye to take Cal out to the SHIELD agents while she talks to Gonzalez. When they get him aboard the Quinjet, they see that he has a bunch of empty vials on him. He claims he doesn't know what they are ... but we know they're what turn him into Mr. Hyde.
When Gonzalez says that SHIELD is there to protect civilians from super-powered beings and they need to index her people, he gives her a gift that they recovered from Hydra – a present she had made for her daughter. Jiaying gives him a gift in return: a Terrigen crystal, which she smashes on her desk in front of Gonzalez, turning him to stone, while Jiaying reveals herself to be just as ruthless as Cal. She shoots herself in the shoulder and claims he tried to kill her.
So ... is there anyone out there yet who doesn't get that the Inhumans are the MCU replacement for mutants, since movie mutants are owned by Fox and are off-limits? I didn't think so.
Next Time: Season finale time! Already? You're damn right. And it's two hours.
​