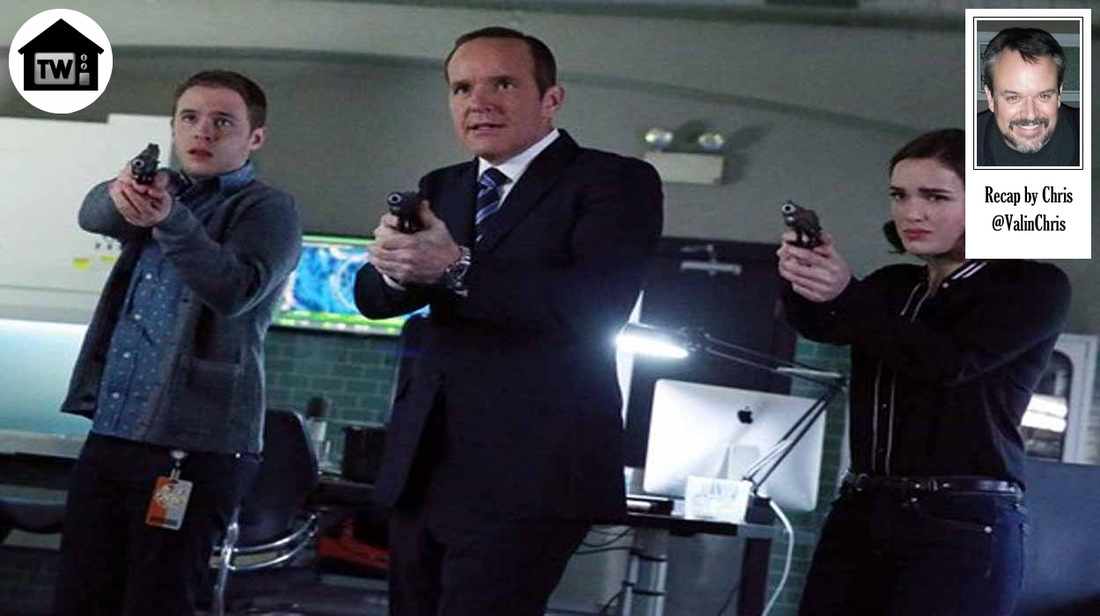 Season finale time! Double the episode, double the fun, and ... guaranteed: people are gonna die!
Previouslies: Again, a recap of last week's episode, which, of course, you read
here
. Then it's on to ...
The Afterlife: Where Jaiying pretends that her self-inflicted gunshot wound (which isn't as serious as it sounds, considering she has a healing factor to rival Wolverine's) was caused by Adama Gonzalez. A couple of Inhumans take over one of the Quinjets, then fire missiles at their own building to make it look like SHIELD's fault and to destroy the evidence of what happened to Gonzalez. May tells Skye to stand down, but they end up brawling instead. May gets the better of Skye until Skye uses her powers and takes her down. After about seventeen commercials, we're at ...
The SHIELD Aircraft Carrier: Thankfully, they use an establishing shot for once, since half the time they jump back and forth between The Playground, The Bus (now destroyed), and the carrier, and it can be difficult to tell where they are. Mack and Hipster Orson Welles (whose nickname is strictly based on his similar facial features, and by no means his weight) react to an alarm. Weaver is getting a three-way Skype call from May in the Quinjet and Coulson at The Playground, and nobody is buying that Gonzalez really attacked Jiaying. They're also worried about Skye, who, at ...
The Afterlife: Confronts Raina about knowing the attack was going to happen, and Raina says her destiny is to help Skye become the leader of the Inhumans, because Jiaying is "misleading" them (see what she did there?). Gordo tells Jiaying her plan worked, and everyone seems to be on board to fight SHIELD except maybe Skye and Lincoln, but she thinks they'll both come around.
And then we're treated to more ruthlessness from Jiaying as we discover that the way her healing factor works is that she sucks the life out of other people, in this case some poor dude who is bound and gagged. Although that's nothing compared to when she slits Raina's throat, not knowing that Skye is watching. Uh oh. That's gonna be tough to explain. In fact, Skye doesn't buy her story at all, and realizes Raina was right about her mom. But wait! We haven't checked in on Bobbi over in ...
Spain: Where she's being held in an abandoned building by Ward and 33. Since she's such a badass super-spy, they have to go to extra lengths to try to convince her to apologize for inadvertently getting 33 captured and brainwashed by Hydra. Even with some heavy drugs and torture, Bobbi is almost able to escape, but after she kicks both of her captors' asses, Ward breaks her leg. They tie her up and set up a trap with her cell phone, so that when Hunter and May come to the rescue, one of them will open the door to the room she's in and get his or her head blown off by a rifle. Sound like fun? Well, first let's check back in at ...
The SHIELD Carrier: Where Jiaying, Gordo, Lincoln, and company have bamfed in and taken over. Even Skye is locked up in the brig, but – oops – they missed someone: Mack, who was about to leave SHIELD for good. He picks up an axe and starts kicking some Inhuman ass, but he's going to need help from Coulson and company, especially since Jiaying starts using crystals to petrify everyone on board. Unfortunately, back at ...
The Playground: Coulson has his hands full when the serum that Cal drank begins to take effect and he turns into Mr. Hyde – for the first time on screen – and acts like a poor man's Hulk by destroying stuff all over the base. FitzSimmons get him to follow them to the garage, where Coulson slams him into a wall with an SUV and pins him there. You'd think that would ruin any chance of convincing Cal to come over to their side ... but you'd be wrong! Coulson manages to tap into Cal's true self and fatherly instincts and gets him to agree to help take down the Inhumans over on the carrier. So Coulson, FitzSimmons, and Cal head to the carrier, while May and Hunter go try to save Bobbi back in ...
Spain: Where Ward and 33 take out most of the SHIELD team, but May tricks 33 into using her mask to look like May, and Ward shoots and kills his new girlfriend. Think he'll be pissed about this from now on? Oh, you can bet on it. But isn't Ward a much better evil bad guy than he ever was a heroic good guy? Meanwhile, Hunter finds the room that Bobbi's in, but before he opens the door and triggers the trap, Bobbi manages to scoot the chair she's tied to in front of the rifle, so it shoots her through the chest instead. While they rush her back to the Playground, Coulson and company arrive at ...
The SHIELD Carrier: Alone, because Skye managed to escape and send a message that the SOS is a trap to lure all of SHIELD there and petrify everyone with crystals. They go in and, with the help of Lincoln (who's not too happy about the way Jiaying and her gang are indiscriminately murdering people now), start taking the ship back. Fitz sets up a techno-gizmo thing that prevents Gordo from bamfing out of the room where the crystals are held, and then shows up Coulson and Mack by guessing where Gordo is going to teleport next and making sure a metal pole is there to greet his spleen. With Gordo dead, he drops the crystal he was holding, and Coulson manages to catch it ... which petrifies his hand and starts moving up his arm. Luckily, Mack thinks fast and chops it off with an axe before it spreads (apparently he's been watching
The Walking Dead
), and Coulson is alive but limbless.
On the flight deck, Skye tries to stop her mom, but Jiaying proves to once again be even MORE ruthless than we thought as she starts sucking the life out of her own daughter. Skye uses her powers, but hesitates because she doesn't want to kill her. Cal shows up just in time and does her work for her by snapping Jiaying's neck. In return for his help, Cal gets his mind wiped using TAHITI, and he now thinks that he's a veterinarian. Okay, then. Back at ...
The Playground: Simmons manages to save Bobbi's life, but Bobbi tells Hunter she can't do this anymore. May decides to take a break from SHIELD with her ex-husband, Andrew. And Mack decides to stay, with Coulson putting him in charge of the alien artifacts they find, including the weird, black, Kree rock/liquid thingie. Oh, and at the bottom of the ocean, the crystals are leaking into the fish, and ending up in fish oil pills around the world. A quick diversion at ...
A Bar: Where Ward gets some Hydra goons to agree to follow him, since none of the "heads" of the organization are "growing back" like they're supposed to. Apparently, he's the new head of Hydra! And, finally, one last stop at ...
The Playground: Where a nervous Fitz kinda-sorta asks Simmons on a date, and he accidentally releases the door on the box containing the black liquid-solid thingie. After he leaves, Gemma realizes it's unlocked and goes to fix it, and the thing suddenly busts out in a wave, drags her into the box, and then turns back into its solid form.
Woah.
Next Time: After sitting on the bubble for a while,
MAoS
got renewed, so I'll see you back here next season!