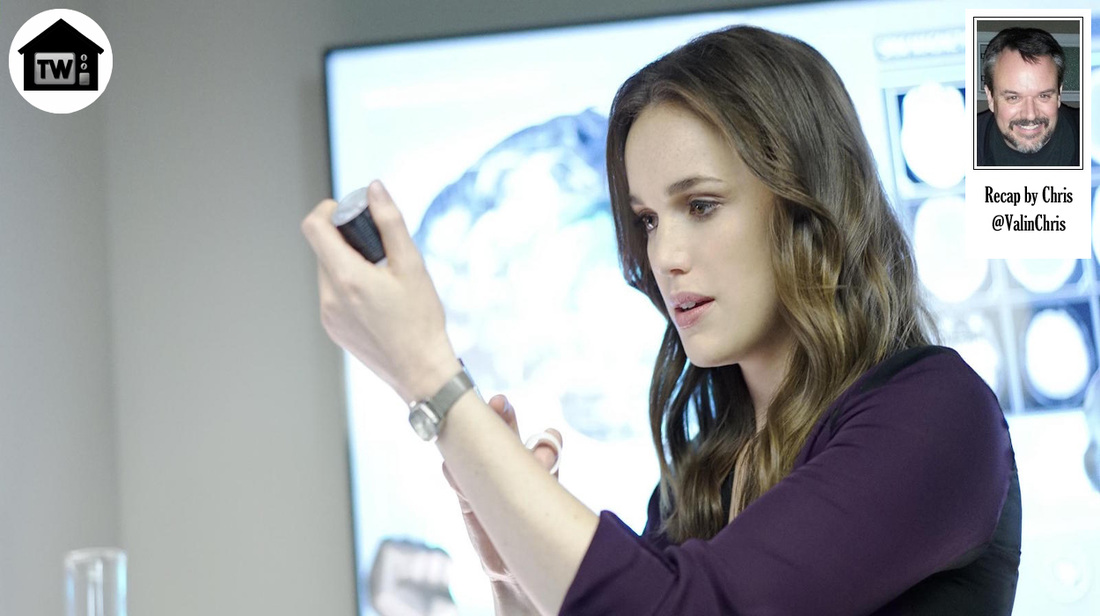 An episode in which the MAoS people discover that blackouts are not always the sexy-funtime you might think they'd be, and May dies. Oops. Spoiler.

Previouslies: Pretty much a recap of the first two eps of this season, with the addition of showing the Watchdogs from earlier. No mention is made of last week's terrible 90-minute special in which two old white guys argued about politics the whole time, and there were no flaming skulls or girls with superpowers who get a new character name each season. Then ...

A Rooftop in Miami: Where Yo-Yo is enjoying her friend's bachelorette party and ignoring Mack's phone calls, but her friends answer her phone. You'd think she'd be a little worried about someone else answering a call from her super-spy friend on his super-spy phone. But no. She's more like, "Stop teasing, guys!" The call ends immediately, however, as her phone fries and all power in the city stops. Everyone assumes it's just a blackout, which would be PARTY TIME, but it also affects a helicopter, which crashes into a nearby building. Party's over. Next, at …

Playground HQ: New director Jeffrey Mace gets a sit-rep from Mack and Fitz, who try to assure him (and themselves) that Lincoln isn't behind the blackout, despite the fact that a video has gone out to the world from the "Inhuman Resistance" claiming responsibility and promising more of the same for other cities if Inhuman registration isn't ended. Mace isn't so sure.

Mace orders Mack, Fitz, and Coulson to Miami, but Coulson would rather go to upstate New York, where May is being held in a CDC facility, and Simmons' remote monitoring of her vitals shows she's not doing well. The Chinese gangbanger whom they have at their facility dies of the same mystery illness May contracted when the "ghost" passed through her, and Simmons says she only has 24 hours left at best. Simmons calls Radcliffe for help, so Radcliffe has to put away his sex robo — er, A.I. android, Aida, before he goes to prison for doing EXACTLY what he promised not to do when he got probation. Simmons heads over to Radcliffe's lab while May is transported there as well. Meanwhile, at …

A Gas Station in L.A.: Reyes explains to Daisy/Skye/Quake that his uncle was a good guy even though he was in prison for attempted manslaughter, and how he used to work at the power plant where they were last episode. Wait ... do you think there's a connection there? Naaaahhh. They overhear a radio report about blackouts in Miami and London, and Reyes is worried that Gabe, his wheelchair-bound brother, is going to end up stuck in a bad neighborhood if there's a blackout — and as he's saying it, all the power goes out.

They race to find Gabe, and it turns out he's being harassed by criminals, because the kind of jerkoffs who take advantage of a blackout would also take advantage of a disabled kid. When they see Reyes' classic car drive up, they try to take it from him, but he and Daisy take them down without even using their powers (much). Something cracks in Daisy's arm during the fight, and she's obviously in pain. Back in …

Miami: Another EM pulse renews the blackout, and Coulson's team no longer has a vehicle or equipment. They have to use old-school science to figure everything out. Watchdogs show up at the rooftop party and say they know there's an Inhuman there, and demand they turn over whoever it is. Some ass-hat, who is probably an illegitimate son of Donald Trump, claims the magician at the party is the Inhuman, but when they go to shoot him, Yo-Yo grabs their guns with her super-speed. Yo-Yo's friends figure out it's her, and one of them calls her out. That's right, her friend who's getting married and asked her to be her maid of honor turns her in without hesitating. Nice. Before they can do anything, Mack and Coulson show up and save her.

They realize that the Watchdogs are really the ones behind the blackout and the video in order to give them an excuse and cover to hunt Inhumans. Fitz figures out how to use homemade compasses to find the EMP device, and the team, plus Yo-Yo, takes down the Watchdogs there.

Reyes' House in L.A.: Daisy, whose arm was broken in the fight, stays with Gabe while Reyes goes out to get her some first aid stuff, and to help keep people under control during the blackout. Daisy claims there's no point to going to the ER because there's no power, but just then it comes back on. Gabe confronts her about how the guy who pulled a gun on him earlier suddenly went flying, and how he felt the ground shake, then straight-up asks her if she's Quake. She doesn't deny it, but he says her secret is safe with him…as long as she stays away from his brother forever. He thinks she's a bad person, and doesn't want any bad people influencing his big bro. So when Reyes gets home, Gabe claims she left while he was asleep. Back at …

Radcliffe's Lab: Radcliffe and Simmons discover that the neurons in May's brain that cause fear have been thrown into overdrive. Radcliffe thinks the only way to save May is to kill her, then bring her back to life, thereby "rebooting" her brain. Despite Simmons' concerns (to put it mildly), they don't have any other options, so they give her an injection that ceases her bodily functions. But, just as they're about to use the paddles to bring her back, there's a blackout. OF COURSE there's a blackout!

Simmons tries using CPR to save her. Radcliffe grabs Aida's power source and hooks it up to the paddles, then they bring her back. She's back to her old bitchy self as she complains about all the equipment hooked up to her.

Playground HQ: Where Washington, DC is now under blackout. The president calls Mace and tells him they're going to send troops into the blacked-out cities. The power comes back on, and Coulson returns with his team to explain how to stop the blackouts. Coulson tells him he might want to move up plans for SHIELD to go public again. Mace goes on TV and reintroduces SHIELD, explaining how they saved everyone and exposed the Watchdogs. Finally, in …

The Stinger: We discover Senator Nadeer is not only a fan of the Watchdogs, but is also working with them. Then why is her own brother somehow stuck in a state of terragenesis?

Next Time! Coulson captures Robbie Reyes and discovers that holding a Spirit of Vengeance captive is maybe not such a great idea.

​