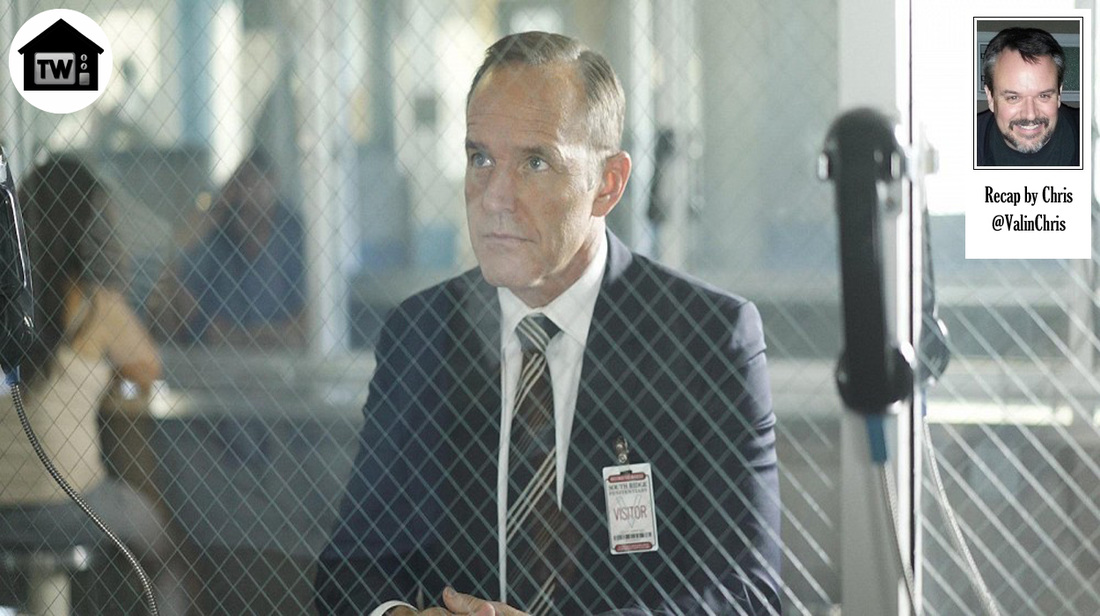 Daisy's back in the fold ... sort of. Ghost Rider is (kind of?) part of the team. And Simmons discovers Radcliffe and Fitz' sex rob — sorry, secret "android."
Previouslies: Ghost people, Aida's intro, May's death and resurrection, and Ghost Riders's life. Then ...

A D.C. Suburb: Where Simmons talks to Fitz on the phone about an apartment she's about to look at for them to rent together (!), plus they casually do the "I love you" thing when they hang up. Awwwww. How times have changed. But up at the empty apartment, it turns out it was Daisy who set up the appointment with Simmons after "buying" it for the couple (using some digital chicanery, I'm sure). But Daisy is bleeding all over her friends' new home because she's just been shot and didn't know who else to turn to.

While Simmons patches Daisy up, quake-girl informs her that someone inside SHIELD is providing the Watchdogs with Inhuman IDs and GPS coordinates. Simmons says she can't help, because she has to take lie detector tests all the time, so Daisy pulls out a gun and asks her, "What if it isn't voluntary?"

Daisy comes up with an elaborate plan for Simmons to get a flash drive to the right person at SHIELD so they can hack into their system. Instead, Simmons just hands it to the agent and orders her to download the contents of the drive, since she's — y'know — her boss. Once they're in the system, they find out that the Watchdogs' next Inhuman target is James the Australian bomb boy. And at a ...

Cali Prison: Robbie (G.R.) Reyes' uncle Eli is incarcerated, and Coulson questions him about why he beat his former boss into a coma when he worked at the Momentum lab. He's not talking, but when Coulson is back out in the parking lot with Mack, a familiar black Charger drives by. Mack recognizes Reyes and they chase him in Coulson's car (wishing it could still fly). G.R. is too fast for them, especially once they're racing in the concrete riverbed, but Coulson has a trick up his sleeve: he has a cloaked quinjet land up in front of them, and Reyes slams right into it, knocking himself unconscious. Meanwhile, at ...

Radcliffe's Lab: Radcliffe and Aida explain to May how they saved her life by killing her and "rebooting" her nervous system. Typical for May, she's like, "Whatever. When can I leave?" Fitz shows up and freaks out that Aida, who's supposed to be a secret so Radcliffe doesn't have to do time in the pokey, is playing nurse to May, one of the best agents SHIELD has ever had.

Maybe May lost some of her sense while she was dead, but even with Fitz's lame attempts at covering up Aida's true nature, she doesn't catch on. (Quick mad scientist tip: If you don't want people finding out your android isn't human, then don't program her not to lie. Aida would be TERRIBLE at a Voight-Kampff test.) Next, onboard ...

The Zephyr: Coulson questions a boxed-up Reyes, who says he got his powers by making a deal with the devil. Coulson decides to trust him (because he's never been burned before, right?), and asks for his help with the ghost people. And, speaking of the ghost people, Ghostwoman Lucy goes to visit her poor comatose husband in the hospital and proceeds to stick her ghost fingers into his brain to wake him up. Then she questions him about where a book called the Darkhold is located. Which is exactly what Coulson, Mack, and Reyes are after now that Eli has told G.R. about it, but first they have to stop and lend a hand at a ...

Fireworks Shop: Where James now works (GREAT workplace for a guy who can superheat anything, or as Daisy puts it: "Whoever is running the Terrible Ideas Division is crushing it."). Daisy and Simmons had gone to warn James about the Watchdogs, but when he convinces them to go next door to the storage place for some firepower to fight the bad guys, it turns out James IS the bad guy. He sets up an ambush with his buddies the Watchdogs, and they almost kill Daisy and Simmons before the cavalry shows up (no, not May, whose nickname is The Cavalry, but Coulson, Mack, and Reyes).

The fight between James and Reyes is already cool before it's kicked up a notch, with James' flaming chain weapon being taken away. For comics fans, this was a really cool nod to Ghost Rider's same weapon, and he actually decides to keep it after he kicks James' ass. Finally, back at ...

Radcliffe's Lab: Coulson and Simmons show up to check up on May. Coulson thinks Aida's a human with hands like his, but Simmons immediately recognizes that Aida is an android, although she doesn't let on except to Fitz. Only problem is, she has to take a lie detector test ... tomorrow. Ruh-roh.

Next Time: Lucy the ghostwoman digs up the Darkhold, and that's not good for SHIELD or Ghost Rider.

​